BabyBjörn Baby Carrier Mini Cotton - Dusty Pink
Click twice to zoom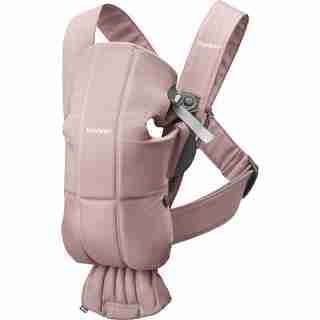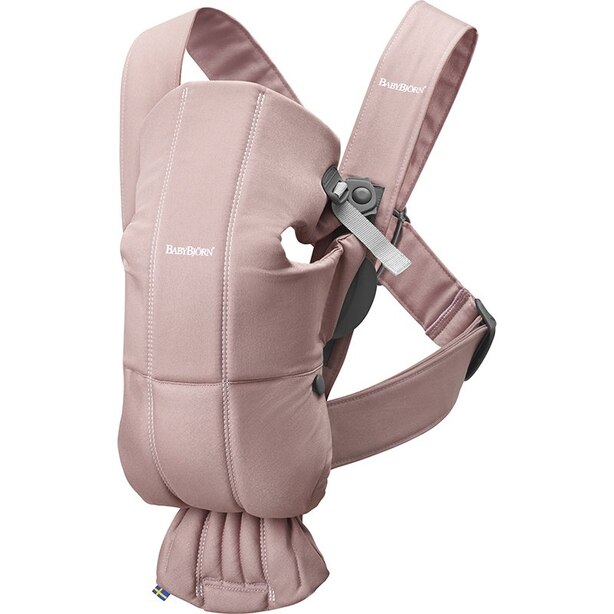 Find In Store
To check store inventory,
Prices and offers may vary in store
Small, easy-to-use and super-soft baby carrier for newbornsBaby Carrier Mini is a small baby carrier that is easy to use for short babywearing sessions. It's perfect for the early months when, like all newborns, your baby needs lots of closeness around the clock. You can easily unfasten the entire front section of the baby carrier to lift out your sleeping baby. The soft fabrics gently hug your baby's back, legs and hips, and provide good support. You can check your newborn's position and the natural C-curve of their back with your hands through the fabric. Product Description Perfect first baby carrier for a newborn Baby Carrier Mini is a small and easy-to-use baby carrier that is best suited to newborns and their great need for closeness. You can carry your baby high on your chest, so they always feel your heartbeat. Small and easy to use Baby Carrier Mini is very easy to use, with just a few adjustable buckles. This means you can quickly put it on, day or night, to comfort or lull your newborn to sleep. You can easily unfasten the entire front section of the baby carrier to lift out your sleeping newborn. The size and head support are fully adjustable, which means you can easily adapt Baby Carrier Mini as your newborn grows. Soft and flexible The super-soft fabrics in Baby Carrier Mini create a cozy space for your newborn and are comfy against their delicate skin. The baby carrier gently hugs your newborn's back, legs and hips and gives good sitting support in a comfy, ergonomic position. You can check your newborn's position and the natural C-curve of their back with your hands through the fabric. Baby Carrier Mini is quick and easy to put on and adjust. Unique baby carrier fabrics The fabrics we use have been developed specifically for our baby carriers and are designed to suit newborns. Our mesh and jersey baby carriers are made from 3D fabrics that have three layers – an inner layer, a middle layer and an outer layer. Instead of padding that might make the baby carrier too warm, the middle layer consists of a fine, single-fiber thread. This gives the baby carrier the stability of padding while ensuring very good air flow, so the carrier stays airy and cool when you're babywearing. 3D Jersey Our newest and softest material is as snuggly as your comfiest t-shirt. The smooth, flexible fabric gently hugs your newborn when you're babywearing. 3D Mesh Cool and airy mesh fabric, with an incredibly soft backing next to your newborn's skin. The mesh fabric ensures good air flow and dries quickly after washing. Cotton BCI-certified cotton that is stretchy in the seat area and satin-woven to make it super-soft and comfy. A thin middle layer keeps the baby carrier small, compact and flexible. Takes up very little space Baby Carrier Mini is small, which makes it easy to stuff into your diaper bag or under the stroller when you're not using it. Sturdy, adjustable head support Good head support is very important both for a newborn and during the first five months until your baby can hold its head up unaided. Baby Carrier Mini has sturdy, adjustable support for both the head and neck. Keep your hands free When carrying your newborn in a baby carrier, your hands are free for other things. Perfect for when your newborn baby needs a lot of closeness. Your newborn rests safely in the baby carrier while you keep your hands free. Carry on your front either facing in or facing out Once your baby has grown a little, you can choose whether to use the facing-in or facing-out position. Your baby should be at least five months old before you use the facing-out position. New needs as your baby grows Carrying comfort becomes increasingly important for you as your baby grows. Do you want to be able to carry your growing baby longer or on your back? Check out Baby Carrier One – our best-selling ergonomic baby carrier that has a waist belt and padded shoulder straps, more functions and back-carrying for children up to the age of three.
Product name:
BabyBjörn Baby Carrier Mini Cotton - Dusty Pink
Product dimensions:
22.44" H × 0.39" W × 17.13" L
Shipping dimensions:
11.22" H × 2.76" W × 10.24" L
Shipping weight:
1.058 lbs.
Appropriate for ages:
Baby - 1