Diaper Disposal Bin Refill Bag Mini 2-Pack
Click twice to zoom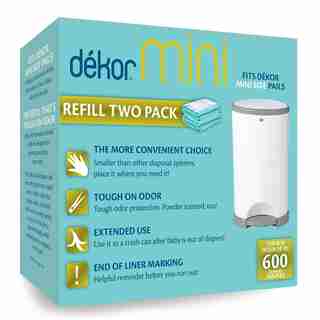 Find In Store
Prices and offers may vary in store
EASY CONTINUOUS DIAPER PAIL LINERDékor Refills are actually one long continuous diaper pail liner which means you can empty as often as you want, after that one really stinky change, or when the diaper pail is totally stuffed. Emptying the diaper pail more frequently will help keep odors in your nursery to a minimum. The design of the Dékor refill puts you in control of how much refill you want to use with each empty.POWDER SCENTED AND STRONG LINEROur diaper pail liner is powder scented which aids in combating odor. Our strong diaper pail liner doesn't rip when full but is easy to cut with the cutter on the inside of the door.SAVE YOUR MONEY!Dékor refills are designed to not only provide protection from odor, but to save you money. Because Dékor refills hold more diapers per refill than the competition you will save money through your diapering years by simply choosing Dékor.WHICH SIZE REFILL?To purchase the correct size refill you first need to know which size Dékor diaper pail you have,Plus,Classic, orMini. Check the label on the inside of your service door to find out what size diaper pail you have. Simply match the label to the correct refill. Refills for all diaper pails are "backwards compatible" across their respective sizes. In other words, all Plus size refills will work with all Plus sized diaper pails sold for the last 15 years.ECO-FRIENDLYWe are talking about disposable diapers here, but at least the Dékor refills are made of 20% recycled post consumer material. You can also use ONLY what you need without theEXTRA WASTE of other "trash" bags, meaning you can change your bag after one stinky diaper or after the diaper pail is fully loaded and still only use what you need. Because you are using less refill per diaper with Dékor, you are making less of an impact on landfills, and in turn the environment.BIODEGRADABLE REFILLSDékor refills are also available in a biodegradable formula that helps them to break down quicker than ordinary refills. As defined (ASTM 1991), "A Biodegradable Plastic is defined as a degradable plastic in which the degradation results from the action of naturally occurring microorganisms such as bacteria, fungi, and algae."REUSABLE REFILL CARTRIDGEDékor diaper pails use a reusable cartridge system and thereby eliminating extra plastic that would go into our landfills.
Product name:
Diaper Disposal Bin Refill Bag Mini 2-Pack
Product dimensions:
5.12" H × 2.75" W × 5.7" L
Shipping dimensions:
5" H × 2.4" W × 5.8" L
Shipping weight:
0.15 lbs.
Appropriate for ages:
Baby - 3