Lil Helper Cloth Diaper Day Pack A
Click twice to zoom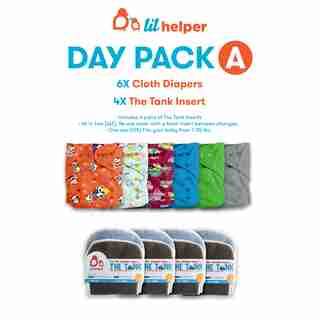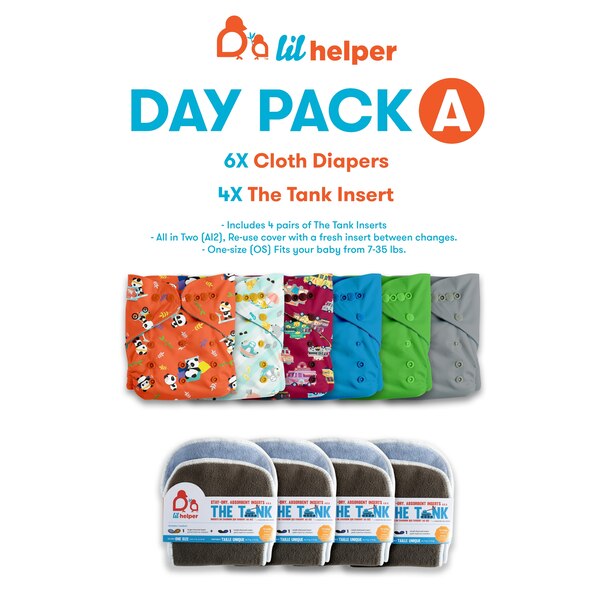 Find In Store
Prices and offers may vary in store
6 Lil Helper Diapers (3 Solid, 3 Printed), 4 Tank Inserts- $169.99 One Lil Helper Day Pack will give you enough poop catchers to last you a full-day of cloth diapering. You get 6 Lil Helper Diapers (that already come with a pair of Tank inserts each) + 4 additional pairs of Tanks. Enough diapers to last you a full day of cloth diapering! You ideally need 3 Day Pack bundles so that you can conveniently wash your diapers every 2-3 days, without running out. If you want to wash your diapers every 3 days (recommended), get 3 Lil Helper Day Packs. If you want to wash your diapers every 4 days, get 4 Day Packs. Simple! Lil Helper diapers fit your munchkin from birth until they are potty trained. You can wash them at home with Tide and throw it in the dryer after. Say bye-bye to diaper rashes. Even if you don't want to cloth diaper your baby full-time, use them to clear up a bum rash naturally without any ointments. All our cloth diapers come with 2 inserts each. The inserts snap into the diaper cover and onto each other. Your baby can wiggle as much as it wants, our diapers won't budge. For a newborn baby, just snap in the small insert. Use the small+large insert when the baby grows or during naps and overnight. Between diaper changes, if the diaper cover is not dirty, just replace the soiled inserts with a fresh pair of Lil Helper inserts. Less to buy. Less to wash. God Forbid Guarantee: If you are not able to use our diapers as a result of complications during your pregnancy or birthing process, Lil Helper will refund your entire purchase amount. Good Karma: By using cloth diapers, you are actively preventing 6000 disposables diapers from ending up in a landfill, where they stay for the next 500 years Good Sense: You will save over $2,500 when you use cloth diapers over disposable diapers to cover your baby's tush. And when you choose Lil Helper, you will look stylish at the same time. Designed by Rocket Scientists: The founders of Lil Helper are aerospace engineers (both hold a masters degree) from Canadian universities. And yes we are Canadians. Features: Check out all the greatness we have baked-right-in to our new poop-catcher formula: ● Backup for Belly-Sleepers: Or boys. Or any baby who has a tendency to flood in the front. We have added a new PUL belly band to the front of our covers to make sure there is no unwanted seepage to interrupt naptime. ● Slightly Fewer Stains: Any parent knows that life with littles means stains. On their clothes. On your clothes. On your drapes. And, sometimes, on your diapers. Stains don't mean that things are dirty but they can be enough to drive you nuts. Our new coloured cover linings will remove one item from the list of things your baby's bodily functions will ruin. ● Built in fit-help: Getting a good fit is a thorn in the side of cloth newbies and veterans alike. Cloth diapers generally offer a better, more custom fit than disposables but figuring out what that looks like for your babe can involve some trial and error. And just when you have it figured out, in true baby fashion, your little will change shape and you will be back to square one. Our new centre contrast snaps will help. They will make the center of the diaper easy to find for everyone from you to grandma, making it easier to get the perfect fit every time. ● Bomb Proof Inserts: Each new-and-improved diaper comes with the redesigned inserts we have dubbed The Tank. These things are true game-changers. More absorbent, trimmer, and backed with PUL to double down on the leak-killing powers of Lil Helper diapers. Combine that with their stay-dry properties and stain-free design and you have a new design destined to become an instant classic. ● Leaks on lock: It is an undisputed fact that cloth diapers are better at containing the dreading poonami than disposables. And though we've always stood by the leak-stopping power of our diapers, our improvements are focused on making sure that your child's bodily excrements stay in their place (in our diapers). ● Cuteness Turned Up to 11: One of the more superficial upsides of cloth diapers with zero practical applications? They are so freaking adorable. With meticulously in-house designed prints and breathtaking solids, we will always consider ourselves on the leading-edge of superficiality… ahem I mean adorable designs. ● Keeps Your Baby Feeling Dry: Our inserts can hold more than 180 ml of liquid and the great part is that your child still feels dry. Keeping your child's skin dry is the best way to remedy diaper rashes-charcoal's wicking ability lets you do just that. ● Lets You Air-Out Your Baby: Most pediatricians suggest that it is best to let your baby go commando or without a diaper to remedy a diaper rash. Our diapers are the next-best-thing to this. More breathable than disposables, cloth diapers keep baby's bum cooler and their skin in better shape. ● Eliminates the Need for Rash Creams: Rash prevention creams are supposed to create a water barrier to keep your baby's skin dry. But before application, if your baby's skin is not thoroughly dry, you could worsen the rash by trapping moisture on your child's bum. You do not need any rash cream while using our charcoal cloth diapers. Our materials will keep your baby dry and well ventilated without subjecting your child's delicate skin to additional chemicals. ● Wash in 3 Steps: Get rid of the poo. Pre-wash with line 1 of detergent. Heavy wash with recommended amount of detergent. Throw in the dryer at medium heat. So easy, you could train your cat to do it!
Product name:
Lil Helper Cloth Diaper Day Pack A
Product dimensions:
8.071" H × 9.055" W × 9.843" L
Shipping dimensions:
8.071" H × 9.055" W × 9.843" L
Shipping weight:
9.921 lbs.
Appropriate for ages:
Baby - 2