1000 Reasons to love golf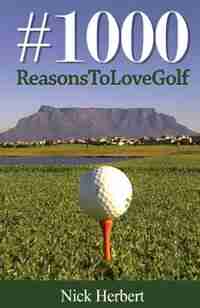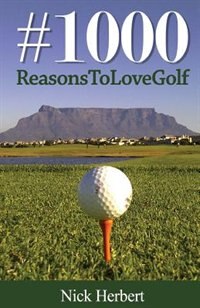 Prices and offers may vary in store
For anyone who just plain loves golf, life and to laugh. This book lists 1 000 golf specific moments that draw us to this addictive game. From the people to the special places, the courses to the funny experiences, each of them unique to this amazing sport. Open it to any page and enjoy golfing moments.
Some may trigger good memories, others will make you laugh out loud (#BeenThereDoneThat), and others will have you packing the car and going to play a round of golf.
Samples from the list are:
Looking to join a four-ball and finding a friend for life #GolfFriendsAreForLife
Just avoiding hitting a duck or other bird in mid-flight #OneBirdieIDoNotWant
A bucket of practice balls and your 7 iron #BestTherapyEver
Having to correct your buddy when he says 'I got a 4' #CanYouCountDude?
Jordan Spieth winning $22 million at 22 #LetsGoPractiseSon
No spandex #GolfBeatsCyclingEveryDay
Holly Sonders #GolfBabes
Hitting your lowest handicap ever #TellingEveryone
Waking up excited for the coming round today #NoAlarmClockRequired
That old guy at the club who plays over 200 rounds every year #HelloFutureMe
The 2016 banning of anchoring your putter #TimClarkCareerEnder
The sound of the ball going into the hole #Timeless
About the Author - Nick Herbert started his golf career in Johannesburg, at around ten years of age, hitting balls in a park with his mom and dad. He hit his Mom on the nose with his third back swing, #SorryMom, but was hooked on golf instantly.
Accolades in his golf career include:
o Best handicap of scratch in 2005 o Best gross score of 68
o Two holes in one
o Played 84 local courses and 15 international courses
Nick's golf bucket list is still very long but his top three are to get an Albatross, play Pebble Beach and go to the US Masters.
Nick's love affair with the game of golf has led him to develop a golf putting mat called 1PuttZone and he is busy developing a mobile application to help golfers track and improve their putting performance.
Title:
1000 Reasons to love golf
Format:
Paperback
Product dimensions:
212 pages, 7.81 X 5.06 X 0.45 in
Shipping dimensions:
212 pages, 7.81 X 5.06 X 0.45 in
Published:
September 24, 2016
Publisher:
iwish Group (Pty) Ltd
Language:
English
The following ISBNs are associated with this title:
ISBN - 10:0620708972
ISBN - 13:9780620708975
Look for similar items by category: