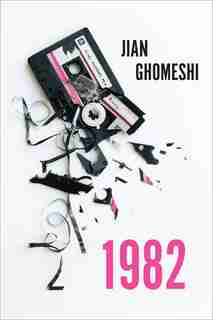 Buy In Store
Prices and offers may vary in store
In 1982 the Commodore 64 computer was introduced, Ronald Reagan survived being shot, the Falkland War started and ended, Michael Jackson released, Thriller, Canada repatriated its Constitution, and the first compact disc was sold in Germany. And that's not all. In 1982 I blossomed from a naive fourteen-year-old trying to fit in with the cool kids to something much more: a naive eyeliner-wearing, fifteen-year-old trying to fit in with the cool kids.

So writes Jian Ghomeshi in this, his first book, 1982. It is a memoir told across intertwined stories of the songs and musical moments that changed his life. Obsessed with David Bowie ("I wanted to be Bowie," he recalls), the adolescent Ghomeshi embarks on a Nick Hornbyesque journey to make music the centre of his life. Acceptance meant being cool, and being cool meant being Bowie. And being Bowie meant pointy black boots, eyeliner, and hair gel. Add to that the essential all-black wardrobe and you have two very confused Iranian parents, busy themselves with gaining acceptance in Canada against the backdrop of the revolution in Iran.

It is a bittersweet, heartfelt book that recalls awkward moments such as Ghomeshi's performance as the "Ivory" in a school production of Michael Jackson and Paul McCartney's Ebony and Ivory; a stakeout where Rush was rehearsing for its world tour; and a memorable day at the Police picnic of 1982. Music is the jumping-off place for Ghomeshi to discuss young love, young heartache, conformity, and the nature of cool. At the same time, 1982 is an entertaining cultural history of a crazy era of glam, glitter, and gender-bending fads and fashions. And it is definitely the first rock memoir by a Persian-Canadian new waver.
Product dimensions:
304 pages, 8.54 X 5.56 X 0.95 in
Shipping dimensions:
304 pages, 8.54 X 5.56 X 0.95 in
Published:
September 18, 2012
Appropriate for ages:
All ages