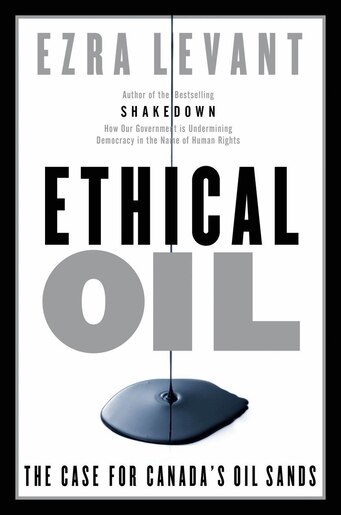 Ethical Oil: The Case For Canada's Oil Sands
Hardcover

|

September 14, 2010
Pricing and Purchase Info
$29.99
Prices and offers may vary in store
Canada''s "no. 1 defender of freedom of speech" and the bestselling author of Shakedown makes the timely and provocative case that when it comes to oil, ethics matter just as much as the economy and the environment.

In 2009, Ezra Levant''s bestselling book Shakedown revealed the corruption of Canada''s human rights commissions and was declared the "most important public affairs book of the year." In Ethical Oil, Levant turns his attention to another hot-button topic: the ethical cost of our addiction to oil. While many North Americans may be aware of the financial and environmental price we pay for a gallon of gas or a barrel of oil, Levant argues that it is time we consider ethical factors as well. With his trademark candor, Levant asks hard-hitting questions: With the oil sands at our disposal, is it ethically responsible to import our oil from the Sudan, Russia, and Mexico? How should we weigh carbon emissions with human rights violations in Saudi Arabia? And assuming that we can''t live without oil, can the development of energy be made more environmentally sustainable? In Ethical Oil, Levant exposes the hypocrisy of the West''s dealings with the reprehensible regimes from which we purchase the oil that sustains our lifestyles, and offers solutions to this dilemma. Readers at all points on the political spectrum will want to read this timely and provocative new book, which is sure to spark debate.
Title:
Ethical Oil: The Case For Canada's Oil Sands
Format:
Hardcover
Product dimensions:
272 pages, 8.73 X 5.78 X 0.95 in
Shipping dimensions:
272 pages, 8.73 X 5.78 X 0.95 in
Published:
September 14, 2010
Language:
English
The following ISBNs are associated with this title:
ISBN - 10:0771046413
ISBN - 13:9780771046414
Look for similar items by category:
Preview Your Review
Your Review Has Been Submitted
NO, I do not recommend this product.
Educational/Developmental Value:
Thank you. Your review has been submitted and will appear here shortly.
Read from the Book
Chapter 1WHAT ARE THE OIL SANDS AND WHY ARE THEY IMPORTANT?For decades, the way that oil production worked is that oil was discovered in a liquid state and was pumped out of the ground just like water. It was then refined into usable products like gasoline. That's how it still is in countries like Saudi Arabia and Iran and in the conventional oil fields of Canada and the United States. But conventional oil fields have been depleted over the years; the International Energy Agency estimated that existing, conventional oil fields are losing production at a rate of 6.7 per cent a year.1 With world oil prices steadily rising because of new energy demand from the emerging industrial economies in India and China, scientists have turned their attention to unconventional sources of oil – like the oil sands. The oil sands are just what they sound like: oil mixed with sand and clay. Bitumen has the thickness of peanut butter, so it's not exactly ready to be pumped and piped like the Saudi stuff. The process of removing the oil from the sand in an economical way has bedevilled scientists for decades, and until recently it was considered an experimental project. Only in the past ten years have technology and higher oil prices come together to make the oil sands economically viable. It's so unconventional that for thirty years the U.S. Securities and Exchange Commission, the government regulator that oversees the stock market, has had a policy that forbade oil companies from including oil sands oil as part of their "proven" reserves on their balance sheets.2 That's how new oil sands oil is – until recently, the world just didn't believe it could work. But if the oil sands had a slow start, they've made up for it with amazing growth in the past few years. More than one hundred oil companies are now working or planning to develop the oil sands, and Fort McMurray, once a sleepy outpost in Northern Alberta, has grown into the third-largest city in the province, a boom town of one hundred thousand people. It was because of the oil sands that the value of energy companies on the Toronto Stock Exchange finally exceeded the value of banks. That's big. The oil sands are the reason why Canada is now the number-one exporter of oil to the United States, pushing Saudi Arabia down to number two in 2004 – the year the U.S. Department of Energy finally included oil sands oil in its estimates for global oil reserves. In 2008, Canada shipped 715 million barrels to the United States, far more than the 550 million barrels the Saudis sold. From 2003 to 2008, the oil sands had helped cut Saudi imports by 80 million barrels a year.3 The oil sands aren't just a huge economic force. They're changing the calculus in foreign affairs and national security too. Oil sands have been discovered in other parts of the world, such as Venezuela's Orinoco oil belt,4 but Alberta's political and economic stability make it the most important alternative to Organization of the Petroleum Exporting Countries (OPEC) oil in the world. It's hard to believe, but Canada's oil sands represent more than half of all publicly accessible oil in the world – that is, oil that isn't controlled by a government monopoly. That's why companies from around the world are setting up shop in Canada. If you're an investor in oil – and anyone with a pension fund probably is – you're an investor in the oil sands. But while the oil sands are an enormous economic and energy opportunity, they're a great public relations opportunity for critics of oil too. For one thing, they're ugly, or at least the handful of open-pit mines dating back to the first oil sands installations are, since they're vast digging operations conducted by incredibly large shovels and trucks. They've been the subject of dramatic photo shoots by the likes of National Geographic magazine, and the ugliness of those mines are now a staple in fundraising letters for every environmentalist group in the world. Oil sands porn sells magazines and gets donations, but it's not exactly a substitute for a serious discussion about the pros and cons of oil sands oil compared to opec oil. But any industrial project brings negative side effects with its benefits. Ugly photographs are part of the story, but they're not the whole story. Putting the oil sands into perspective means understanding not just how Alberta operates, but how the rest of the world produces oil too. And it also means getting behind some of the tactics and agendas of those who wish dearly to see the oil sands stopped and shut down tomorrow to find out what's really going on. As with any politically charged, economically transformative issue, there are hidden agendas and vested interests beneath the surface; the truth about the oil sands isn't always what it seems. A good place to start is comparing the ethics of the Canadian oil sands to other oil-producing countries – countries that don't allow National Geographic or other journalists free rein to report on them or activists to pro test their behaviour.
Table of Contents
Introduction: The Shocking Truth About the Oil Sands
 
Chapter 1 What Are the Oil Sands and Why Are They Important?
Chapter 2 The Very Short List of Democracies That Sell Oil
Chapter 3 Then What? The Sad Case of Talisman in Sudan
Chapter 4 If America Doesn't Buy Oil Sands Oil, Who Will?
Chapter 5 A Moral Checklist for Oil Companies
Chapter 6 Say One Thing, Do Another: Ethical Funds and the Oil Sands
Chapter 7 The Most Scrutinized Industry on Earth: Environmental Protection and the Oil Sands
Chapter 8 Greenpeace's Best Fundraiser Ever
Chapter 9 The Cancer Scare That Wasn't
Chapter 10 Propaganda Wars
Chapter 11 Saudi Arabia's War Against the Oil Sands
Chapter 12 Green Jobs: The Enron of Environmentalism
 
Conclusion
 
Acknowledgements
Sources
Editorial Reviews
"[Levant''s book] has clearly had a huge impact on the debate."
— Calgary Herald

"Ethical Oil provides some desperately needed perspective."
— National Post

"Compelling....Ethical Oil posits some uncomfortable answers, making it a challenging and provocative read."
— Halifax Chronicle-Herald