Fighting Cockpits: In The Pilot's Seat Of Great Military Aircraft From World War I To Today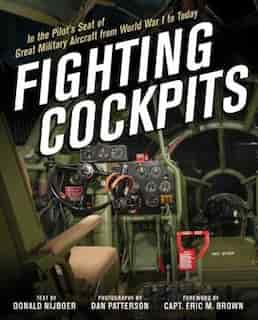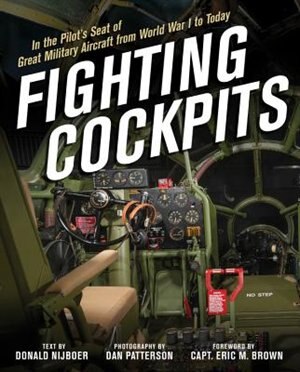 Prices and offers may vary in store
What was it like to sit in the pilot's seat and take control of a P-51 Mustang in World War II? What about an F-14 Tomcat at the height of the Cold War? Or a Lockheed Martin F-22 Raptor today? The cockpits of these fighter and bomber aircraft are revealed in Fighting Cockpits.

Showcasing more than 50 of the world's most famous combat cockpits from early World War I aircraft to present-day fighters, this book includes more than 200 rich color photos from photographer Dan Patterson, as well as detailed history about combat cockpit development from aviation expert and historian Donald Nijboer.
Presented in large-format, you'll be blown away by studio shot spreads of views from the cockpits, vintage photographs of the aircrafts in action, and modern photography of surviving crafts. This book will complete any history buff or aviation enthusiast's library.
Aircraft include:
Wind in the Wires: Nieuport 28, Royal Aircraft Factory S.E.5, Bristol F.2, Fokker Dr.I, Sopwith Camel, Sopwith Triplane, AEG G.IV, SPAD VII, Halberstadt CL.IV, Fokker D.VII
The Rise of the Monoplane: Martin MB-2, Hawker Hind, Fiat CR.32, Boeing P-26 Peashooter, Curtiss F9C, Sparrowhawk, Vought SB2U Vindicator, Westland Lysander, PZL P.11
World War II: Supermarine Spitfire, Messerschmitt Bf 109, Republic P-47 Thunderbolt, North American P-51 Mustang, Handley Page Halifax, Vickers Wellington, Focke-Wulf Fw 190 Wurger, Fairey Firefly, Fiat CR.42, Ilyushin Il-2 Sturmovik, Heinkel He 219 Uhu, Kawasaki Ki-45 Toryu, Curtiss SB2C Helldiver, Northrop P-61 Black Widow, Boeing B-17 Flying Fortress, Boeing B-29 Superfortress, Dornier Do 335 Pfeil, Messerschmitt Me 262 Schwalbe, Arado Ar 234 Blitz
Cold War to the Present: North American F-86 Sabre, Boeing B-52 Stratofortress, Grumman A-6 Intruder, General Dynamics F-111 Aardvark, Hawker Siddeley Harrier, McDonnell Douglas/Boeing F-15 Eagle, Grumman F-14 Tomcat, Fairchild Republic A-10 Thunderbolt II, General Dynamics/Lockheed Martin F-16 Fighting Falcon, Mikoyan MiG-29, Rockwell B-1 Lancer, Lockheed Martin F-117 Nighthawk, Lockheed Martin F-22 Raptor, Lockheed Martin F-35 Lightning II Joint Strike Fighter
Title:
Fighting Cockpits: In The Pilot's Seat Of Great Military Aircraft From World War I To Today
Format:
Hardcover
Product dimensions:
224 pages, 12.25 X 10.25 X 1 in
Shipping dimensions:
224 pages, 12.25 X 10.25 X 1 in
Published:
June 1, 2016
Publisher:
Voyageur Press
Language:
English
The following ISBNs are associated with this title:
ISBN - 10:0760349568
ISBN - 13:9780760349564
Look for similar items by category: