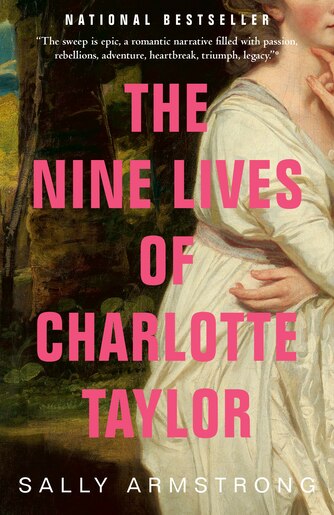 The Nine Lives of Charlotte Taylor: The First Woman Settler of the Miramichi
Paperback

|

February 12, 2008
Pricing and Purchase Info
$21.00
Prices and offers may vary in store
Charlotte Taylor lived in the front row of history. In 1775, at the young age of twenty, she fled her English country house and boarded a ship to Jamaica with her lover, the family's black butler. Soon after reaching shore, Charlotte's lover died of yellow fever, leaving her alone and pregnant in Jamaica. In the sixty-six years that followed, she would find refuge with the Mi'kmaq of what is present-day New Brunswick, have three husbands, nine more children and a lifelong relationship with an aboriginal man. Using a seamless blend of fact and fiction, Charlotte Taylor''s great-great-great-granddaughter, Sally Armstrong, reclaims the life of a dauntless and unusual woman and delivers living history with all the drama and sweep of a novel.

Excerpt from from The Nine Lives of Charlotte Taylor:

"Every summer of my youth, we would travel from the family cottage at Youghall Beach to visit my mother's extended clan in Tabusintac near the Miramichi River. And at every gathering, just as much as there would be chickens to chase and newly cut hay to leap in, so there would be an ample serving of stories about Charlotte Taylor. . .

She was a woman with a "past." The potboilers about her ran like serials from summer to summer, at weddings and funerals and whenever the clan came together. She wasn't exactly presented as a gentlewoman, although it was said that she came from an aristocratic family in England. Nor was there much that seemed genteel about the person they always referred to as "old Charlotte." Words like "lover" and "land grabber" drifted down from the supper table to where we kids sat on the floor. There were whoops of laughter at her indiscretions, followed by sideways glances at us. But for all the stories passed around, it was clear the family still had a powerful respect for a woman long dead. We owed our very existence to her, and the anecdotes the older generation told suggested that their own fortitude and guile were family traits passed down from the ancestral matriarch. For as long as I can remember, I've tried to imagine the real life Charlotte Taylor lived and, more, how she ever survived."
Title:
The Nine Lives of Charlotte Taylor: The First Woman Settler of the Miramichi
Format:
Paperback
Product dimensions:
432 pages, 8 X 5.18 X 0.87 in
Shipping dimensions:
432 pages, 8 X 5.18 X 0.87 in
Published:
February 12, 2008
Publisher:
Random House of Canada
Language:
English
The following ISBNs are associated with this title:
ISBN - 10:0679314059
ISBN - 13:9780679314059
Look for similar items by category:
Preview Your Review
Your Review Has Been Submitted
NO, I do not recommend this product.
Educational/Developmental Value:
Thank you. Your review has been submitted and will appear here shortly.
Read from the Book
Chapter 1The Ocean1775It's just an hour after dawn on the first Monday in May 1775 when the Anton lurches its bulk away from the docks at Bristol and sets sail for the West Indies. Charlotte Taylor is at the rail, rivetted to the huge square sails puffing out like bullies in the wind and bucking the ship into the open sea. A tall woman with ­flame-­red hair tied in a knot at her neck, she keeps her eye to the bow as if setting her own course and her back to the land she has left behind. Standing beside her at the rail is Pad Willisams, her lover and ­co-­conspirator in the hurried exit from Charlotte's family, Pad's job as butler in the Taylor household and a truth they each had only a part ­of.A hastily packed trunk is stowed with the cargo. The calico sack she'd prepared for the voyage, and now realizes is pathetically inadequate since the trunk cannot be opened again until they reach shore six to eight weeks from now, is slung over her ­back.A scrofulous man of indiscriminate age eyes her repeatedly from his place by the forward capstan. He's one of the woebegone collection of humanity she's travelling ­with–­mostly men in their twenties and thirties and one young boy with freckles on his nose who seems to be in the employ of the haughty Captain Skinner. They all stare shamelessly at the white woman and the black man by her side. Pad has pulled together all the stiff dignity of the butler he had been just days earlier, but she can feel the anxiety that thrums through him. She is somewhat surprised to realize that she isn't daunted by the stares, the days ahead or the consequences of leaving her family's country home outside of London. Standing in the brisk wind on the deck of a sailing ship just a week after her twentieth birthday, Charlotte Taylor is ­unafraid–­maybe even ­elated.She's still leaning on the portside, watching the water, letting the wind blow on her face when she allows herself to cast her thoughts to what she has run away from. The terrible row with her father when he learned she'd been "consorting," as he called it, with Pad. The endless rounds of tea, the suffocating rules and her mother's predictable attacks of the vapours whenever there was a hint of excitement in the household. She smiles in anticipation of the life ahead. A marriage to the dashing Pad, a home in the tropics. She's grinning at the prospects when Pad interrupts her reverie to suggest they go below and secure their living ­quarters.The quarters are cramped; the ceiling is so low they have to duck their heads. The bunks are arranged in two rows, one on each side of the dreary lower deck with damp curtains hanging between them to lend an illusion of privacy. There are hooks on which to hang their possessions and a lopsided stove in the centre. The only light and fresh air is from the hatch to the upper deck; the quarters smell of mildew and rotten wood. Indeed, the black streaks of rot crawling up the legs of the cots speak of the months at sea, the flourishing business of carrying human and other cargo across the ocean as many times as the weather will allow between May and October, never stopping long enough to refit or ­repair.They pick a bunk at the end of the row and tie their sacks to the hooks before exploring the rest of the lower deck. There are stalls toward the stern filled with ­animals–­two steers, four sheep, a ragged flock of chickens and three fat pigs. Charlotte looks at each and lingers on the soft, uncomprehending eyes of the steers that will become meals for the passengers and crew. Tucked under the bow in a ­wedge-­shaped hold are the ship's ­stores–­burlap sacks of flour, sugar and grain, cases of biscuits, salt and limes. Charlotte and Pad walk back to midship, where a wide hatch is battened shut on the ­deck."What's down there?" Charlotte asks a stocky sailor who is hurrying ­aft."Cargo, madam," he says. "Plenty a' cotton cloth and wool. That's what makes 'em rich, madam, shippin' the likes a' that."My trunk is down there too, Charlotte thinks ­ruefully.The young lad who'd caught her eye when they left the dock is friendly, puppyish and not too shy to tell her his name is Tommy Yates when she finds him exploring the lower ­deck."Me dad was the one who got me on board," the boy confides gravely. "He brought me to the dock and hired me out to the captain. He told him I was sixteen, an' I'm but thirteen.""Thirteen?" Charlotte looks at him closely. "Are you even that?""Oh yes, madam. Honest, I am."She had thought him no more than a scrawny ­eleven.When he is not scrambling up the rigging at the captain's orders or crawling through the hold below the sleeping quarters to fetch something the captain needs from the cargo, Tommy finds his way to Charlotte's side. In the first week at sea, she heard about his fourteen brothers and sisters, the drink that made his father what he was and the mother who was so sickly she could hardly manage to stagger from her ­bed.Charlotte shares her own story with ­him–­putting a more varnished spin on her departure than is the case. She tells Tommy that she and Pad are married and that her father, General Taylor, doesn't approve of the relationship so they decided to leave home for the West Indies and start a new ­life.She entertains the winsome boy with details of the world she left behind, imitating her nanny's priggish etiquette. "She insisted I sit like this all day long," says Charlotte, perching herself on a bench and exaggerating the ­pose–­her back ramrod straight, her legs bent at the knee and turned slightly sideways and her hands folded together in her lap. She makes him laugh when she describes her antics in the straitlaced ­household–­refusing to marry the man her mother had chosen for her, looking contrite when her father admonished her, galloping around the estate on her horse and lingering at the stable with Pad. Tommy thinks it's a blissful life she's left, but even this boy can see the rebel in the woman he has ­befriended
Bookclub Guide
1. Sally Armstrong writes of Charlotte in the book's introduction, "For as long as I can remember, I've tried to imagine the real life she lived and how she ever survived it." (p. xi) How was your experience of reading this book affected by knowing that it was based on the story of a real person?2. As Pad lays dying in Jamaica, the degenerate Lutz comments to Charlotte, "Many widows, alone and grieving, are grateful for the support of a proper man." (p. 34) Does this opinion about the desperate condition of women in Jamaica also apply to the situation in which Charlotte finds herself in New Brunswick? Is her situation better or worse there?3. Charlotte briefly rues her love affair with Pad, thinking that he may have survived if they had never left England–and that she would not be in her current predicament. Had it not been for her romance with Pad, do you think her life would have taken a more conventional path?4. During her first Christmas in Nipisiguit, Charlotte is treated to a fireside ceremony with her new Acadian and Mi'kmaq friends. "There in the wilderness, by the light of the fire and surrounded by the spirituality of two peoples she has come to know, Charlotte covers the final distance between England and the New World." (p. 143) What does this mean?5. As they watch the burning ghost ship on the night of Charlotte's wedding with Blake, Commodore Walker comments to the men jeering at Mi'kmaq legend, "Aye. But their Great Spirit is but God . . . it might become us on occasion to be humbled by his works, whatever they be and whatever He may be called. We're a proud lot, we men. A day may come when we shall be glad of mysteries." (p. 174) What does Walker mean by this? Do you agree?6. Some of Charlotte's marriages appear to have been made for quite pragmatic reasons, and with virtual strangers, yet she turns down the proposal made by Commodore Walker, with whom she has an affectionate relationship and who promises her a life of comfort. How would her life have been different had she accepted his proposal? Why do you think she made the choices in marriage that she did? Were they the right ones?7. Charlotte and Wioche maintain a love affair that lasts many decades until her death. How do they manage this bond despite the damage done to his people by hers? Why do they never marry?8. It is the men who "settled" New Brunswick who have dominated historical accounts of this period, stories involving war with the Acadians and the First Nations. Charlotte's story reflects a different perspective. What is it about Charlotte's character that allows her to move so skillfully between worlds and cultures? Why is this quality significant?9. For those dwelling along the Miramichi, including Charlotte, nature is a fierce opponent in the struggle for survival. But Charlotte also carries with her the instinct to love the beauty of this untamed wilderness. Discuss this contradiction in Charlotte's relationship to nature.10. Charlotte has many opportunities to return home to England, why doesn't she go?11. Why do you think Charlotte leaves all her land to William Wishart?12. Near the end of her life, Charlotte comes to believe herself complicit in the expulsion of the Acadians and Mi'kmaq from the Miramichi. "Her whole life here, it seems, has been lived in the knowledge that everything she wished to secure for her family helped to undo the security of her friends." (p. 382) Discuss this perspective. Was she complicit?13. BONUS: FUN WITH FOOD AND FICTIONCharlotte gives her children a glimpse into her once affluent past when she teaches Elizabeth to make Welsh Rabbit in the manner of her family's cook. (p. 286) Look up a recipe for Welsh Rabbit (sometimes known as "Rarebit") and consider making it for your book club meeting.
Editorial Reviews
"The sweep is epic, a romantic narrative filled with passion, rebellion, adventure, heartbreak, triumph, legacy. It's a heck of a story." –Ottawa Citizen"A fascinating tale told at a lively pace." –Quill & Quire"Sally Armstrong has done a brilliant job bringing her ancestor vividly to life in a compelling recreation of a settler's life. . . . The list of well-written historical novels set in Canada are short, but The Nine Lives of Charlotte Taylor should be close to the top." –The Globe and Mail"Charlotte Taylor''s story is what you might get if you crossed Susannah Moodie and Jack Aubrey - a delicious character and a great yarn. Sally Armstrong has imagined an ancestor who possesses all the passion and daring that she herself has in abundance, and by the time we had finished our journey together through the trials and  turbulence and the terrible beauty of the early days on the Miramichi,  I wanted to claim Charlotte as my ancestor, too."–Mary Lou Finlay, broadcaster and former host of As It HappensPraise for Veiled Threat:"A brief but brilliant book about the hidden power of the women of Afghanistan . . . written in blazingly clear language, blessedly free of academic pretensions." –Winnipeg Free Press"Emotionally demanding reading . . . a passionate portrayal of recent events in Afghanistan from the perspective of a committed, feminist outsider." –The Hamilton Spectator"A powerful book that shows how women can change the world." –Toronto Sun"Veiled Threat's strength lies in its empirical portrayal of the injustices and inhumanities visited upon the Afghan people, especially woman and girls . . . [and] is to be applauded for its emotionally gripping disclosure of suffering and injustice." –The Globe and Mail"Sally Armstrong views Afghanistan through the eyes of its women. Her story [of Dr. Sima Samar] is one of hope and triumph, as are most of the tales in this straightforward, uplifting volume." –The Washington Post