Somebody Somewhere: Breaking Free From The World Of Autism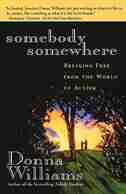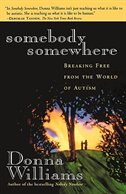 Buy In Store
Prices and offers may vary in store
In her first book, Nobody Nowhere, Donna Williams gave readers an incredible and unprecedented guided tour of the world of autism--a mysterious and little-understood condition.  From her earliest years, Donna''s world was dominated by disembodied patterns, sound, color, and movement.  Cut off from her emotions and unable to make any true connections with other people, Donna lived largely in isolation, avoiding the incomprehensible actions of others yet yearning to be normal.  After she endured twenty-five years of imprisonment, a diagnosis of autism enabled her to take the first steps toward freedom, to begin the arduous trek from her "world under glass" to the real world.

Somebody Somewhere chronicles the four years since Donna''s diagnosis and continues the journey she began in Nobody Nowhere.  Certain that she can no longer survive by straddling two opposing worlds, Donna vows to abandon entirely the comforting isolation of her universe of one.  The decision has brought both agonies and rewards.  She describes her trial by fire as she abandons the two alternate identities she used to hide behind, Carol and Willie, and goes forth nakedly as Donna alone.  She recounts her intensive sessions with her therapist, where she learns devastating truths behind her misconceptions of the real world.  She overcomes the prejudice of teachers and classmates in her quest to obtain a degree in education and recounts her breakthrough working with autistic children.  She comes to terms with the unwelcome --and for someone with autism, the particularly horrifying--demands of instant celebrity when her first book becomes an international bestseller.  She describes the pain and joy of recognizing for the first time her own emotions.  She learns to own her self and to love the person she discovers in the mirror.  Most poignantly of all, she learns she can at last reach out to others for friendship and finds the pleasure of a "special-ship" with a kindred soul.

Once again, Donna Williams proves herself a gifted gatekeeper, that rare individual who can illuminate a shadow world that continues to be deeply misunderstood, who can shatter the myths of autism and rise above its greatest challenges.  Donna''s journey is far from over, but readers will cheer her tenacity, eloquence, and courage.
Title:
Somebody Somewhere: Breaking Free From The World Of Autism
Product dimensions:
252 pages, 8.5 X 5.5 X 0.5 in
Shipping dimensions:
252 pages, 8.5 X 5.5 X 0.5 in
Publisher:
Doubleday Canada
Appropriate for ages:
All ages