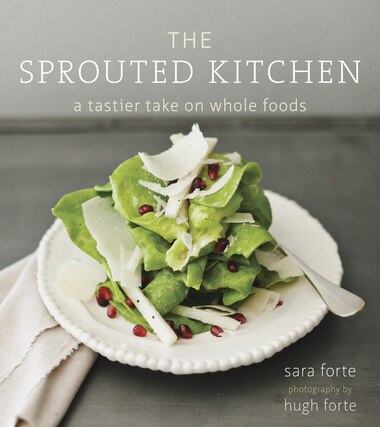 The Sprouted Kitchen: A Tastier Take On Whole Foods
Hardcover

|

August 28, 2012
Pricing and Purchase Info
$29.95
list price
save 25%
Prices and offers may vary in store
Sprouted Kitchen food blogger Sara Forte showcases 100 tempting recipes that take advantage of fresh produce, whole grains, lean proteins, and natural sweeteners—with vivid flavors and seasonal simplicity at the forefront.

Sara Forte is a food-loving, wellness-craving veggie enthusiast who relishes sharing a wholesome meal with friends and family. The Sprouted Kitchen features 100 of her most mouthwatering recipes. Richly illustrated by her photographer husband, Hugh Forte, this bright, vivid book celebrates the simple beauty of seasonal foods with original recipes—plus a few favorites from her popular Sprouted Kitchen food blog tossed in for good measure. The collection features tasty snacks on the go like Granola Protein Bars, gluten-free brunch options like Cornmeal Cakes with Cherry Compote, dinner party dishes like Seared Scallops on Black Quinoa with Pomegranate Gastrique, "meaty" vegetarian meals like Beer Bean– and Cotija-Stuffed Poblanos, and sweet treats like Cocoa Hazelnut Cupcakes. From breakfast to dinner, snack time to happy hour, The Sprouted Kitchen will help you sneak a bit of delicious indulgence in among the vegetables.

Title:
The Sprouted Kitchen: A Tastier Take On Whole Foods
Format:
Hardcover
Product dimensions:
252 pages, 9.3 X 8.3 X 0.84 in
Shipping dimensions:
252 pages, 9.3 X 8.3 X 0.84 in
Published:
August 28, 2012
Publisher:
Potter/Ten Speed/Harmony/Rodale
Language:
English
The following ISBNs are associated with this title:
ISBN - 10:1607741148
ISBN - 13:9781607741145
Look for similar items by category:
Preview Your Review
Your Review Has Been Submitted
NO, I do not recommend this product.
Educational/Developmental Value:
Thank you. Your review has been submitted and will appear here shortly.
Read from the Book
How to Read This Book       One of the biggest challenges I faced when writing this book was explaining in words the precise details of how to make something, when in fact I don't typically think about cooking in such a way. I wish you could just come over and I would show you! Words can often make easy tasks seem more difficult than they really are, and this book is far from advanced. Read through the recipe first, then go for it, referring to the recipe as necessary.     As I suggested above, you should trust your own intuition. I rarely offer measurements for salt and pepper because I feel everyone has their own preferences. I prefer less salt and tons of pepper, while Hugh likes the opposite, so I found it best to allow people to make that call on their own in most cases. You must taste as you go to figure this out. I would suggest finding a salt that you like and using it consistently. Different types of salt contain different minerals and have a different salinity, so a pinch of one is not always equal to a pinch of another. There are books dedicated to the art of using different salts, and this is not it. I use a fine-grain sea salt or pink salt in everyday cooking, and Maldon sea salt flakes for finishing dishes or sprinkling on top of some sweets.      Do you have the space (and the proper climate) to grow a lemon tree? You should plant one if you do. Fresh citrus juice adds a brightness to food that is unmatched by any vinegar. I consistently use Meyer lemons, which are sweeter and less acidic than standard lemons, because I have access to a tree. You can find Meyer lemons in markets in the winter and spring, but if you have your own tree you'll have access to them for longer, plus you'll save money in the long run. Am I starting off my book by suggesting you plant a tree? Why yes, yes I am. And an herb garden while you're at it. You'll thank me later.      We get the majority of our produce from a CSA program, which is basically a subscription to a farm. For our weekly payment we get a box of whatever happens to be in season. Because the box is limited to what is bountiful at that farm at that time, and often there are weeks when we get a lot of Swiss chard, I fill in the gaps at a farmers' market or a grocery store that has a lot of organic options and a high turnover rate. This also gives me the chance to stock up on grains and flours from bulk bins, which tend to be more affordable than packaged goods. Your produce doesn't have to be expensive, but you can usually tell by looking at it if it is "happy." Is it firm, bright, and fragrant? Then it's probably happy.     Where my food comes from and how it is grown is important to me. Even if you do not care about the politics of sustainable agriculture, the flavor of your food will be indescribably better when you cook food that is fresh and in season. Research what foods are in season in your area, and discover which markets sell them, and you will be certain to make good food because you started with good food. There are a few terms in this book that are vague for good reason, but I respect that there are some cooks who like specifics. Here's what I mean when you see the following:   Handful = short of 1/4 cup Pinch = a bit less than 1/2 teaspoon Heaping = a bit more than the measurement Scant = just short of the measurement   This should be fun. Trust yourself. Find good company. Meyer lemons. Lots of herbs. Salt + pepper. Be well.    Grapefruit Margarita Serves 1    Turbinado sugar, for the rim 4 segments pink grapefruit, membrane removed (see page 54) Ice 1/4 cup (2 ounces) freshly squeezed grapefruit juice 1 tablespoon (1/2 ounce) agave nectar, as needed 2 tablespoons (1 ounce) triple sec 1/4 cup (2 ounces) reposado tequila Splash of coconut water   Pour a thin layer of the sugar onto a small plate. Rub a wedge of grapefruit around the rim of an old-fashioned-size glass, and roll the rim in the plate of sugar to coat. Set aside. Put the grapefruit segments at the bottom of the prepared glass and fill it with ice. Add the grapefruit juice, agave nectar, triple sec, and tequila and give it a quick stir. Top the drink off with a generous splash of coconut water. Serve immediately. You'll have to use your discretion when making this recipe. I have tasted a few grapefruits whose juice is plenty sweet for this drink, but if yours is more tart, you'll want to include the agave nectar. Squeezing citrus juice is pretty straightforward, but if you prefer, you can find fresh-squeezed grapefruit juice at well-stocked markets.Coconut water, trendy beverage it is, doesn't taste particularly like coconut nor is it very sweet, but it adds a nice subtle twist to the margarita. Here I give the measurements for making one margarita, but you can multiply the quantities as needed and mix everything in a pitcher.
Table of Contents
a bit about the sprouted kitchen
ingredients and tools
 
To Start the Morning
roasted tomato and herb omelette
quick apricot jam
french press coffee
ranchero breakfast tostadas
vegetable eggs benedict
soft scrambled eggs with creamy leeks
multigrain carrot-date muffins
pumpkin pecan granola
creamy coconut barley with pomegranate molasses
buckwheat crepes with smoked salmon
cornmeal cakes with cherry compote
tofu quiche in rosemary–almond meal crust
baby spinach frittata with sweet potato hash crust
mango mint lassi
 
Salads and Sides 
the house salad
grapefruit and crispy avocado salad
haricot vert salad with avocado goddess dressing
tuscan kale chopped salad
papaya and red quinoa salad with mexican caesar dressing
heirloom tomato stacks with bocconcini and kale pesto
toasted millet salad with arugula, quick pickled onions, and goat cheese
golden beet salad with cider vinegar dressing
tangled carrot and broccoli sprout salad with tahini dressing
stacked watermelon with feta and white balsamic fennel slaw
braised white beans and leeks
honey mustard broccoli salad
delicata squash sformato
brussel leaf and baby spinach sauté
young carrots en papillote
winter wild rice casserole
mashies and greens
roasted acorn squash with hazelnuts and balsamic reduction
roasted asparagus with bread crumbs and herbs
spiced sweet potato wedges
 
Mains 
asian tofu tacos with hoisin slaw
beer bean– and cotija-stuffed poblanos
roasted tomato soup
smoky red lentil soup
edamame dumplings
moroccan stuffed squash
roasted cauliflower capellini
mushroom and brown rice veggie burgers
creamy millet with roasted portobellos
lentil meatballs with lemon pesto
buckwheat harvest tart
grilled flatbreads with pear, arugula, and goat cheese
roasted wild cod with meyer lemon and caper relish
soba bowls with tea-poached salmon
walnut-crusted salmon with edamame mash
green herb shrimp with summer squash couscous
seared scallops on black quinoa with pomegranate gastrique
chipotle and apple turkey burgers
greek grilled chicken with tzatziki
 
Snacks to Share
quinoa collard wraps with miso-carrot spread
lemon and herb hummus
crunchy curried chickpeas
beach day tuna salad
honey almond butter
toasty nuts
sesame date yogurt cups
strawberry and leek quesadilla
low-yolk egg salad
granola protein bars
coconut loaf
zucchini bread bites
nut and seed crackers
nori popcorn
greens smoothie
 
The Happy Hour 
white sangria
black cherry refresher
grapefruit margarita
cucumber crush
baked artichoke dip
polenta squares with raw corn and blueberry relish
grilled zucchini roll ups
tempeh balls
grilled eggplant pita pizzette
mediterranean baked feta
beets and greens with whipped feta spread
mango guacamole with baked corn chips
red grape salsa on crostini
roasted plum tartines
tofu summer rolls with cashew dipping sauce
two-bite grilled cheese
cumin lentil dip in endive leaves
 
Treats
almond meal cookies with coconut and cacao nibs
dairy-free lemon crèmes with oat-thyme crumble
almond meal–strawberry cake
chocolate-drizzled oatmeal shortbread
peanut butter pretzel tartlets
cocoa hazelnut cupcakes
grilled peaches with maple crème fraîche
coconut lime tart
goat cheese panna cotta with roasted figs
inside-out apple pie à la mode
flourless chocolate-banana pudding cakes with cinnamon cream
oatmeal ice cream sandwiches
fresh mint chip frozen yogurt
acai sorbet
 
etc.
roasted garlic
caramelized onions
herb compound butter
preserved lemons
pot of beans
grain cooking chart
 
with gratitude
about us
index
Editorial Reviews
"Sara's recipes are to be shared and savored. Nutritious, hearty, and relaxed, this book is filled with attractive food and beautiful photographs. Love it all around."—Aran Goyoaga, creator of Cannelle et Vanille and author of Small Plates and Sweet Treats "The minute I landed on the Sprouted Kitchen website years ago, I knew I'd stumbled on a kindred spirit. Everything I loved about the site extends itself beautifully into this cookbook—the vibrant focus on whole foods, the enticing photography, the inspired ingredient combinations, and Sara's approachable voice. I imagine this book being a welcome addition in many, many kitchens."—Heidi Swanson, author of Super Natural Every Day "We all aspire to eat healthfully, but sometimes those good intentions are foiled by hard-to-source ingredients, restrictive fad diets, and other road-blocks. Sara Forte's simple yet inventive recipes and straightforward approach to good, clean cooking are a breath of fresh air. From buckwheat tarts to nori popcorn, crispy avocado wedges to sesame date yogurt cups, I can't wait to get cooking."—Luisa Weiss, creator of The Wednesday Chef and author of My Berlin Kitchen "From gastriques to grape salsas and collard wraps to lassis, The Sprouted Kitchen proves that eating whole foods can be nutritious, approachable, and interesting. Sara and Hugh are my kitchen kin as they cook and shoot seasonally based, California-focused cuisine in a contemporary and smart manner. This book is a guide for the conscientious eater with creative yet doable ways to cook ethically, practically, and—most importantly—deliciously."—Aida Mollenkamp, host of Ask Aida and FoodCrafters