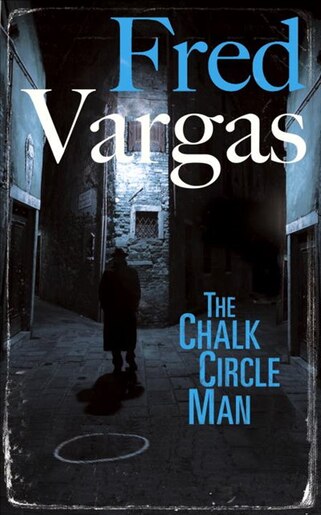 The Chalk Circle Man
Hardcover

|

December 10, 2010
Pricing and Purchase Info
$29.95
Prices and offers may vary in store
Jean-Baptiste Adamsberg is not like other policemen. His methods appear unorthodox in the extreme: he doesn't search for clues; he ignores obvious suspects and arrests people with iron-clad alibis; he appears permanently distracted.

The Chalk Circle Man is the first book featuring Jean-Baptiste Adamsberg, one of the most engaging characters in contemporary detective fiction.

When strange, blue chalk circles start appearing overnight on the pavements of Paris, the press take up the story with amusement and psychiatrists trot out their theories. Adamsberg is alone in thinking this is not a game and far from amusing. He insists on being kept informed of new circles and the increasingly bizarre objects which they contain: empty beer cans, four trombones, a pigeon's foot, four cigarette lighters, a badge proclaiming "I Love Elvis," a hat, a doll's head. Adamsberg senses the cruelty that lies behind these seemingly random occurrences. Soon a circle with decidedly less banal contents is discovered: the body of a woman with her throat savagely cut. Adamsberg knows that other murders will follow.
Title:
The Chalk Circle Man
Format:
Hardcover
Product dimensions:
256 pages, 9.29 X 6.31 X 0.98 in
Shipping dimensions:
256 pages, 9.29 X 6.31 X 0.98 in
Published:
December 10, 2010
Language:
English
The following ISBNs are associated with this title:
ISBN - 10:0307396878
ISBN - 13:9780307396877
Look for similar items by category:
Preview Your Review
Your Review Has Been Submitted
NO, I do not recommend this product.
Educational/Developmental Value:
Thank you. Your review has been submitted and will appear here shortly.
Read from the Book
Mathilde took out her diary and wrote: 'the man sitting next to me has got one hell of a nerve.'She sipped her beer and glanced once more at the neighbour on her left, a strikingly tall man who had been drumming his fingers on the café table for the past ten minutes.She made another note in the diary: 'He sat down too close to me, as if we knew each other, but I've never seen him before. No, I'm sure I've never seen him before. Not much else to say about him, except that he's wearing dark glasses. I'm sitting on the terrace outside the Café Saint-Jacques, and I've ordered a glass of draught lager. I'm drinking it now. I'm concentrating as hard as I can on the beer. Can't think of anything better to do.'Mathilde's neighbour went on drumming his fingers.'Something the matter?' she asked.Mathilde had a deep and very husky voice. The man guessed that here was a woman who smoked as much as she could get away with.'No, nothing. Why?' he replied.'Just that it's getting on my nerves, that noise you're making on the tabletop. Everything's setting my teeth on edge today.'Mathilde finished her beer. Tasteless. Typical for a Sunday. Mathilde considered that she suffered more than most from the fairly widespread malaise she called seventh-day blues.'You're about fifty, I'd guess?' offered the man, without moving away from her.'Might be,' said Mathilde.She felt annoyed.What business was that of his? Just then, she had noticed that the stream of water from the fountain opposite the café was blowing in the wind and sprinkling drops on the arm of the stone cherub beneath: one of those little moments of eternity. And now here was some character spoiling the only moment of eternity of this particular seventh day.Besides, people usually thought she looked ten years younger. As she told him.'Does it matter?' asked the man. 'I can't guess ages the way other people do. But I imagine you're rather beautiful, if I'm not mistaken.''Is there something wrong with my face?' asked Mathilde. 'You don't seem very sure about it.''It's not that. I certainly do imagine you're beautiful,' the man replied, 'but I won't swear to it.''Please yourself,' said Mathilde. 'At any rate, you're very good-looking, and I'll swear to that, if it helps.Well, it always does help, doesn't it? And now I'm going to leave you. I'm too edgy today to sit around talking to people like you.''I'm not feeling so calm, either. I was going to see a flat to rent, but it was already taken. What about you?''I let somebody I wanted to catch up with get away.''A friend?''No, a woman I was following in the metro. I'd taken lots of notes, and then, suddenly, I lost her. See what I mean?''No, I don't see at all.''You're not trying, you mean.''Well, obviously I'm not trying.''You are. You're very trying.''Yes, I am trying. And on top of that, I'm blind.''Oh, Christ!' said Mathilde. 'I'm so sorry.'The man turned towards her with a rather unkind smile.'Why are you sorry?' he said. 'It's not your fault, is it?'Mathilde told herself that she should just stop talking. But she also knew that she wouldn't be able to manage that.'Whose fault is it, then?' she asked.The Beautiful Blind Man, as Mathilde had already named him in her head, reverted to his position, three-quarters turned away.'It was a lioness's fault. I was dissecting it, because I was working on the locomotive system of the larger cats.Why the heck should we care about their locomotive system? Sometimes I would tell myself this is really cutting-edge stuff, other times I thought, oh for God's sake, lions walk, they crouch, they pounce, and that's it. Then one day I made a false move with a scalpel . . .''And it squirted in your eyes.''Yes. How did you know?''There was this man once, he built the colonnade of the Louvre, and he was killed like that. A decomposed camel, laid out on a dissecting table. Still, that was a long time ago, and it was a camel. Quite a big difference, really.''Well, rotten flesh is still rotten flesh. The ghastly muck went in my eyes. Everything went black. Couldn't see a thing. Kaput.''All because of a wretched lioness. I came across a creature like that once. How long ago was this?''Eleven years now. She must be laughing her head off, the lioness, wherever she is. Well, I can laugh, sometimes, these days. Not at the time though. A month later I went back and trashed the lab — I threw bits of rotten tissue everywhere, I wanted it to go in everyone's eyes. I smashed up the work of the team studying feline locomotion. But of course it gave me no satisfaction at all. In fact, it was a big let-down.''What colour were your eyes?''Black, like swifts, the sickles of the sky.''And now what are they like?''Nobody dares tell me. Black, red and white, I should think. People seem to choke when they see them. I suppose it's a nasty sight. I just keep my glasses on all the time now.''I'd like to see them,' said Mathilde, 'if you really want to know what they look like. Nasty sights don't bother me.''People say that, then they regret it.''When I was diving one day, I got bitten on the leg by a shark.''OK, I suppose that's not a pretty sight either.''What do you miss the most from not being able to see?''Your questions are getting on my nerves. We're not going to spend all day talking about lions and sharks and suchlike beasts, are we?''No, I suppose not.''Well, if you must know, I miss girls. Not very original, is it?''The girls cleared off, did they, after the lioness?''Looks like that. You didn't say why you were following the woman.''No reason. I follow lots of people, actually. Can't help it, it's an addiction.''After the shark bite, did your lover clear off?''He left, and others came along.''You're an unusual woman.''Why do you say that?' asked Mathilde.'Because of your voice.''What do you hear in people's voices?''Oh, come on, I'm not going to tell you that! What would I have left, for pity's sake? You've got to let a blind man have some advantages, madame,' said the man, with a smile.He stood up to leave. He hadn't even finished his drink.'Wait. What's your name?' Mathilde asked.The man hesitated.'Charles Reyer,' he said.'Thank you. My name's Mathilde.'The Beautiful Blind Man said that was a rather classy name, that there was a queen called Mathilde who had reigned in England in the twelfth century. Then he walked off, guiding himself with a finger along the wall. Mathilde couldn't care less about the twelfth century, and she finished the blind man's drink, with a frown.For a long time afterwards, for weeks during her excursions along the pavements of Paris, Mathilde looked out for the blind man, out of the corner of her eye. But she didn't find him. She guessed his age as about thirty-five.
Editorial Reviews
"Like legions of other devoted readers, I''ve become addicted to the adventures of Commissaire Jean-Baptiste Adamsberg. . . . If you''ve already discovered Adamsberg, this novel is essential reading. If you haven''t, this is the perfect place to begin."— Margaret Cannon, The Globe and Mail"If you haven''t cottoned on to Vargas''s brilliant Adamsberg detective stories, you''re missing a treat."— Scotland on Sunday"The Chalk Circle Man showcases Vargas'' charms as a crime writer — it''s hauntingly written, with intensely drawn characters and a plot that smoulders with psychological suspense."— The Age