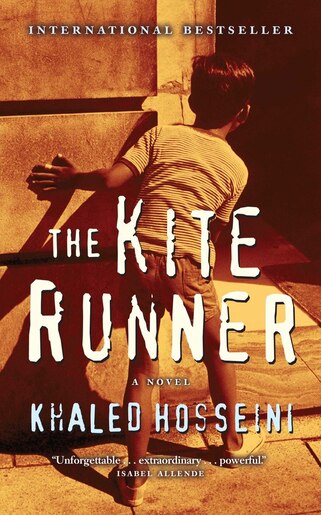 The Kite Runner
Paperback

|

May 11, 2004
Pricing and Purchase Info
$22.00
list price
save 8%
Prices and offers may vary in store
"I sat on a bench near a willow tree and watched a pair of kites soaring in the sky. I thought about something Rahim Khan said just before he hung up, almost as an afterthought, 'There is a way to be good again.'"

Now in paperback, one of the year's international literary sensations -- a shattering story of betrayal and redemption set in war-torn Afghanistan.

Amir and Hassan are childhood friends in the alleys and orchards of Kabul in the sunny days before the invasion of the Soviet army and Afghanistan's decent into fanaticism. Both motherless, they grow up as close as brothers, but their fates, they know, are to be different. Amir's father is a wealthy merchant; Hassan's father is his manservant. Amir belongs to the ruling caste of Pashtuns, Hassan to the despised Hazaras.

This fragile idyll is broken by the mounting ethnic, religious, and political tensions that begin to tear Afghanistan apart. An unspeakable assault on Hassan by a gang of local boys tears the friends apart; Amir has witnessed his friend's torment, but is too afraid to intercede. Plunged into self-loathing, Amir conspires to have Hassan and his father turned out of the household.

When the Soviets invade Afghanistan, Amir and his father flee to San Francisco, leaving Hassan and his father to a pitiless fate. Only years later will Amir have an opportunity to redeem himself by returning to Afghanistan to begin to repay the debt long owed to the man who should have been his brother.

Compelling, heartrending, and etched with details of a history never before told in fiction, The Kite Runner is a story of the ways in which we're damned by our moral failures, and of the extravagant cost of redemption.
Like just about every booklover, books pile up on my night table waiting to be read: books with interesting jacket copy that catch my eye as I visit our stores, galleys of publisher faves and, of course, recommendations from friends who know I just can't resist a great story. This past weekend, I pulled out a book that somehow kept f...
Title:
The Kite Runner
Format:
Paperback
Product dimensions:
400 pages, 7.98 X 5 X 1.02 in
Shipping dimensions:
400 pages, 7.98 X 5 X 1.02 in
Published:
May 11, 2004
Publisher:
Doubleday Canada
Language:
English
The following ISBNs are associated with this title:
ISBN - 10:0385660073
ISBN - 13:9780385660075
Look for similar items by category:
Preview Your Review
Your Review Has Been Submitted
NO, I do not recommend this product.
Educational/Developmental Value:
Thank you. Your review has been submitted and will appear here shortly.
Read from the Book
OneDecember 2001I became what I am today at the age of twelve, on a frigid overcast day in the winter of 1975. I remember the precise moment, crouching behind a crumbling mud wall, peeking into the alley near the frozen creek. That was a long time ago, but it's wrong what they say about the past, I've learned, about how you can bury it. Because the past claws its way out. Looking back now, I realize I have been peeking into that deserted alley for the last twenty-six years.One day last summer, my friend Rahim Khan called from Pakistan. He asked me to come see him. Standing in the kitchen with the receiver to my ear, I knew it wasn't just Rahim Khan on the line. It was my past of unatoned sins. After I hung up, I went for a walk along Spreckels Lake on the northern edge of Golden Gate Park. The early-afternoon sun sparkled on the water where dozens of miniature boats sailed, propelled by a crisp breeze. Then I glanced up and saw a pair of kites, red with long blue tails, soaring in the sky. They danced high above the trees on the west end of the park, over the windmills, floating side by side like a pair of eyes looking down on San Francisco, the city I now call home. And suddenly Hassan's voice whispered in my head: For you, a thousand times over. Hassan the harelipped kite runner.I sat on a park bench near a willow tree. I thought about something Rahim Khan said just before he hung up, almost as an afterthought. There is a way to be good again. I looked up at those twin kites. I thought about Hassan. Thought about Baba. Ali. Kabul. I thought of the life I had lived until the winter of 1975 came along and changed everything. And made me what I am today.TwoWhen we were children, Hassan and I used to climb the poplar trees in the driveway of my father's house and annoy our neighbors by reflecting sunlight into their homes with a shard of mirror. We would sit across from each other on a pair of high branches, our naked feet dangling, our trouser pockets filled with dried mulberries and walnuts. We took turns with the mirror as we ate mulberries, pelted each other with them, giggling, laughing. I can still see Hassan up on that tree, sunlight flickering through the leaves on his almost perfectly round face, a face like a Chinese doll chiselled from hardwood: his flat, broad nose and slanting, narrow eyes like bamboo leaves, eyes that looked, depending on the light, gold, green, even sapphire. I can still see his tiny low-set ears and that pointed stub of a chin, a meaty appendage that looked like it was added as a mere afterthought. And the cleft lip, just left of midline, where the Chinese doll maker's instrument may have slipped, or perhaps he had simply grown tired and careless.Sometimes, up in those trees, I talked Hassan into firing walnuts with his slingshot at the neighbor's one-eyed German shepherd. Hassan never wanted to, but if I asked, really asked, he wouldn't deny me. Hassan never denied me anything. And he was deadly with his slingshot. Hassan's father, Ali, used to catch us and get mad, or as mad as someone as gentle as Ali could ever get. He would wag his finger and wave us down from the tree. He would take the mirror and tell us what his mother had told him, that the devil shone mirrors too, shone them to distract Muslims during prayer. "And he laughs while he does it," he always added, scowling at his son."Yes, Father," Hassan would mumble, looking down at his feed. But he never told on my. Never told that the mirror, like shooting walnuts at the neighbor's dog, was always my idea.The poplar trees lined the redbrick driveway, which led to a pair of wrought-iron gates. They in turn opened into an extension of the driveway into my father's estate. The house sat on the left side of the brick path, the backyard at the end of it.Everyone agreed that my father, my Baba, had built the most beautiful house in the Wazir Akbar Khan district, a new and affluent neighborhood in the northern part of Kabul. Some thought it was the prettiest house in all of Kabul. A broad entryway flanked by rosebushes led to the sprawling house of marble floors and wide windows. Intricate mosaic tiles, handpicked by Baba in Isfahan, covered the floors of the four bathrooms. Gold-stitched tapestries, which Baba had bought in Calcutta, lined the walls; a crystal chandelier hung from the vaulted ceiling.Upstairs was my bedroom, Baba's room, and his study, also known as "the smoking room," which perpetually smelled of tobacco and cinnamon. Baba and his friends reclined on black leather chairs there after Ali had served dinner. They stuffed their pipes -- except Baba always called it "fattening the pipe" -- and discussed their favorite three topics: politics, business, soccer. Sometimes I asked Baba if I could sit with them, but Baba would stand in the doorway. "Go on, now," he'd say. "This is grown-ups' time. Why don't you go read one of those books of yours?" He'd close the door, leave me to wonder why it was always grown-ups' time with him. I'd sit by the door, knees drawn into my chest. Sometimes I sat there for an hour, sometimes two, listening to their laughter, their chatter.The living room downstairs had a curved wall with custom-built cabinets. Inside sat framed family pictures: an old, grainy photo of my grandfather and King Nadir Shah taken in 1931, two years before the king's assassination; they are standing over a dead deer, dressed in knee-high boots, rifles slung over their shoulders. There was a picture of my parents' wedding night, Baba dashing in his black suit and my mother a smiling young princess in white. Here was Baba and his best friend and business partner, Rahim Kahn, standing outside our house, neither one smiling -- I am a baby in that photograph and Baba is holding me, looking tired and grim. I'm in his arms, but it's Rahim Khan's pinky my fingers are curled around.The curved wall led into the dining room, at the center of which was a mahogany table that could easily sit thirty guests -- and, given my father's taste for extravagant parties, it did just that almost every week. On the other end of the dining room was a tall marble fireplace, always lit by the orange glow of a fire in the wintertime.A large sliding glass door opened into a semicircular terrace that overlooked two acres of backyard and rows of cherry trees. Baba and Ali had planted a small vegetable garden along the eastern wall: tomatoes, mint, peppers, and a row of corn that never really took. Hassan and I used to call it "the Wall of Ailing Corn."On the south end of the garden, in the shadows of a loquat tree, was the servants' home, a modest mud hut where Hassan lived with his father.It was there, in that little shack, that Hassan was born in the winter of 1964, just one year after my mother died giving birth to me.
Bookclub Guide
1. The novel begins with Amir's memory of peering down an alley, looking for Hassan who is kite running for him. As Amir peers into the alley, he witnesses a tragedy. The novel ends with Amir kite running for Hassan's son, Sohrab, as he begins a new life with Amir in America. Why do you think the author chooses to frame the novel with these scenes? Refer to the following passage: "Afghans like to say: Life goes on, unmindful of beginning, end…crisis or catharsis, moving forward like a slow, dusty caravan of kochis [nomads]." How is this significant to the framing of the novel?2. The strong underlying force of this novel is the relationship between Amir and Hassan. Discuss their friendship. Why is Amir afraid to be Hassan's true friend? Why does Amir constantly test Hassan's loyalty? Why does he resent Hassan? After the kite running tournament, why does Amir no longer want to be Hassan's friend?3. Early in Amir and Hassan's friendship, they often visit a pomegranate tree where they spend hours reading and playing. "One summer day, I used one of Ali's kitchen knives to carve our names on it: 'Amir and Hassan, the sultans of Kabul.' Those words made it formal: the tree was ours." In a letter to Amir later in the story, Hassan mentions that "the tree hasn't borne fruit in years." Discuss the significance of this tree.4. We begin to understand early in the novel that Amir is constantly vying for Baba's attention and often feels like an outsider in his father's life, as seen in the following passage: "He'd close the door, leave me to wonder why it was always grown-ups time with him. I'd sit by the door, knees drawn to my chest. Sometimes I sat there for an hour, sometimes two, listening to their laughter, their chatter." Discuss Amir's relationship with Baba.5. After Amir wins the kite running tournament, his relationship with Baba undergoes significant change. However, while they form a bond of friendship, Amir is still unhappy. What causes this unhappiness and how has Baba contributed to Amir's state of mind? Eventually, the relationship between the two returns to the way it was before the tournament, and Amir laments "we actually deceived ourselves into thinking that a toy made of tissue paper, glue, and bamboo could somehow close the chasm between us." Discuss the significance of this passage.6. As Amir remembers an Afghan celebration in which a sheep must be sacrificed, he talks about seeing the sheep's eyes moments before its death. "I don't know why I watch this yearly ritual in our backyard; my nightmares persist long after the bloodstains on the grass have faded. But I always watch, I watch because of that look of acceptance in the animal's eyes. Absurdly, I imagine the animal understands. I imagine the animal sees that its imminent demise is for a higher purpose." Why do you think Amir recalls this memory when he witnesses Hassan's tragedy in the alleyway? Amir recollects the memory again toward the end of the novel when he sees Sohrab in the home of the Taliban. Discuss the image in the context of the novel.7. America acts as a place for Amir to bury his memories and a place for Baba to mourn his. In America, there are "homes that made Baba's house in Wazir Akbar Khan look like a servant's hut." What is ironic about this statement? What is the function of irony in this novel?8. What is the significance of the irony in the first story that Amir writes? After hearing Amir's story, Hassan asks, "Why did the man kill his wife? In fact, why did he ever have to feel sad to shed tears? Couldn't he have just smelled an onion?" How is his reaction to the story a metaphor for Amir's life? How does this story epitomize the difference in character between Hassan and Amir?9. Why is Baba disappointed by Amir's decision to become a writer? During their argument about his career path, Amir thinks to himself: "I would stand my ground, I decided. I didn't want to sacrifice for Baba anymore. The last time I had done that, I had damned myself." What has Amir sacrificed for Baba? How has Amir "damned himself"?10. Compare and contrast the relationships of Soraya and Amir and their fathers. How have their upbringings contributed to these relationships?11. Discuss how the ever-changing politics of Afghanistan affect each of the characters in the novel.12. On Amir's trip back to Afghanistan, he stays at the home of his driver, Farid. Upon leaving he remarks: "Earlier that morning, when I was certain no one was looking, I did something I had done twenty-six years earlier: I planted a fistful of crumpled money under the mattress." Why is this moment so important in Amir's journey?13. Throughout the story, Baba worries because Amir never stands up for himself. When does this change?14. Amir's confrontation with Assef in Wazir Akar Khan marks an important turning point in the novel. Why does the author have Amir, Assef, and Sohrab all come together in this way? What is this the significance of the scar that Amir develops as a result of the confrontation? Why is it important in Amir's journey toward forgiveness and acceptance?15. While in the hospital in Peshawar, Amir has a dream in which he sees his father wrestling a bear: "They role over a patch of grass, man and beast…they fall to the ground with a loud thud and Baba is sitting on the bear's chest, his fingers digging in its snout. He looks up at me, and I see. He's me. I am wrestling the bear." Why is this dream so important at this point in the story? What does this dream finally help Amir realize?16. Amir and Hassan have a favorite story. Does the story have the same meaning for both men? Why does Hassan name his son after one of the characters in the story?17. Baba and Amir know that they are very different people. Often it disappoints both of them that Amir is not the son that Baba has hoped for. When Amir finds out that Baba has lied to him about Hassan, he realizes that "as it turned out, Baba and I were more alike than I'd never known." How does this make Amir feel about his father? How is this both a negative and positive realization?18. When Amir and Baba move to the States their relationship changes, and Amir begins to view his father as a more complex man. Discuss the changes in their relationship. Do you see the changes in Baba as tragic or positive?19. Discuss the difference between Baba and Ali and between Amir and Hassan. Are Baba's and Amir's betrayals and similarities in their relationships of their servants (if you consider Baba's act a betrayal) similar or different? Do you think that such betrayals are inevitable in the master/servant relationship, or do you feel that they are due to flaws in Baba's and Amir's characters, or are they the outcome of circumstances and characters?From the Hardcover edition.
From Our Editors
The unforgettable, heartbreaking story of the unlikely friendship between a wealthy boy and the son of his father's servant, The Kite Runner is a beautifully crafted novel set in a country in the process of being destroyed. It is about the power of reading, the price of betrayal, and the possibility of redemption. And it is also about the power of fathers over sons -- their love, their sacrifices, their lies.The first Afghan novel to be written in English, The Kite Runner tells a sweeping story of family, love, and friendship against a backdrop of history that has not been told in fiction before, bringing to mind the large canvasses of the Russian writers of the nineteenth century. But just as it is old-fashioned in its narration, it is contemporary in its subject -- the devastating history of Afghanistan over the past thirty years. As emotionally gripping as it is tender, The Kite Runner is an unusual and powerful debut.
Editorial Reviews
"A wonderful work... This is one of those unforgettable stories that stay with you for years. All the great themes of literature and of life are the fabric of this extraordinary novel: love, honor, guilt, fear redemption...It is so powerful that for a long time everything I read after seemed bland." -- Isabel Allende "Stunning . . . an incisive, perceptive examination of recent Afghan history. . . It is rare that a book is at once so timely and of such high literary quality." -- Publisher''s Weekly"In The Kite Runner, Khaled Hosseini gives us a vivid and engaging story that reminds us how long his people have been struggling to triumph over the forces of violence -- forces that continue to threaten them even today." -- New York Times"A haunting morality tale." -- USA Today"His passionate story of betrayal and redemption is framed by Afghanistan's tragic recent past . . . Rather than settle for a coming-of-age or travails-of-immigrants story, Hosseini has folded them both into this searing spectacle of hard-won personal salvation. All this, and a rich slice of Afghan culture too: irresistible." -- Kirkus Reviews"Like Gone with the Wind, this extraordinary first novel locates the personal struggles of everyday people in the terrible sweep of history." -- People"To many Western readers, [Afghanistan's] can be an exhausting and bewildering history. But Hosseini extrudes it into an intimate account of family and friendship, betrayal and salvation that requires no atlas or translation to engage and enlighten us." -- Washington Post"Hosseini does tenderness and terror, California dream and Kabul nightmare with equal aplomb. . .a ripping yarn and ethical parable." -- Globe and Mail"A beautiful novel . . . a song in a new key. Hosseini is an exhilaratingly original writer with a gift for irony and a gentle, perceptive heart . . . one of the most lyrical, moving and unexpected novels of the year." -- Denver PostFrom the Hardcover edition.