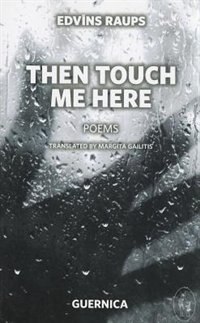 Then touch me here
by

Edvins Raups

Translated by

Margita Gailitis
Paperback

|

December 1, 2010
Pricing and Purchase Info
Prices and offers may vary in store
His verses alarm the reader, drop hints, at times spout an aphoristic maxim, and not infrequently fade away into incoherent muttering -- as he adds at the end of some poems, when lightning and thunderclaps have rolled over the reader?s head and the poet-shaman, no longer in a trance, comes to his senses in a world whose simplicity and hopelessness can best be expressed by the song of a bird or the rapping of a stick on wood. -- Poet Karlis Verdins in Latvian Literature. then touch me here consists of selections from his fourth and fifth books of poetry -- uzvari man kaut ko parejosu (cook up something transitory for me, 2003) and Putn'' (Bird'', 2008).
Title:
Then touch me here
Format:
Paperback
Dimensions:
130 pages, 8 X 5 X 0.32 in
Published:
December 1, 2010
Publisher:
Guernica Editions
Language:
English
The following ISBNs are associated with this title:
ISBN - 10:1550713337
ISBN - 13:9781550713336
Look for similar items by category:
Preview Your Review
Your Review Has Been Submitted
NO, I do not recommend this product.
Educational/Developmental Value:
Thank you. Your review has been submitted and will appear here shortly.
From the Author
"Contrary to the opinion expressed by some regarding the senselessness of contemporary poetry, I have always been tormented with this/a search for sense. - fuck it, do I or do I not make sense? And what the fuck is the sense of life around me and of me, myself. . . These questions torment me for a large part of each day, but in the rare moments, when I write - yes then, know that I am not tormented, then I feel exhilarating sadness or joy. . . Living itself becomes a celebration, I?m imbued with a dense and cosmic energy that translates into an animalistic honesty. And can there be any greater sense in life than the search for sense?" - Edvins Raups
Table of Contents
"contents from cook up something transitory for me I This era 13 I must still write in petit 15 I?ve been shown for a long time 16 at midnight 17 a shard of a mirror splits my forehead 18 a boat on a magazine cover 19 sacred hour of belief 20 critically injured beast screams 21 There was a chance to speak In a forest 22 Yes, just say the word 23 if I had fingers and a nose 24 II in a masterfully nailed 25 We two alone are 27 my colors the combination 29 Caesar comes to mind 30 an infant too reaches a critical age 31 I recall Cezanne?s little dogs rupi rupi Something 32 slowly all becomes known 33 life alone is one?s due 34 a reflection erodes the edge of the lake 35 traces left by your steps 36 they fly so beautifully 37 then touch me here 38 III When I wanted to be together with you Who 41 ?time stills its face 43 no sadness 44 1. the ocean dashes aside o Mari 45 2. the ocean dashes aside the deep 46 3. the ocean perhaps a desert 47 a tiny tiny girl/ bends her fingers 48 a tiny tiny girl/ tugs heaven 49 by remembrance you can?t keep 50 your wedding veil In a close up 51 oh Pontius mine 52 view from the sea 53 no need to dissuade 54 to imagine all 55 in the dark blood registers the flesh clip 56 IV if the end is the middle I?m here Cook up 57 1. everything has some meaning 58 2. the valley 59 3. a green dictionary lemons 60 we can begin the ones who are ripe 61 don?t cry and don?t destroy 62 (now farewell sister ? 63 forgetting her initial appearance 64 reality degrading truth 66 See 67 from bird? I ?until the Mighty Lord?s two silverfingers 75 Nowhere 76 odd that it takes Some 78 about unhewed wounds 79 I drip 80 I won?t be Either 81 heart-clear 82 while 83 to seek out 84 I want this 85 tiny 86 black 87 II ? oh! 89 she comes uktah 90 plane smooth 91 the corner 92 strange and hard 93 Distilling 94 no time 96 A heron 97 A bird wails 98 a bit of sadness is lacking 99 I?m written 100 a hazy mor
Editorial Reviews
"Raups is an absolute poet and a poet of the absolute. He is one of the very few contemporary poets whose work is so densely intense that each of his poems forces us to realize that ''words'' possess immeasurable depth. This realization demands an unconditional involvement of all of one?s being, mind and senses, to grasp the essence of the poem, and in so doing, the reader gets a glimpse of the absolute. -- Janis Elsbergs, poet - Ariel (Sweden) "This insightful book of poetry with its powerfully structured story line and prose-worthy subject matter is as gripping as a well-written novel. The most striking of its many dimensions is its spiritual orientation, which does not seem either superfluous or slanted toward any specific author?s canon. The world is eternal, all eras in principle are accessible and capable of coursing through us. And that which we truly desire is transitory and ephemeral. A pigeon returns from beyond the flux of time and history "carrying/ in its beak a sliver/of your/skin" -- and thus Raups makes it clear that metaphysics capitulates in the face of human sorrow." -- CULTURE FORUM (Latvia)/ December 5,2008. Ieva Melgalve "Edvins Raups has a truly distinctive voice as a poet. His refined and deeply metaphorical poetry (Live-Ing It, 1995; 33 Mysterious Years and Poems, 1997; cook up something transitory for me, 2002; Bird?, 2008) has garnered awards and praise with astonishing regularity from readers, critics and colleagues alike. His work has been translated and published in English, Swedish, German, Turkish, Bulgarian, and Ukrainian." -- Ieva Kolmane, Editor-in-Chief of the literary monthly ?Karogs? (Latvia)