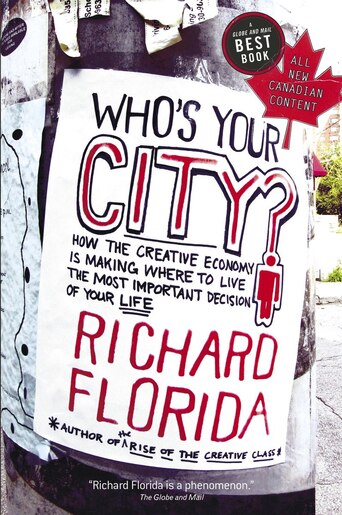 Who's Your City?: How The Creative Economy Is Making Where To Live The Most Important Decision Of Your Life
Paperback

|

March 24, 2009
Pricing and Purchase Info
$22.00
list price
save 11%
Prices and offers may vary in store
International Bestseller

All places are not created equal.

In this groundbreaking book, Richard Florida shows that where we live is increasingly a crucial factor in our lives, one that fundamentally affects our professional and personal prospects. As well as explaining why place matters now more than ever, Who's Your City? provides indispensable tools to help you choose the right place for you.

It's a cliché of the information age that globalization has made place irrelevant, that one can telecommute as effectively from New Zealand as New York. But it's not true, Richard Florida argues, relying on twenty years of innovative research in urban studies, creativity, and demographic trends. In fact, as new units of economic growth called mega-regions become increasingly specialized, the world is becoming more and more "spiky" — divided between flourishing clusters of talent, education and competitiveness, and moribund "valleys."

All these places have personalities, Richard Florida explains in the second half of Who's Your City?, and happiness depends on finding the city in which you can balance your personal and career goals to thrive. More people than ever before now have the opportunity to choose where to live, but at different points in our lives we need different kinds of places, he points out — what a couple of recent college graduates want from their city isn't necessarily what a retiree is looking for. You have to find the place that suits you best: a boho-burb neighbourhood isn't likely to be the best fit for patio man.

So, for the first time, Who's Your City? ranks cities by their fitness for various life stages, rating the best places for singles, young families, and empty nesters. It summarizes the key factors that make place matter to different kinds of people, from professional opportunities to the closeness of family to how well it matches their lifestyle, and provides an in-depth series of steps to help you choose the right place wisely.

Sparkling with Richard Florida's signature intellectual originality, Who's Your City? moves from insights to studies to personal anecdotes, from a startling "Singles Map" of the United States to surprising data on the difference aesthetics makes to people's sense of place. A perceptive and transformative book, it is both a brilliant exploration of the fundamental importance of place and an essential guide to making what may be the most important decision of your life.
Title:
Who's Your City?: How The Creative Economy Is Making Where To Live The Most Important Decision Of Y...
Format:
Paperback
Dimensions:
416 pages, 9.16 X 6.05 X 1.08 in
Published:
March 24, 2009
Publisher:
Random House of Canada
Language:
English
The following ISBNs are associated with this title:
ISBN - 10:0307356973
ISBN - 13:9780307356970
Look for similar items by category:
Preview Your Review
Your Review Has Been Submitted
NO, I do not recommend this product.
Educational/Developmental Value:
Thank you. Your review has been submitted and will appear here shortly.
Read from the Book
Urban Family LandsThere is one striking difference between U.S. and Canadian cities. In the U.S., many if not most families tend to leave the city when their children reach school age. Many U.S. urban areas suffer from lacklustre – to put it euphemistically – schools and relatively high rates of violent crime. For these reasons, all but the truly wealthy or the most urbanophile of families bite the bullet and move to the suburbs. The demography of urban America resembles a "barbell" with young singles and empty-nesters – relatively devoid of children.Canada's cities are different. Public schools are quite good, and there is much less of a differential between urban and suburban schools. Sure, many Canadian parents choose to send their kids to private or parochial schools, and they do so both in the suburbs as well as the city. But many Canadian parents are able to and prefer to stay in urban centres, because the streets are relatively safe and the schools are good. These parents accept having less space and smaller yards for the proximity as well as the diversity and cultural capital these urban centres offer to children and families.Personally, I am struck on a daily basis by how many kids of all ages live in Toronto. Not just kids of affluent parents living in posh neighbourhoods and going to private schools. Middle-class kids using public schools, ethnic kids, kids of every race, nationality, and family structure.Our neighbourhood is a mile and a half from the University of Toronto and less than two kilometres from the downtown core. It has great public as well as private schools, and is filled with families with children. The suburbs versus city trade-off does not really exist here. As Martin explains:In Boston, we lived in the lovely Wellesley Hills. Even though it was an upscale neighbourhood, with large single-family houses, we wouldn't have considered letting our 7-year-old son or 10-year-old daughter walk six or seven blocks to a friend's house – or let our 12-year-old son walk four blocks down to the shopping district on Route 16. It would have felt like being a bad parent.In Toronto, our youngest has been biking to school since he was 13 years old – and school is about a twenty-minute bike ride along one of the main north-south streets of the city – without inducing even a mild concern. We simply do not worry about their personal safety here.How many American parents can still say that? In our old neighbourhood in DC, every single child was in private school. Not only were the public schools not up to snuff, the surrounding community was extremely dangerous. We got a feeling for this one day when we came across a map of DC-area crime in the Washington Post. Our neighbourhood was a veritable island on this map surrounded by huge swathes of dots showing murders and other violent crimes all around us.And safe cities are just as important for families with teenagers as they are for families with small children.Toronto's family-friendliness was driven home to us on our first Halloween here, so much so that I gave it a name, the "Trick-or-Treater Index," on my blog. During our time in DC – in a solid neighbourhood in the city's northwest quadrant – not a single kid came to our door in three years. But on Halloween night in our neighbourhood in Toronto, which is closer to the city core and considerably denser than our DC neighbourhood, our house was mobbed by children of a mosaic of races and ethnicities. A person commented on my blog, pointing out that Catherine Austin Fitts, a former assistant secretary of the U.S. Housing and Urban Development, came up with a similar index – the "Popsicle Index" – which she describes as the percentage of people in a community who feel that a child can leave home safely to buy a popsicle. As if that wasn't enough, the day after Halloween, the U.S. Census Bureau released a study which found that nearly half of all children in the United States live in places where their parents fear that neighbours may be a bad influence, and more than one in five children are kept indoors because they live in dangerous neighbourhoods – a number that rises to 34 percent for African Americans and 37 percent for Hispanics.Locating in urban neighbourhoods enables children to benefit from the cultural capital that comes from diversity. Toronto blogger, Metro Mama, sees living in the urban core as a key element of her daughter, Cakes', development:It's important that Cakes lives somewhere where she'll meet people of varying backgrounds. I want her to have an open mind. I want her to speak more than one language. I love the fact that we sing 'Twinkle-Twinkle' in Mandarin at our local drop-in. I want my daughter to be colour blind. There are several children on our street and she is the only white one; where I grew up, I could count on one hand the number of non-white kids I went to school with. Cultural diversity has many other benefits, a huge one being food. We're so lucky to have so much fabulous and authentic food to enjoy, from dim sum in Chinatown, to curries in Little India. Here in Toronto, she'll have access to cultural festivals, foreign films at the Toronto Film Fest, and music and dance from around the globe. She'll have a taste of the world; I hope it will whet her appetite to see it for herself.Sarah Kerr-Hornell adds:As a child of the Canadian armed forces (army brat) I have lived in many cities and towns across Canada. My parents had lived and travelled internationally, and brought a lively, well-educated point of view to our family discussions. At 18 I moved to Toronto to attend U of T's downtown campus. That decision changed the direction and nature of my life. I was surrounded by other people who wanted to excel, explore ideas and opportunities, and wanted to know more about what was different, not just cleave to what was similar or familiar. Being Jewish was no longer a weird thing outside of a Jewish community. Discovering Toronto's vibrant multiculturalism – dance, theatre, music, cultures, food – gave me a stronger sense of myself and clarity about the next decisions for my life. I made my home in one of Toronto's wonderful village neighbourhoods. Marriage and a child followed, in my 30s. . . . I have had several offers into the U.S. (New York and LA), but I did not wish my son to be raised there, and so happily remained in Canada's biggest pond.And she adds her decision has been a good one:My son represents the best of Toronto: he is bilingual (French and English) both race and colour blind, and is developing a strong sense of himself in this place that we call home. My only complaint (such as it is): how will I ever get him to leave home and enjoy the living-in-residence university experience, when Toronto has so much to offer?Some even choose their city based on where their kids might live. At a speech in Toronto during winter 2008, I ran into a Canadian fellow – a high-powered consultant – I used to know when I lived in Pittsburgh. When I asked him why he moved back to Toronto, he answered simply that he and his wife started thinking about where their kids would be likely to stay when they grew up. When they ran through the options, Toronto seemed a no-brainer, though a number of Canadian cities would meet the criteria so many parents are looking for. And family-friendliness is not just something parents need to think about for their toddlers or elementary school kids.Family-friendly cities are particularly good places for teenagers. They provide the freedom for teens to explore, discover, and self-express with tolerable levels of risk. Kwende Kefentse was able to do just that growing up in Mississauga but spending time in Toronto:I am a first generation Canadian. My parents immigrated to Toronto in the second Caribbean diaspora during the 60s and bought a house in Mississauga when I was 5 or 6. We grew up in and around the GTA with frequent trips back to Barbados, where my parents come from and where most of my family is rooted. I grew up with the sense that Toronto was my city to discover, but that Mississauga was where I lived and that in the end my 'real home' was Barbados (roughly the size of a city) – this was, perhaps surprisingly, very unproblematic for me. For example: our cultural festival (and the centre of your young black life coming up in Toronto in the late 80's and 90's) Caribana didn't take place where I lived – it happened downtown. I remember being in grade school and having someone ask me what I was going to do with the summer. When I told them that I was going back to Barbados, but that I'd be back for Caribana of course, and they gave me that blank stare and asked 'what's that?,' I couldn't believe it. It didn't seem possible that someone could not know about something that was so important to everyone in my life outside of school.As I got older and more into music, all of the record stores and concerts were downtown but moreover the aficionado's who were into the hiphop music and culture the way that I was were all drawn downtown. I was frequently commuting downtown myself running errands for my mom on weekends or just hanging out and walking around. When we got into high school a friend of mine and I began doing what we called 'GTA Weeks' – we'd buy transit passes and spend the week travelling through the city and the surrounding areas encouraging random encounters, going to shows, meeting people and taking in what the city had to offer us, which for me was something vital. I identified with the metro and its culture more than I did my immediate surroundings. I would learn to take the things that I identified with from the metro and bring them to my life in Mississauga.
Table of Contents
1 The Question of Where

Part I:Why Place Matters
2 Spiky World
3 Rise of the Mega-Region
4 The Clustering Force

Part II:The Wealth of Place
5 The Mobile and the Rooted
6 Where the Brains Are
7 Job-Shift
8 Superstar Cities

Part III:The Geography of Happiness
9 Shiny Happy Places
10 Beyond Maslow's City

Part IV:Where We Live Now
12 Three Big Moves
13 The Young and the Restless
14 Married with Children
15 When the Kids Are Gone
16 Place Yourself

Acknowledgments
Appendices
Notes
Index


From the Hardcover edition.
Bookclub Guide
1. Do you find Richard Florida's analysis of the new importance of place convincing? Why, or why not?2. Is the world spiky, or flat, or both?3. How do you feel about the book's claim that places have personalities?4. Are you surprised by the findings of Richard Florida's Gallup poll about the importance of aesthetics to people's rating of their home city?5. Richard Florida acknowledges the influence of thinkers like Jane Jacobs, disagreeing with others such as Thomas Friedman. How do his ideas relate to theirs, or to those of other scholars'?6. Are you thinking of moving? How will Who's Your City? affect your decision process?7. Richard Florida presents many personal stories about migration in Who's Your City? — including his own family history. Which story chimed with you most strongly, and why?8. Do you agree that there are three major points in one's life when one's decision about where to live is most important? If not, why not?9. How do you see the urban trends Florida identifies — ethnic enclaves, boho-burbs — at work in your own city?10. What brought you to where you live now? Does the analysis of place in Who's Your City? make you look differently at the trajectory of your life? How?11. WhosYourCity.com hosts a variety of resources, including a lively discussion board about the merits of different cities. How do the opinions expressed there about your city, or a city you might move to, change your view of it?12. How useful do you find the book's appendices and its Place Finder in choosing a place to live, or in assessing the strengths and weaknesses of the place you live now?13. Does the economic turmoil of 2009 have any effect your sense of the book's ideas?14. How does Who's Your City? build on the ideas of Richard Florida's previous books, particularly The Rise of the Creative Class?15. What map or statistic in Who's Your City? surprised you the most?16. If you met Richard Florida, what would you ask him about Who's Your City?17. Will you recommend this book to your friends? Why, or why not?
Editorial Reviews
"The world is not flat, and Richard Florida is the man to tell you why where you choose to live is more important than ever. Passionate and thoughtful, this book is an indispensable guide to the way our cities really work. The spirit of Jane Jacobs lives on."—Tim Harford, Financial Times columnist and author of The Logic of Life"This book says all that I could never put into words about why certain cities sing to certain people. If I could talk like Florida writes, I wouldn''t have needed a campaign staff."—John Hickenlooper, Mayor of the City of Denver"Who's Your City? is another breakthrough idea by urban life genius Richard Florida. The power of place has everything to do with our success well beyond our own recognition. If you are contemplating a move or know someone who is, or are even vaguely interested in the idea of place as self, this book is a must read."—Mario Batali, Chef and Restaurateur"The world is not flat. Three-dimensional ''place'' matters more than ever, not less than before. Richard Florida gets it exactly right — again — in Who''s Your City?. As a long time advocate of Florida''s position here, I will send it to colleagues by the score!"—Tom Peters, author of In Search of Excellence"…the author opens up a complex, under examined subject…"— Publishers Weekly (December 17, 2007)"...this thought-provoking and seminal work will surely be studied, not only by scholars but more importantly by consumers pondering a move..."—Washington PostFrom the Hardcover edition.