A Better Brain for Better Aging: The Holistic Way to Improve Your Memory, Reduce Stress, and Sharpen Your Wits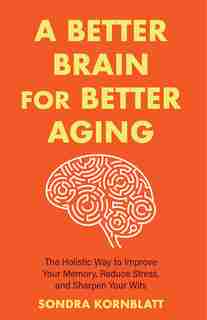 Find In Store
Prices and offers may vary in store
Improveyour Brain Health and Live a Full Life"Afriendly, wide-ranging tip sheet for understanding and maintaining the humanbrain, with exercises . . . that consciously incorporate all of the senses."-PublishersWeekly
A Better Brain for BetterAging offers a complete plan for improving brain health in anengaging and accessible way.
Holisticbrain health exercises, from body and brain games to good brain food.Health and science writer Sondra Kornblatt, along with the numerous expertsshe's interviewed in A Better Brain for Better Aging, canhelp you put your head on straight through healthy activities for the body andstimulating exercises for good brain health. Improving your exercise, feedingyour brain, and practicing simple movements can do wonders for your mental andphysical health.
Overcome brain fog and enhancememory improvement. In A Better Brain for BetterAging, Kornblatt teaches you how to reduce stress and optimizemental agility. Learn how the brain interacts with the body, what habitsimprove mind stimulation, and how to maximize learning. In this book, Kornblattprovides tips for a strong brain to improve memory, cognition, and creativityso you can function better in your active life.
Inthis book, you'll find:
Quick andhelpful tips that benefit and improve your brain Up-to-dateand informative explanations on brain plasticity and how the mind and body worktogether to improve brain health More than 100 extensivelyresearched ideas to improve brain function and mental agility, boost yourcreativity and overall brain power, and avoid brainoverloadIf you liked KeepSharp, Memory Rescue, or SuccessfulAging, then you'll love A Better Brain for BetterAging .

Title:
A Better Brain for Better Aging: The Holistic Way to Improve Your Memory, Reduce Stress, and Sharpen Your Wits
Product dimensions:
224 pages, 8.64 X 6.1 X 0.53 in
Shipping dimensions:
224 pages, 8.64 X 6.1 X 0.53 in