A Complicated Man: The Life of Bill Clinton as Told by Those Who Know Him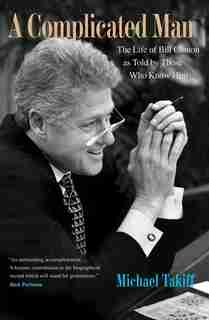 Find In Store
Prices and offers may vary in store
The biography of Bill Clinton as told by 169 of the friends, colleagues, and rivals who know him best

"Takiff's excellent oral history . . . helps reveal the many sides of this controversial leader. . . . This lively first-person draft of history will grab and keep the attention of readers fascinated or infuriated by Clinton."—Library Journal

"A valuable document. . . . [A Complicated Man] is fair and balanced. . . . When dealing with someone as inspiring and infuriating as the 42nd president, that is no small feat."—Christian Science Monitor

Though Bill Clinton has been out of office since 2001, public fascination with him continues unabated. Many books about Clinton have been published in recent years, but shockingly, no single-volume biography covers the full scope of Clinton's life from the cradle to the present day, not even Clinton's own account, My Life. More troubling still, books on Clinton have tended to be highly polarized, casting the former president in an overly positive or negative light.
In this, the first complete oral history of Clinton's life, historian Michael Takiff presents the first truly balanced book on one of our nation's most controversial and fascinating presidents. Through more than 150 chronologically arranged interviews with key figures including Bob Dole, James Carville, and Tom Brokaw, among many others, A Complicated Man goes far beyond the well-worn party-line territory to capture the larger-than-life essence of Clinton the man. With the tremendous attention given to the Lewinsky scandal, it is easy to overlook the president's humble upbringing, as well as his many achievements at home and abroad: the longest economic boom in American history, a balanced budget, successful intervention in the Balkans, and a series of landmark, if controversial, free-trade agreements. Through the candid recollections of Takiff's many subjects, A Complicated Man leaves no area unexplored, revealing the most complete and unexpected portrait of our forty-second president published to date.
Title:
A Complicated Man: The Life of Bill Clinton as Told by Those Who Know Him
Product dimensions:
528 pages, 9.25 X 6.12 X 1.31 in
Shipping dimensions:
528 pages, 9.25 X 6.12 X 1.31 in
Published:
October 18, 2011
Publisher:
Yale University Press
Appropriate for ages:
All ages