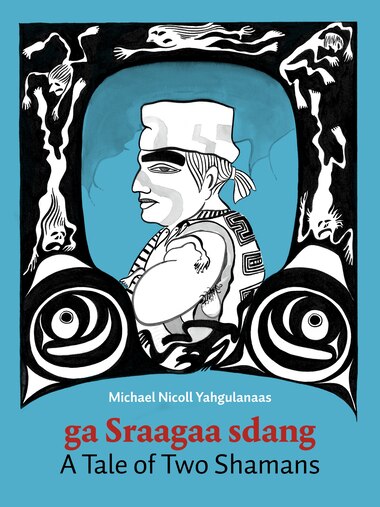 A Tale Of Two Shamans: A Haida Manga
Hardcover

|

May 31, 2019
Pricing and Purchase Info
$24.95
Prices and offers may vary in store
"This Haida manga intriguingly blends graphic storytelling with a fine art sensibility... Yahgulanaas communicates via an arresting series of images evoking the traditional visual arts of the Haida people." -Publisher''s Weekly
The brilliant follow-up to War of Blink and RED: A Haida Manga - another stunningly inventive retelling of an ancient Haida tale.
Title:
A Tale Of Two Shamans: A Haida Manga
Format:
Hardcover
Product dimensions:
72 pages, 8.5 X 7 X 0.5 in
Shipping dimensions:
72 pages, 8.5 X 7 X 0.5 in
Published:
May 31, 2019
Publisher:
Locarno Press
Language:
English
The following ISBNs are associated with this title:
ISBN - 10:0995994684
ISBN - 13:9780995994683
Look for similar items by category:
Preview Your Review
Your Review Has Been Submitted
NO, I do not recommend this product.
Educational/Developmental Value:
Thank you. Your review has been submitted and will appear here shortly.
From the Author
Notes on a Tale of Two Shamans - ga Sraagaa sdang The work that you are about to read is old, much older than any of us still living. It is probably older than anything one could even call Canadian. It precedes us all. Obviously I am not the primary creator of such a narrative, but as a Haida citizen, it is an ancestral experience. The strength of owning a thing is often expressed as a right to share it. In this retelling we the illustrators, editors, linguists, curators and indeed the community of living Haidas and friend invite you to join with us. Come as a respected guest. Sit at the table and be nourished by our living culture. This story is a blend of accounts recorded at the turn of the nineteenth century in three of the once numerous dialects of the Haida language. I have combined elements from these accounts into a newly constructed whole. Be cautioned that these images are interpretations informed by my own cultural composition and life experiences. This is a contemporary rendering of a worldview first expressed in different times and probably for different reasons. I am not stepping forward to join that dais filled with authorities claiming to represent those distant times. I am a Haida whose life experiences are probably very similar to [that of] your own. In many respects that greater distance between the first tellers of ga Sraagaa sdang and ourselves, makes us both readers. The first part of my telling of ga Sraagaa sdang comes from Sk''a.aaws. This is an ancient town site located along the eastern border of a forested region called Duu Guusd. Duu Guusd is part of Haida Gwaii, an archipelago still held until recently in its colonial embrace as the Queen Charlotte Islands. The other old source of telling is Skedans. This old town is located in the Gwaii Haanas Haida Heritage Site, an area also currently reserved as a Canadian National Park. I have restrained from writing an extensive opinion, instead limiting my retelling to a brief text and illustrations. This should suffice to give the engaged reader a hint of the mazing concepts which ripple through this shamanic tale and remain a substantial element of that dynamic living society of indigenous peoples called Haida. Michael Nicoll Yahgulanaas
Editorial Reviews
Review Quotes and Endorsements "This Haida manga intriguingly blends graphic storytelling with a fine art sensibility.... Yahgulanaas communicates via an arresting series of images evoking the traditional visual arts of the Haida people.... A unique work with appeal both for those looking for something different in graphic novels, and for those with an interest in the expression of contemporary Native American culture." -Publishers Weekly "Michael Nicoll Yahgulanaas has invented a new form of graphic storytelling seen in full colour in his beautiful new book .The intricate watercolour changes the whole experience of the book, from linear and fixed to all over and fluid. - Calgary Herald "Yahgulanaas blends . two distinct styles together into something wholly original." - National Post "Fusing the bold primary colours and geometric forms characteristic of classical Haida visual art with the emotionally expressive cartooning style of Japanese manga ... the traditional Haida story, freighted with all the sombre inevitability of Sophocles, is told in 108 pages of spectacularly beautiful, hand-painted images." -Vancouver Review "Red delights me beyond measure. Author and artist Michael Nicoll Yahgulanaas has created a new art form - Haida manga - that honours his heritage as well as the Japanese friends of his ancestors." - FastForward Weekly "Red''s life is changed forever when his sister is kidnapped by raiders. As years pass and he rises to power in his small village off the coast of British Columbia, he dreams of elaborate scenarios for getting even with the people who took her away from him. When his revenge fantasy is finally fulfilled, it turns out to be both his greatest victory and his tragic downfall. The idea of "Haida manga," an artistic fusion invented by Yahgulanaas, might cause confusion among readers, or at least send them running to Google to find out what "Haida" is. This artistic style, used by the Haida tribe of Native Americans, will be familiar to readers who have seen the stylized faces on totem poles.... "I welcome you to destroy this book" is never something a librarian wants to hear, but that''s what Yahgulanaas encourages his readers to do in order to assemble each page into a "formline illustration." It is only when the pages are assembled in this manner that readers will be able to see how every panel connects to other panels and appreciate the true complexity and vision of Yahgulanaas''s art. Luckily, this "complete" image is reproduced at the end of the book and inside the dust jacket, so readers should not find it necessary to vandalize more library books than usual." -Andrea Lipinski, New York Public Library, for School Library Journal "The Haida, indigenous to the Pacific Northwest Coast, are known for their seamanship and martial tendencies. Of Haida heritage, Yahgulanaas adapts a piece of his people''s folklore into a pictorial narrative in a manner he calls Haida manga.. the art offers a glimpse into another culture and effectively captures the malleability of a folktale, its capacity to shift and transform during multiple tellings. For readers interested in anthropological studies, a fine companion to Lat''s Kampung Boy (2006). -Jesse Karp, Booklist "Tale of Two Shamans is a black and white comic/narrative hybrid based on traditional Haida legends. The work deftly interweaves three traditional (and rude) Haida stories with dark, playful representations of elders with Stalin moustaches, scrotums growing out of a shaman''s armpits and sundry semi-scatological blasphemies." - This Magazine