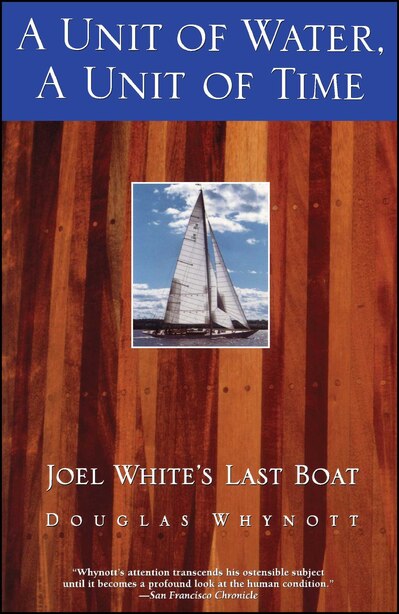 A Unit Of Water, A Unit Of Time: Joel White's Last Boat
Paperback

|

May 1, 2000
Pricing and Purchase Info
$24.99
list price
save 9%
Prices and offers may vary in store
In a time when racing boats are mass-produced from synthetic materials, a dying breed of craftsman continues to build wooden sailboats of astonishing beauty. Boatbuilding is an ancient art, and Joel White was a master. Son of the legendary writer E.B. White, he was raised around boats and his designs were as sublime and graceful as his father''s prose. At a boatyard in Maine, White and his closely knit team of builders brought scores of his creations from blueprints into the ocean.
In June 1996, six months after being diagnosed with cancer, Joel White began designing the W-76, an exquisite racing yacht. It was his final masterpiece. Douglas Whynott spent a year at Brooklin Boat Yard, observing as this design took shape, first in sketches and then during the painstaking building of the wooden craft.
The result is the poignant tale of both a genius at work and the people devoted to his art. Evoking E.B. White''s New England and its salty residents, A Unit of Water, a Unit of Time is a classic portrait of dignity, charm, and humble magnificence-and of a maritime community that keeps a vanishing world alive.
Title:
A Unit Of Water, A Unit Of Time: Joel White's Last Boat
Format:
Paperback
Product dimensions:
320 pages, 8.25 X 5.31 X 0.9 in
Shipping dimensions:
320 pages, 8.25 X 5.31 X 0.9 in
Published:
May 1, 2000
Publisher:
Washington Square Press
Language:
English
The following ISBNs are associated with this title:
ISBN - 10:0671785265
ISBN - 13:9780671785260
Look for similar items by category:
Preview Your Review
Your Review Has Been Submitted
NO, I do not recommend this product.
Educational/Developmental Value:
Thank you. Your review has been submitted and will appear here shortly.
Read from the Book
Chapter One: Launchings June 1996 It''s a good day for sailing, at Center Harbor in Brooklin, Maine. The sky is clear and the temperature has risen through the fifties, and there''s just enough of a breeze, gentle on the land and slightly stiff over the water. At Brooklin Boat Yard it''s a launching day, and among those gathered at the yard -- the boatbuilders, those coming to watch the launch, those here to sail the new boats -- there are many shades of anticipation, concern, and excitement. Launching days are big events, after all, a time when the work of the year is revealed and the dreams of the owners hopefully come true. Two boats are sitting in the yard, up on jackstands, one behind the other. They seem suspended in motion, like stilled thoughts, some element of gravity missing just now (water) and some aspect of time (forward movement). The boatbuilders hurry about, climbing up and down ladders, moving to and from the shop, rigging lines and bending on sails, thirty feet from the dock. There''s a huge mechanical contraption standing nearby, the Travellift, soon to pick the boats up in slings and set them into the water, once the high tide has come. The boats are of a new design called the Center Harbor 31. They are beautiful to look at. The curved lines that run along the surface and toward the bow are instinctively pleasing, comfortable to rest the eye upon. At the bows of both boats are wreathsdressed in ribbons and flowers, wearing lustrous white, with the lovely lines, these two Center Harbor 31s, called Grace and Linda, could seem like two beautiful schoolgirls off to the prom. They are the product of the design work of Joel White, who began his career as a boatbuilder forty years before, constructing wooden lobster boats with an older boatbuilder. He bought the yard, built many more boats, and as of late has been creating a style of design that has become his own, one that he''s become famous for -- boats simple of line yet sound in engineering, traditional above water and modern below. Steve White, Joel''s son, runs the yard now, and through the morning organizes the work on Grace and Linda. He also spends some time rigging, the work he enjoys most. Suspended on a bosun''s chair from a hoist on the Travel-lift, he goes about attaching the roller furling jib unit to the mast. Nearby is Bob Stephens, project foreman for the two boats, helping to get the sails on. The owner of Grace, whose name is Frank Henry, was by early this morning to check on the progress. He and his wife have a summer home in Brooklin. Frank Henry had come up to the yard from New Hampshire several times over the winter to see the progress of the construction and to talk to the boatbuilders -- he''d been surprised that the crew had been willing to take time out to talk to him, even though the pressure was on to finish by the launch date. In the fall when they were still in the planning stages, Henry had been in Brooklin to confer with Joel White on the design. He had built Grace in fact, in order to have the experience of participating in the development of a new boat. Grace is the result of that effort and for Frank Henry this is a satisfying day. His children and grandchildren will be at the launching, and his wife, Grace Henry. Previously the Henrys had owned a 42-foot racing yawl, with eight berths, a charcoal stove, and a supply of hot water. They had raced to Bermuda, cruised the Great Lakes, and sailed to New Brunswick, and the boat was the vehicle of many family memories, but after the Henrys'' children grew up and got their own families and boats, the 42-foot racing yawl seemed much too big. One afternoon when they were sailing in Eggemoggin Reach the Henrys came upon a red-colored daysailer with beautiful lines-Joel White''s personal boat, Ellisha, a fiberglass model called the Bridges Point 24 that Joel designed for a local boatbuilder. When Grace Henry saw Ellisha she said, "Now that''s more like it." Frank Henry sailed a Bridges Point 24, and he considered buying one. But Henry wanted something more in a boat, and he wanted an experience in designing it. After talking with Joel White he looked through books about boats and yachting. In Sensible Cruising Designs, by L. Francis Herreshoff, he came across a 29'' 6" daysailer called Quiet Tune, one of Herreshoff''s "lifestyle boats," based on a simple approach to sailing. Quiet Tune, built in Maine in 1945, was designed for short cruises for two people. It was set up with a ketch rig-with two masts, a mainmast ahead of the cabin and a smaller mizzen mast stepped just forward of the tiller. Quiet Tune appealed to Frank Henry. He liked the simplicity of the boat, and its size, and he liked the ketch rig because of the many sail combinations. They would allow him to make a lot of adjustments, to pull a lot of strings, as it''s said, yet the boat would also be small enough for him to sail alone. Joel White drew a preliminary sail plan based on the lines of Quiet Tune. He tried to convince Frank Henry to build the boat as a sloop, but Henry wanted a ketch rig, and so Joel eventually devised a way of incorporating a mizzen and its rigging without too much awkwardness. Henry liked the looks of the sail plan and lines drawing, so they moved on to more detailed ones. They faxed comments and ideas to each other. As the two interacted, a new boat grew out of Quiet Tune, and eventually the names on the drawings changed to the Center Harbor 31 and Grace. Henry, who had studied engineering in college before going to law school, enjoyed both the technical exchanges and the creative part of the process, the dreaming up of a boat that met both his and his wife''s needs. But before he signed a construction contract he made a condition that the yard must find a second client, since building two boats would substantially cut the costs. That second client was Alan Stern. He had arrived in Brooklin the night before with his son, Brian. They''d just come from Brian''s college graduation, and planned to sail their boat back to Connecticut. Stern had built several boats, sailing them primarily on Long Island Sound. When he called Joel in the fall and heard about the Center Harbor 31 project, he soon signed on. But Stern didn''t want a ketch rig. He wanted a sloop, with its bigger mainsail, so as to better utilize the light airs of Long Island Sound. Stern also wanted an enclosed head and a self-balling cockpit, and he wanted to be able to fly a big spinnaker. So Joel drew a boat with a deeper ballast keel, and slightly more freeboard, and a bow with more forward overhang. Stern named it Linda, after his wife. Stern was pleased with the looks of Linda. He liked the big cockpit with the eight-foot seats of sculpted teak, and he liked the way that the above-water appearance of a boat of forty to fifty years ago matched with the modern below-water appearance. Stern felt that with Linda, he had contributed to the development of the Center Harbor 31 in its sloop version. The people from the General Store arrive at the yard, and set up a buffet table. Others come from the town. There''s Doug Hylan, who runs a boatyard down the road, Benjamin River Marine, and who used to work for Joel White. There''s Maynard Bray, who has also worked here, over the years, who is an old friend of Joel''s, and who like Joel has written technical pieces and reviews of boat designs for WoodenBoat magazine. And Jon Wilson, the founding editor of WoodenBoat. There are the families of the boatbuilders. The cars are parked in the lot by the shop, and along the road up the hill from the harbor. Amid the preparations and the gathering of the crowd, Joel White arrives. He''s walking with crutches, and his wife, Allene, is with him. This is Joel''s first time at the yard since undergoing an operation to have a section of his lung removed in Boston a few weeks ago. He''s been dealing with lung cancer for the past six months, and he''s been using crutches since undergoing a bone graft in his leg, also the result of cancer. He''s bald from chemotherapy, wearing a visor cap, and moving gingerly, but Joel is cheerful. There''s warmth and curiosity in his eyes. He''s a handsome man, grown from the handsome boatbuilder of twenty years ago, and the handsome boy who moved here with his parents, E. B. White and Katharine S. White, sixty years ago. They take a seat on some planking ahead of Grace, and soon people start coming up to say hello. One friend, named Bill Mayher, stands a few feet away and asks, with a deep look, "So, how are you doing?" "Pretty good," Joel says. Then another friend comes up, looking concerned, even a bit afraid. "How are you?" "Good," Joel says. He smiles, says he''d been to "Thoracic Park," that he''d asked the doctor if he knew the difference between a "lobeotomy" and a "lobotomy," and that the doctor had said it was just a matter of a different spelling. He laughs a bit shyly. Of course there''s a deep affection for Joel among these people, his friends, those he''s sailed with, people he''s employed and taught about boatbuilding or boat design. Many feel they''ve been touched by him in some way. Joel is described as brother, father, friend by them. He''s someone who creates beautiful boats in a place where people appreciate beautiful boats. "How are you feeling?" someone else asks. "Pretty good," Joel says, smiling, glancing away. I''ve known Joel White since January, when I toured the coast of Maine looking for a boatyard where I could watch the construction of a wooden boat. When we met, Joel had just found out that he had cancer, but he didn''t say anything about it. He showed me some of the projects at the yard. The hull
Editorial Reviews
Library Journal Whynott skillfully weaves a story that speaks both of the love of his craft and the art of writing.