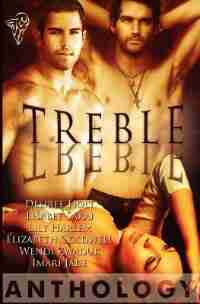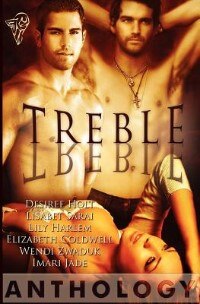 Find In Store
Prices and offers may vary in store
'Trouble at the Treble T' by Desiree Holt
If one man is great, how hot will it be with three?
When Marti Jensen took the job managing the Treble Shooters honky-tonk, little did she know that the three Thompson brothers-Justin, Mark and Cade-had more in mind than having her pour drinks and keep order among the rowdies.

But a visit to their vast ranch, the Treble T, showed her just what kind of erotic fantasies they had and the role they expected her to play. The question then became...what next?

Reader Advisory: This book contains menage a quartre and anal sex
'Wild About That Thing' by Lisabet Sarai
There's more than one way to beat the blues.
Two things are important to Ruby Jones-her teenage son and her struggling club, the Crossroads Blues Bar. Her love life comes in a distant third, despite the efforts of Zeke Chambers to convince her otherwise. Zeke's the lead singer in her house band, a devoted friend, and an occasional lover. He can drive her wild with desire, but can't get her to make a commitment. Deserted by her cheating ex-husband, Ruby's determined she's going to make it on her own. She's hot-blooded like her bluesman daddy-happy to satisfy her physical cravings, but not about to let any man into her heart. 'Orchestrating Manoeuvres' by Lily Harlem
The life of a broken hearted supermodel can get pretty dull-there's only so much champagne and caviar one can handle. So, when the opportunity to hook up with two stunning Italian pianists with talented fingers, perfect rhythm and sublime composing presented itself, what could I say but yes, yes yes


I have everything a girl could want; money, beauty, friends in high places. So why does it feel as if there's a hole the size of Antarctica in my soul?


'Three-part Harmony' by Elizabeth Coldwell
When a new guitarist joins the band, is a loving duet about to become a trio?
When guitarist Mark Deans quits Sweet Lies the week before their concert tour is due to start, it looks like the end of the band, but singer Aimee and her husband Stefan have worked too hard to let that happen. The answer lies in Jake Anderson, who blows them away when he auditions to replace Mark. He's cute, talented-and twelve years younger than Aimee-but there's an instant attraction between them. 'Savin' Me' by Wendi Zwaduk
Three is their magic number. Now they've got to decide if the magic is worth saving.
Razrs Edge used to pack stadiums, fuelled by the inner turmoil and passion of the three founding members. Now that the threesome has parted ways, the lights aren't as bright and the cheers of the crowds not as loud.

It's time to bring the magic back. 'Rhapsody' by Imari Jade
Two gorgeous male rockers, one sexy lead female singer. Both men want her. Who will she choose?
Bryanna Trosclair is the female lead singer for the successful rock group, Simmer. She is being forced to choose between having a relationship with her best friend and lead male singer, Axil Simmons, and the group's pianist, Collin Ripley.
Product dimensions:
440 pages, 8 X 5.25 X 0.98 in
Shipping dimensions:
440 pages, 8 X 5.25 X 0.98 in
Published:
October 31, 2011
Publisher:
Totally Entwined Group Limited
Appropriate for ages:
All ages