Adam Exitus: Book One: Adam X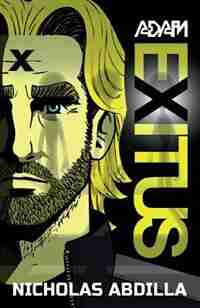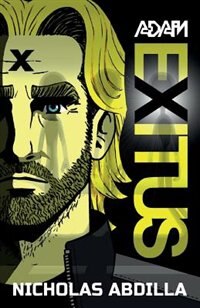 Prices and offers may vary in store
In the tradition of Star Trek and Mass Effect, Adam Exitus exists in a grand, richly detailed universe layered with lore and written with passion and imagination. It considers humanity's place in our galaxy's grander understanding of life (and artificial life) through a philosophical, and almost hallucinogenic style reminiscent of Philip K. Dick.
It also deeply explores the science behind its universe, much like Asimov, without hindering the adventure and action lovers of Timothy Zahn or Kevin J Anderson might expect. Underneath it all, a deep discussion on the origins of man and religion fans of Battlestar Galactica will enjoy.
At the intersection of these greats of the genre arrives a new voice, Nicholas Abdilla, who delivers his first novel, Adam Exitus, book one in the 10-part Adam X space saga. Ten years in the making and adapted from his original comic series, we invite you to join us on the ground floor as it finds its place in the history of great sci-fi literature.
Adam Exitus was edited by award-winning author Chris Stead, and published by Old Mate Media. For more infomation, interviews and news about the sequel, please visit www.oldmatemedia.com
"Why did they kidnap me? I'm not rich. I don't have a lot of family to extort. I have certainly not been a police officer long enough to make any enemies. But instead of waking to the incessant ringing of my alarm clock back in my small city apartment, I awoke in the dirt. In the jungle. Naked. What is happening? Where are their demands?

Then I found her; beautiful and graceful, without a mark to show for her life trapped here. Wherever here is. How did she survive in this jungle? In fact, how is she keeping me alive? 14 days now, she has hunted, caught, cooked and provided without ever saying a word. She has listened to everything I've said, but never responds. Is she in on it? Am I in some weird experiment, or is it all a dream? But it can't be a dream, because I keep having terrible nightmares. About bright lights, and pain, and figures at my door their voices in my head. Of jumping off cliffs, being eaten by monsters and hanging myself. How can you have such vivid nightmares inside a dream?

Then there is the X, tattooed on my head. Who kidnaps someone and then tattoos an X on their forehead? What's it all mean? I've had enough Tomorrow I'm taking control and repaying my debt to this girl. Tomorrow I escape."
What Readers Are Saying about Adam Exitus:
"A pace and urgency that had me sacrificing sleep in trade for a few more page" - Wayne Hills
"A non-stop roller coaster ride through time and space. I would definitely recommend it to anyone who enjoys a good classic sci-fi adventure story " - Ron Mac
"My only other gripe would be that I wanted more " - Soren
"I loved this book, imaginative and interesting concept and great characters." - G Ky Adams
"I love this book. It builds up steadily and ends with a thrilling climax. Can't want for the next one " - Wander49
"Loved it Kept me glued to the pages to see what would happen next." - LoveBooks202
"Fantastic book and very entertaining The author, Nick, has a great sense of humour and an amazing imagination " - Mikita Andrea
"Would 100% recommend " - Crizzie Gee
Amazon = 5 Stars
iTunes = 5 Stars
Goodreads = 5 Stars
Title:
Adam Exitus: Book One: Adam X
Format:
Paperback
Product dimensions:
218 pages, 7.81 X 5.06 X 0.46 in
Shipping dimensions:
218 pages, 7.81 X 5.06 X 0.46 in
Published:
April 12, 2017
Publisher:
Old Mate Media
Language:
English
The following ISBNs are associated with this title:
ISBN - 10:1925638006
ISBN - 13:9781925638004
Look for similar items by category:
Preview Your Review
Your Review Has Been Submitted
NO, I do not recommend this product.
Educational/Developmental Value:
Thank you. Your review has been submitted and will appear here shortly.