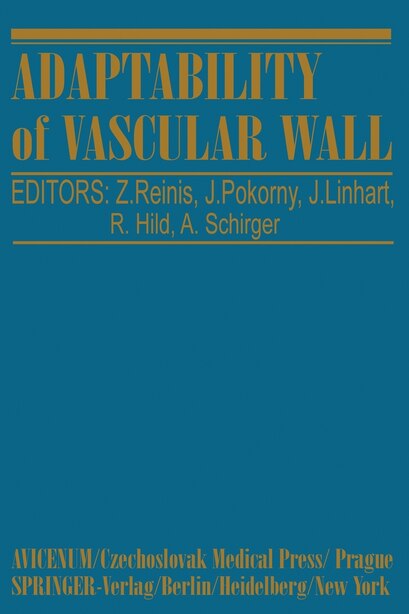 Adaptability Of Vascular Wall: Proceedings Of The Xith International Congress Of Angiology-prague 1978
Paperback

|

July 27, 1980
Pricing and Purchase Info
$141.95
Prices and offers may vary in store
The International Congresses of Angiology have had a 25-year tradition. Let us remember the 10 previous International Congresses, the first of which took place in Paris in 1952. On this occasion a stimulus for the foundation of the International Union, "Union Internationale d Angeiologie" came into existence. The period of 25 years is lon.qenough to evaluate the scientific progress which has been made in diagnosis, therapy and prevention of vascular diseases. Proceedings of the previous International Congresses of Angiology became attractive resources for scientific information in libraries all over the world. They represent really historic documents of remarkable development of angiology and wittness successful international cooperation in the settlement of serious medical problems of the twentieth century. The Proceedings of the XI. International Congress of Angiology held in Prague 1978 under the stimulating title "Adaptability of Vascular Wall" contains 284 original papers dealing with scientific and clinical research in arterial, venous and lymphatic circulation. The papers are incorporated into 12 chapters according to the main topics. In the first sections the questions of atherogenesis and thrombogenesis are discussed with regard to the adaptability of vascular wall in various metabolic, immunobiologic, and hemodynamic disorders. In the further sections attention is paid to new procedures in investigation, treatment, and prevention of arterial, venous, and lymphatic diseases. Peri­ pheral microangiopathies, renovascular hypertension, and coronary circulation represent another part.
Title:
Adaptability Of Vascular Wall: Proceedings Of The Xith International Congress Of Angiology-prague 1...
Format:
Paperback
Product dimensions:
9.25 X 6.1 X 0.01 in
Shipping dimensions:
9.25 X 6.1 X 0.01 in
Published:
July 27, 1980
Publisher:
Springer Berlin Heidelberg
Language:
English
The following ISBNs are associated with this title:
ISBN - 10:3540099077
ISBN - 13:9783540099079
Look for similar items by category:
Preview Your Review
Your Review Has Been Submitted
NO, I do not recommend this product.
Educational/Developmental Value:
Thank you. Your review has been submitted and will appear here shortly.
Table of Contents
Atherogenesis.- Physiological, morphological and angiochemical changes in aorta and lower extremity arteries in macaca fascicularis monkeys fed an atherogenic diet for 3 years.- The proliferative activity of aortic endothelium and its significance for atherogenesis.- Ultrastructural aspects of atherogenesis.- Atherosclerosis of the coronary artery in normolipemic swine induced by withdrawal of hypervitaminosis D3.- The effect of different cholesterol diets on the localisation of sudanophilic lesions in rabbits.- Localization of some peptidases in the vascular wall.- Spontaneous calcifying medial sclerosis of rabbits.- Experimental pathological study on arterial wall injury given by elevated intravascular pressure and its repair-blood pressure and circumferential tension.- Effects of certain drugs on experimental atherosclerosis in swine.- Regression of atherosclerosis: The cellular response and the local action of HDL.- Drugs affecting arterial permeability and atherogenesis.- Experimental atherosclerosis: Survival and spontaneous regression.- Regression of experimental atherosclerosis.- The reversibility of the human atherosclerotic plaque.- Electron microscopy remarks on the possibility of regression of human atherosclerosis.- Serum lipids and vasomotoric response of rats during experimental atherosclerosis.- Diffusible cholesterol and atherogenesis.- Studies on vessel wall cells of normal, hypertensive and streptozotocin diabetic animals. I. The proliferative capacity.- II. Biomethematical evaluation of the proliferative capacity.- Molecular distribution of plasma triglyceride in arterial occlusive disease.- Lecithin cholesterol acyltransferase (LCAT) in prognosis of cardiovascular complications.- The effect of Chelaton III on calcium metabolism in the arterial wall.- Aortic changes in spontaneously hypertensive rat (SHR) as related to atherogenesis.- Round-table discussion.- Thrombogenesis.- The effect of a new inhibitor of platelet aggregation (K 3920) on some platelet functions in patients with vascular diseases.- Pathogenetic role of humoral agents released by platelet aggregation in the genesis of transient ischemic attacks.- Platelet hypoaggregability in spontaneously hypertensive rats related to thrombogenesis.- Platelet adhesion, on the involvement of glycocalicin, an easily soluble platelet membrane glycoprotein in the interaction between platelets and the factor VIII-related protein.- Platelet regeneration time in cardiovascular patients.- Atherosclerosis and factor XIII. A new technique for the determination of factor XIII using a laser nephelometer.- Fibrinolytic activity of the arterial wall of patent and occluded arteries.- Fibrinolytic activity in hyperlipoproteinemias.- Interaction of angiography with the blood coagulation and the fibrinolytic system.- Soluble fibrin in plasma and endoperoxide-formation in platelets as an indication of prethrombotic states following myocardial infarction.- Erythrocyte membranes as a target for antithrombotic agents.- Different forms of soluble fibrin monomer complex indicating their different developmental processes in hypercoagulable states.- Vascular operations with the aid of an autotransfusion system: Changes in blood coagulation.- Thrombogenic and atherogenic influence of castration in women.- Metabolism of Vascular Wall.- Serum lipoprotein abnormalities in early stages of peripheral atherosclerosis.- Hyperlipoproteinemia and peripheral arterial disease.- Serum lipoprotein distribution in 103 nonagenarians.- Arterio-venous differences of various plasma proteins in peripheral vascular disease.- A study of low and very low density lipoproteins penetration, a racioactive label in the core of the lipoprotein particle, into the arterial wall.- Protein components of edema fluid and serum.- DNA template activity of aortic wall cells in experimental diabetes.- Stiffness of the arterial wall in response to potassium and pharmacological activation.- Prostaglandin-like activity in patients suffering from occlusive arterial diseases.- Prostaglandins and motility of human veins.- A rational basis for the use of drugs with endotheloprotective activity in peripheral ischaemia.- Biomechanical properties of hog carotid arteries.- Biomechanical properties of normal and fibrosclerotic human internal carotid arteries.- Biomechanical and histological research on healthy and varicose human veins.- The influence of cigarette smoking on human arterial explants in vitro.- Postischemic hyperresponsiveness of canine carotid arteries.- Volume and surface areas of some vascular smooth muscle cell organelles in rat.- Flow-resistance relationship for the cerebrovascular system of rabbits under normal and pathophysiological conditions.- Cell-kinetical investigations in the peripheral arterial vessels of rats with depot-angiotensin-hypertension between 3 hours and 14 days.- The reactivity of isolated venous preparation from rabbits pretreated with reserpine.- Effects of oxygen, hypoxia, metabolic inhibitors, nitrite, indomethacin, and adenosine on the spontaneous tone of a nerve-free vessel, the human umbilical artery.- Neurovascular transmission related to the rate and number of stimulation impulses.- Immunological Aspects of Vascular Diseases.- Immunological studies in chronic occlusive arterial diseases.- Significance of immunological studies of peripheral arterial diseases.- Vascular changes of low calcium diet fed animals against soluble immune complex.- Blood serum proteins and free SH groups in the diagnosis of classical polyarteritis nodosa.- The effect of autologous serum and some drugs on cellular immune reactions in vascular diseases.- Immunology of endothelial cells action of ticlopidine.- Immunological and functional of results allogeneic vein transplantation in the low pressure system.- Immunological and functional results of allogeneic vein transplantation within the arterial system.- Adaptability of Vascular Tissue Surgery.- Reconstruction or amputation in old people with aortoiliac occlusive arterial disease?.- Results of reconstructive surgery for occlusive disease of aortoiliac and femoropopliteal arteries.- The healing of vascular prostheses in a man.- Secondary reconstructive operations in patients after aortoiliac surgery.- Thrombosis of aorto-iliac reconstruction: Origin, prevention and treatment.- Long-term changes of calf blood flow and local pressure in patients with aortofemoral reconstruction.- Results of femoropopliteal venous bypass operation in chronic arterial occlusion.- Our experience with the in- situ bypass in chronic occlusive disease of the femoropopliteal artery.- Reconstructive surgery in ischemic diseases of lower limbs.- Indications and results of the direct surgical treatment of chronic arterial occlucive diseases.- Causes of failure after reconstructive arterial operation in patients with chronic ischemic disease of the legs.- Our experience with femoro-femoral cross-over.- Revascularization of the profunda femoris artery-long term results.- Femorotibial bypass: an 8-Years experience.- Reconstruction of the popliteal and crural arteries based on our own material.- Long term results of surgical treatment in Buerger''s disease.- The treatment of chronic arterial occlusion of the upper-and lower- leg bloodflow with a femoro-popliteal and femoro-crural by-pass. - Indications, short - and longterm results.- Management of thoracic outlet compression syndrome.- Indications of reconstructive surgery in angina abdominalis.- Surgery of the intestinal arteries.- Clinical and experimental results of the surgery of the extracranial cerebral vessels.- Lumbar sympathectomy as an alternative treatment of occlusive arteriosclerotic diseases of the low extremities.- Experimental and clinical embolization of the spleen.- Surgical treatment of thinking and coiling of the internal crotid artery.- Experimental A - V fistula: Dilatation of muscular type artery at elevated flow rates.- Value of revascularization operations on the bifurcation of the common carotid artery in patients with chronic stroke.- Venous homograft in advanced arteritis of the legs. Report of 30 cases.- The effect of blood flow on vein grafts in the arterial bed.- Does the grafted femoral vein "arterialize"?.- Ultrastructural investigations of experimental venous grafts.- Role of chemical modification of surface properties on the long - term patency of vascular prostheses.- Adaptive changes in the internal diameter of the carotid artery to prolonged shear stress load and its relationship to the optimality principle of the vascular tree.- Use of the umbilical cord for reconstructive vascular surgery.- Long-term results following replacement of the femoral artery by preserved DLA-compatible fetal aortal grafts in dogs.- Hyperstomy syndrome of the legs, long term result of surgical treatment.- Epidemiology and Prevention of Vascular Diseases.- Medical care for patients with vascular diseases (Individual and social problems).- Arterial occlusive disease with hypertension as a possible risk factor?.- Professional risk faktors in arterial occlusive disease.- The value of rescreening of some risk factors with respect to the importance of intervention.- Epidemiology of peripheral vascular disease by the Doppler ultrasonic technique.- Five years incidence of arterial occlusive disease in north czech men.- Epidemiology and natural course of atherosclerotic ischaemia of lower limbs.- A longitudinal study of arterial blood pressure with regard to primary prevention of ischaemic heart disease.- Prediction of the risk of stroke myocardial infarction in patients with manifest arteriosclerosis.- Multifactorial prevention of coronary heart disease in the male industrial population.- Multifactorial primary prevention study on myocardial infarction and stroke.- The need for primary prevention of atherosclerosis in childhood.- Smoking - an important risk factor in arterial occlusive disease.- Asymptomatic ischemi