Alice Paul: Claiming Power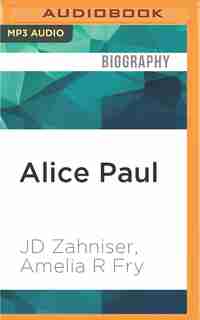 Find In Store
Prices and offers may vary in store
Alice Paul has long been an elusive figure in the political history of American women. Raised by Quaker parents in Moorestown, New Jersey, she would become a passionate and outspoken leader of the woman suffrage movement. In 1913 she reinvigorated the American campaign for a constitutional suffrage amendment and, in the next seven years, dominated that campaign and drove it to victory with bold, controversial action—wedding courage with resourcefulness and self-mastery.
This biography of Paul's early years and suffrage leadership offers fresh insight into her private persona and public image, examining for the first time the sources of Paul's ambition and the growth of her political consciousness. Using extensive oral history interviews with Paul and her colleagues, Authors J. D. Zahniser and Amelia R. Fry substantially revise our understanding about Paul's engagement with suffrage activism in England and later emergence onto the American scene. Though her Quaker upbringing has long been seen as the spark for her commitment to women's rights, Zahniser and Fry show how her childhood among the Friends forged crucial aspects of Paul's character, but her political zeal developed out of years of education and exploration. The authors explore the ways in which her involvement with the British suffragists Emmeline and Christabel Pankhurst honed her instincts and skills, especially her dealings with her most important political adversaries, Woodrow Wilson and rival suffrage leader Carrie Chapman Catt.
Applying new research to the persistent questions about Alice Paul and her legacy, this compelling biography analyzes Paul's charisma and leadership qualities, sheds new light on her life and work, and is essential reading for anyone interested the woman suffrage movement.
The accompanying reference guide is included as a PDF on this disc.
Title:
Alice Paul: Claiming Power
Product dimensions:
6.75 X 5.25 X 0.68 in
Shipping dimensions:
6.75 X 5.25 X 0.68 in
Publisher:
Brilliance Audio
Appropriate for ages:
All ages