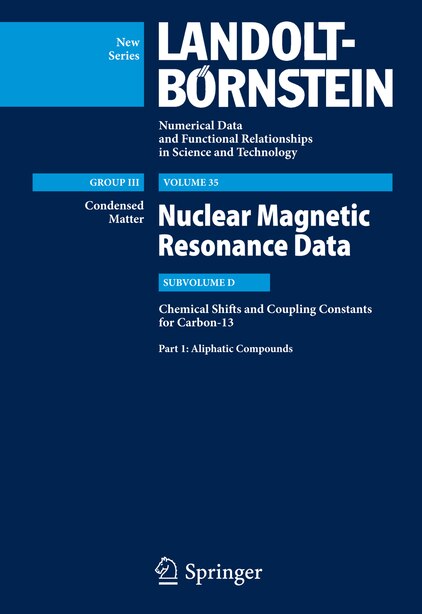 Aliphatic Compounds: Subvolume D: Chemical Shifts and Coupling Constants for Carbon-13
Hardcover

|

May 29, 2010
Pricing and Purchase Info
$5,294.85
Prices and offers may vary in store
The present volume was begun by the late Dr. H.-O. Kalinowski, Justus-Liebig-Universität, Gießen, 13 Germany who could not continue the work on it. His books about the theory and applications of C NMR are well known and helpful to many chemists. The authors and the editors dedicate the volume to the memory of Dr. H.-O. Kalinowski. Nuclear Magnetic Resonance (NMR) is based on the fact that certain nuclei exhibit a magnetic moment, oriented by a magnetic field, and absorb characteristic frequencies in the radiofrequency part of the spectrum. The spectral lines of the nuclei are highly influenced by the chemical environment, i.e. the structure and interaction of the molecules. Magnetic properties of nuclei have been known since 1924 and the first Nuclear Magnetic Resonance experiment was performed in 1945. NMR is now the leading technique and a powerful tool for the investigation of the structure and interaction of molecules. The present Landolt-Börnstein volume III/35 "Nuclear Magnetic Resonance (NMR) Data" is therefore of major interest to all scientists and engineers who intend to use NMR to study the structure and the binding of molecules.
Title:
Aliphatic Compounds: Subvolume D: Chemical Shifts and Coupling Constants for Carbon-13
Format:
Hardcover
Product dimensions:
446 pages, 10.63 X 7.6 X 0 in
Shipping dimensions:
446 pages, 10.63 X 7.6 X 0 in
Published:
May 29, 2010
Publisher:
Springer Berlin Heidelberg
Language:
English
The following ISBNs are associated with this title:
ISBN - 10:3540410279
ISBN - 13:9783540410270
Look for similar items by category:
Preview Your Review
Your Review Has Been Submitted
NO, I do not recommend this product.
Educational/Developmental Value:
Thank you. Your review has been submitted and will appear here shortly.
Table of Contents
General Introduction.- Carbon-13 NMR of Aliphatic Compounds.- General Introduction.- Nuclear magnetic resonance data of CBrF3.- Nuclear magnetic resonance data of CBr4.- Nuclear magnetic resonance data of CClF3.- Nuclear magnetic resonance data of CClI3.- Nuclear magnetic resonance data of CCl4.- Nuclear magnetic resonance data of CFBr3.- Nuclear magnetic resonance data of CFCl3.- Nuclear magnetic resonance data of CF3I.- Nuclear magnetic resonance data of CF4.- Nuclear magnetic resonance data of CF4.- Nuclear magnetic resonance data of CI4.- Nuclear magnetic resonance data of CHBr2I.- Nuclear magnetic resonance data of CHBr3.- Nuclear magnetic resonance data of CHCl2I.- Nuclear magnetic resonance data of CHCl3.- Nuclear magnetic resonance data of CHF3.- Nuclear magnetic resonance data of CHF3.- Nuclear magnetic resonance data of CHI3.- Nuclear magnetic resonance data of CHI3.- Nuclear magnetic resonance data of CHO2.- Nuclear magnetic resonance data of CH2Br2.- Nuclear magnetic resonance data of CH2Cl2.- Nuclear magnetic resonance data of CH2F2.- Nuclear magnetic resonance data of CH2I2.- Nuclear magnetic resonance data of CH2I2.- Nuclear magnetic resonance data of CH2O.- Nuclear magnetic resonance data of CH2O.- Nuclear magnetic resonance data of CH2O2.- Nuclear magnetic resonance data of CH2O2.- Nuclear magnetic resonance data of CH2O2.- Nuclear magnetic resonance data of CH3Br.- Nuclear magnetic resonance data of CH3Br.- Nuclear magnetic resonance data of CH3Cl.- Nuclear magnetic resonance data of CH3Cl.- Nuclear magnetic resonance data of CH3ClO2S.- Nuclear magnetic resonance data of CH3F.- Nuclear magnetic resonance data of CH3F.- Nuclear magnetic resonance data of CH3I.- Nuclear magnetic resonance data of CH3I.- Nuclear magnetic resonance data of CH3NO.- Nuclear magnetic resonance data of CH3NO2.- Nuclear magnetic resonance data of CH3N3O4.- Nuclear magnetic resonance data of CH4.- Nuclear magnetic resonance data of CH4N2O.- Nuclear magnetic resonance data of CH4N2O2.- Nuclear magnetic resonance data of CH4O.- Nuclear magnetic resonance data of CH4O3.- Nuclear magnetic resonance data of CH4O3S.- Nuclear magnetic resonance data of CH4S.- Nuclear magnetic resonance data of CO.- Nuclear magnetic resonance data of CO2.- Nuclear magnetic resonance data of CO2.- Nuclear magnetic resonance data of C2Br6.- Nuclear magnetic resonance data of C2Cl3F3.- Nuclear magnetic resonance data of C2Cl3O2.- Nuclear magnetic resonance data of C2Cl4.- Nuclear magnetic resonance data of C2Cl4.- Nuclear magnetic resonance data of C2Cl4F2.- Nuclear magnetic resonance data of C2Cl6.- Nuclear magnetic resonance data of C2Cl6.- Nuclear magnetic resonance data of C2F2N2O4.- Nuclear magnetic resonance data of C2F2O2.- Nuclear magnetic resonance data of C2F2O3.- Nuclear magnetic resonance data of C2F2O4.- Nuclear magnetic resonance data of C2F4O2.- Nuclear magnetic resonance data of C2F6.- Nuclear magnetic resonance data of C2F6O.- Nuclear magnetic resonance data of C2F6O3.- Nuclear magnetic resonance data of C2H.Br3.- Nuclear magnetic resonance data of C2HCl2O2.- Nuclear magnetic resonance data of C2HCl3.- Nuclear magnetic resonance data of C2HCl3O.- Nuclear magnetic resonance data of C2HCl3O2.- Nuclear magnetic resonance data of C2HCl5.- Nuclear magnetic resonance data of C2HF3O2.- Nuclear magnetic resonance data of C2H2.- Nuclear magnetic resonance data of C2H2.- Nuclear magnetic resonance data of C2H2.- Nuclear magnetic resonance data of C2H2Br2.- Nuclear magnetic resonance data of C2H2Br2.- Nuclear magnetic resonance data of C2H2Br2.- Nuclear magnetic resonance data of C2H2ClO2.- Nuclear magnetic resonance data of C2H2Cl2.- Nuclear magnetic resonance data of C2H2Cl2.- Nuclear magnetic resonance data of C2H2Cl4.- Nuclear magnetic resonance data of C2H2F2O.- Nuclear magnetic resonance data of C2H2I2.- Nuclear magnetic resonance data of C2H2I2.- Nuclear magnetic resonance data of C2H2O.- Nuclear magnetic resonance data of C2H2O3.- Nuclear magnetic resonance data of C2H2O3.- Nuclear magnetic resonance data of C2H2O4.- Nuclear magnetic resonance data of C2H3BrO.- Nuclear magnetic resonance data of C2H3BrO2.- Nuclear magnetic resonance data of C2H3Br3.- Nuclear magnetic resonance data of C2H3ClO.- Nuclear magnetic resonance data of C2H3ClO.- Nuclear magnetic resonance data of C2H3ClO2.- Nuclear magnetic resonance data of C2H3Cl3.- Nuclear magnetic resonance data of C2H3Cl3O.- Nuclear magnetic resonance data of C2H3F.- Nuclear magnetic resonance data of C2H3FO2.- Nuclear magnetic resonance data of C2H3F3O.- Nuclear magnetic resonance data of C2H3F3O.- Nuclear magnetic resonance data of C2H3I.- Nuclear magnetic resonance data of C2H3I.- Nuclear magnetic resonance data of C2H3IO.- Nuclear magnetic resonance data of C2H3N.- Nuclear magnetic resonance data of C2H3N.- Nuclear magnetic resonance data of C2H3NO.- Nuclear magnetic resonance data of C2H3NO2.- Nuclear magnetic resonance data of C2H3NS.- Nuclear magnetic resonance data of C2H3NS.- Nuclear magnetic resonance data of C2H3O2.- Nuclear magnetic resonance data of C2H3O2.- Nuclear magnetic resonance data of C2H4Br2.- Nuclear magnetic resonance data of C2H4Cl2.- Nuclear magnetic resonance data of C2H4Cl2.- Nuclear magnetic resonance data of C2H4Cl2.- Nuclear magnetic resonance data of C2H4Cl2.- Nuclear magnetic resonance data of C2H4NO2.- Nuclear magnetic resonance data of C2H4O.- Nuclear magnetic resonance data of C2H4O.- Nuclear magnetic resonance data of C2H4O.- Nuclear magnetic resonance data of C2H4O.- Nuclear magnetic resonance data of C2H4OS.- Nuclear magnetic resonance data of C2H4O2.- Nuclear magnetic resonance data of C2H4O2.- Nuclear magnetic resonance data of C2H4O2.- Nuclear magnetic resonance data of C2H4O2.- Nuclear magnetic resonance data of C2H4O2.- Nuclear magnetic resonance data of C2H4O2.- Nuclear magnetic resonance data of C2H4S.- Nuclear magnetic resonance data of C2H4S2.- Nuclear magnetic resonance data of C2H5Br.- Nuclear magnetic resonance data of C2H5Br.- Nuclear magnetic resonance data of C2H5BrO2.- Nuclear magnetic resonance data of C2H5Cl.- Nuclear magnetic resonance data of C2H5Cl.- Nuclear magnetic resonance data of C2H5ClO2S.- Nuclear magnetic resonance data of C2H5ClO2S.- Nuclear magnetic resonance data of C2H5F.- Nuclear magnetic resonance data of C2H5I.- Nuclear magnetic resonance data of C2H5I.- Nuclear magnetic resonance data of C2H5N.- Nuclear magnetic resonance data of C2H5NO (syn).- Nuclear magnetic resonance data of C2H5NO (anti).- Nuclear magnetic resonance data of C2H5NO.- Nuclear magnetic resonance data of C2H5NO.- Nuclear magnetic resonance data of C2H5NO2.- Nuclear magnetic resonance data of C2H5NO2.- Nuclear magnetic resonance data of C2H5NS.- Nuclear magnetic resonance data of C2H6.- Nuclear magnetic resonance data of C2H6.- Nuclear magnetic resonance data of C2H6NO2.- Nuclear magnetic resonance data of C2H6N2O.- Nuclear magnetic resonance data of C2H6N2O2.- Nuclear magnetic resonance data of C2H6O.- Nuclear magnetic resonance data of C2H6O.- Nuclear magnetic resonance data of C2H6O.- Nuclear magnetic resonance data of C2H6O.- Nuclear magnetic resonance data of C2H6OS.- Nuclear magnetic resonance data of C2H6OS.- Nuclear magnetic resonance data of C2H6O2.- Nuclear magnetic resonance data of C2H6O2.- Nuclear magnetic resonance data of C2H6O2.- Nuclear magnetic resonance data of C2H6O2S.- Nuclear magnetic resonance data of C2H6O2S.- Nuclear magnetic resonance data of C2H6O3.- Nuclear magnetic resonance data of C2H6O3S.- Nuclear magnetic resonance data of C2H6O4S.- Nuclear magnetic resonance data of C2H6S.- Nuclear magnetic resonance data of C2H6S.- Nuclear magnetic resonance data of C2H6S2.- Nuclear magnetic resonance data of C2H6S2.- Nuclear magnetic resonance data of C2H7N.- Nuclear magnetic resonance data of C2H7N.- Nuclear magnetic resonance data of C2H7NO.- Nuclear magnetic resonance data of C3Cl4.- Nuclear magnetic resonance data of C3Cl5F3.- Nuclear magnetic resonance data of C3Cl6.- Nuclear magnetic resonance data of C3Cl6F2.- Nuclear magnetic resonance data of C3Cl6O.- Nuclear magnetic resonance data of C3Cl6O.- Nuclear magnetic resonance data of C3Cl8.- Nuclear magnetic resonance data of C3HBrF6.- Nuclear magnetic resonance data of C3HClF6.- Nuclear magnetic resonance data of C3HF6I.- Nuclear magnetic resonance data of C3HN.- Nuclear magnetic resonance data of C3H2BrClO2.- Nuclear magnetic resonance data of C3H2N2.- Nuclear magnetic resonance data of C3H2O.- Nuclear magnetic resonance data of C3H2O.- Nuclear magnetic resonance data of C3H2O3.- Nuclear magnetic resonance data of C3H2O3.- Nuclear magnetic resonance data of C3H2O4.- Nuclear magnetic resonance data of C3H3BrO2.- Nuclear magnetic resonance data of C3H3Br3O.- Nuclear magnetic resonance data of C3H3ClO.- Nuclear magnetic resonance data of C3H3ClO2.- Nuclear magnetic resonance data of C3H3ClO2.- Nuclear magnetic resonance data of C3H3Cl3O.- Nuclear magnetic resonance data of C3H3Cl3O2.- Nuclear magnetic resonance data of C3H3F3.- Nuclear magnetic resonance data of C3H3F3O.- Nuclear magnetic resonance data of C3H3F3O.- Nuclear magnetic resonance data of C3H3F3OS.- Nuclear magnetic resonance data of C3H3IO2.- Nuclear magnetic resonance data of C3H3IO2.- Nuclear magnetic resonance data of C3H3N.- Nuclear magnetic resonance data of C3H3N.- Nuclear magnetic resonance data of C3H3NO.- Nuclear magnetic resonance data of C3H3O2.- Nuclear magnetic resonance data of C3H4.- Nuclear magnetic resonance data of C3H4.- Nuclear magnetic resonance data of C3H4.- Nuclear magnetic resonance data of C3H4.- Nuclear magnetic resonance data of C3H4.- Nuclear magnetic resonance data of C3H4BrF3.- Nuclear magnetic resonance data of C3H4BrF3O.- Nuclear magnetic resonance data of C3H4BrCl3.- Nuclear magnetic resonance data of C3H4BrCl3.- Nuclear magnetic resonance data of C3H4Br2Cl2.- Nuclear magnetic resonance data of C3H4Br2Cl2.- Nuclear magnetic resonance data of C3H4Br2Cl2.- Nuclear magnetic res