Almost Black: The True Story Of How I Got Into Medical School By Pretending To Be Black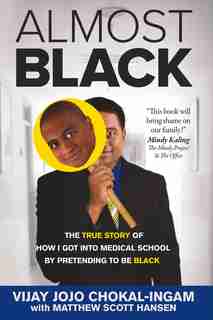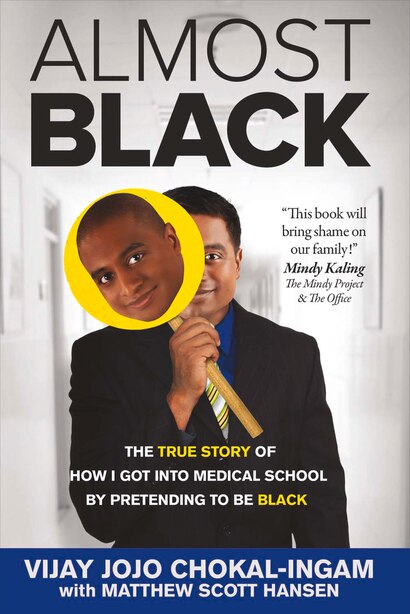 In-Store Availability
Prices and offers may vary in store
I got into medical school by saying I was black. I lied. Honestly, I am about as black as my sister Mindy Kaling (The Office / The Mindy Project).

Once upon a time, I was an ethically challenged, hard-partying Indian American frat boy enjoying my third year of college. That is until I realized I didn''t have the grades or test scores to get into medical school. Legitimately.

Still, I was determined to be a doctor and discovered that affirmative action provided a loophole that might help. The only problem? I wasn''t a minority. So I became one. I shaved my head, trimmed my long Indian eyelashes, and applied as an African American. Not even my own frat brothers recognized me. I joined the Organization of Black Students and used my middle name, Jojo.

Vijay, the Indian American frat boy, became Jojo, the African American affirmative action applicant.

Not everything went as planned. During a med school interview, an African American doctor angrily confronted me for not being black. Cops harassed me. Store clerks accused me of shoplifting. Women were either scared of me or found my bald black dude look sexually mesmerizing. What started as a scam to get into med school turned into a twisted social experiment, teaching me lessons I would never have learned in the classroom.

I became a serious contender at some of America''s greatest schools, including Harvard University, Washington University, University of Pennsylvania, Case Western Reserve University, George Washington University, University of Pittsburgh, Yale University, University of Rochester, University of Nebraska Omaha, and Columbia University. I interviewed at 11 schools while posing as a black man. After all that, I finally got accepted into medical school.

Almost Black combines the comic tone of 1986''s Soul Man, starring C. Thomas Howell, Rae Dawn Chong, and James Earl Jones, with the deeply poignant observations of Black Like Me, John Howard Griffin''s classic.

Resembling a mashup of the two works (but far more humorous), the hedonistic frat boy discovered something far more than what he''d bargained for while posing as a black man: the seriousness, complexities, and infuriating injustice of America''s racial problems. In Black Like Me, Griffin was a white man posing as a black man in the American South, prior to the Civil Rights Act of 1964. I wasn''t on some intense social mission like he was, but just as Griffin did, I came away changed.

Before I finished this book, I stirred a hornet''s nest by telling the story. It has been featured in more than 100 media outlets, including CNN, ABC, NBC, FOX, TIME, The Guardian, National Review, Washington Post, Salon, Gawker, VOX, VICE, Complex, Buzz Feed, Huffington Post, Daily Mail, and Perez Hilton. Many loved it, but not everyone approved of what I did. My college classmate, Tucker Max (I Hope They Serve Beer in Hell), disapproved. My sister Mindy Kaling furiously declared, "This book will bring shame on our family!"

I disagree but I''ll let you be the judge.
Title:
Almost Black: The True Story Of How I Got Into Medical School By Pretending To Be Black
Format:
Paperback
Product dimensions:
352 pages, 9 X 6 X 0.9 in
Shipping dimensions:
352 pages, 9 X 6 X 0.9 in
Published:
September 13, 2016
Publisher:
BookBaby
Language:
English
The following ISBNs are associated with this title:
ISBN - 10:1483576043
ISBN - 13:9781483576046
Look for similar items by category: