Almost The Only Bridge Book You'll Ever Need: Principles To Help You Have Fun, Be More Ethical & Improve Your Game.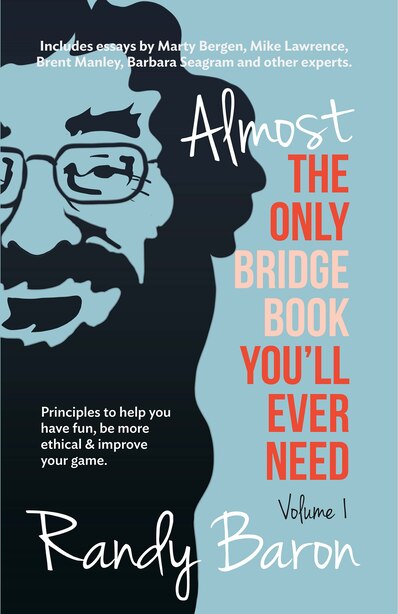 Prices and offers may vary in store
There are many books and articles about how to improve your play, but there are few that focus on being a better partner, having fun and playing bridge the right way. In this book, there is plenty of technical advice. But more important, this book examines the best ways to participate joyfully in the world's greatest game. In this time of various scandals at the highest levels of bridge, these topics need to be promoted more often. Besides, there are thousands of players around the world who have limited awareness that they are making unethical bids, plays or hesitations, or taking advantage of partner's actions. Although you might have come across some of these tips in various books and magazine articles, this book is unique by focusing more on having a pleasant time playing and making your table a welcome and pleasant place to be. What's more important than being a positive role model for everyone around you, getting along with others, and having a good time? You can choose which principles apply to you and your game. Much of what is appropriate for you to improve depends on your personality and how much work you want to put into being a better player, but frequently stressed throughout the book is that you can always be a role model for others. By reading this book and sharing with your partners and friends, we'll all be doing a little more to make the bridge world a friendlier and better environment. Randy's been playing bridge now for about 50 years and worn all hats: expert, author, publisher, editor, columnist, teacher, politician, director, bridge club owner, and lately travel planner. He founded and spent 35 years as president of the world's largest bridge supplier, Baron Barclay Bridge Supplies. The intention of this book is to present a kind of Reader's Digest of essays and tips that can elevate your enjoyment and help you play with impeccable ethics. In Volume 1, Randy gives invaluable advice including: - Useful habits to learn - How to improve your bidding system - Which conventions to play
Title:
Almost The Only Bridge Book You'll Ever Need: Principles To Help You Have Fun, Be More Ethical & Im...
Format:
Paperback
Product dimensions:
256 pages, 8.47 X 5.29 X 0.65 in
Shipping dimensions:
256 pages, 8.47 X 5.29 X 0.65 in
Published:
October 1, 2018
Publisher:
Baron Barclay Bridge Supplies
Language:
English
The following ISBNs are associated with this title:
ISBN - 10:1944201157
ISBN - 13:9781944201159
Look for similar items by category: