American Science Fiction: Eight Classic Novels Of The 1960s 2c Box Set: The High Crusade / Way Station / Flowers For Algernon / ... And Call Me Conrad / Past Master / Picn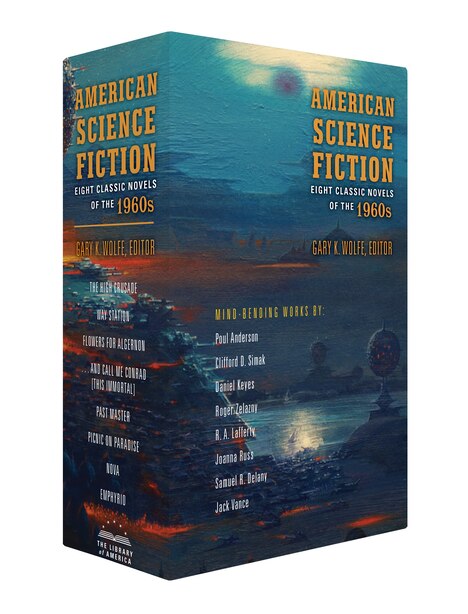 Prices and offers may vary in store
In a deluxe two-volume collector's edition boxed set, eight mind-bending novels from science fiction's most transformative decade, including the landmark classic Flowers for Algernon

The tumultuous 1960s was a watershed decade for American science fiction. As the nation raced to the moon, acknowledged masters from the genre's "golden age" reached the height of their powers. As it confronted calls for civil rights and countercultural revolution, a "new wave" of brilliant young voices emerged, upending the genre's "pulp" conventions with newfound literary sophistication; female, queer, and nonwhite authors broke into the ranks of SF writers, introducing provocative new protagonists and themes. Here, in a deluxe, two-volume collector's set, editor Gary K. Wolfe gathers eight wildly inventive novels, the decade's best: Daniel Keyes' beloved Flowers for Algernon and Poul Anderson's madcap The High Crusade; Clifford D. Simak's Hugo Award-winning Way Station; Roger Zelazny's post-apocalyptic . . . And Call Me Conrad (previously published as This Immortal); Joanna Russ' Picnic on Paradise, a pioneering work of feminist SF, and Samuel R. Delany's proto-cyberpunk space opera Nova; R.A. Lafferty's quirky, neglected, utterly original Past Master; and Jack Vance's haunting Emphyrio.
Title:
American Science Fiction: Eight Classic Novels Of The 1960s 2c Box Set: The High Crusade / Way Stat...
Format:
Hardcover
Product dimensions:
1500 pages, 8.54 X 5.42 X 2.72 in
Shipping dimensions:
1500 pages, 8.54 X 5.42 X 2.72 in
Published:
November 5, 2019
Publisher:
Library of America
Language:
English
The following ISBNs are associated with this title:
ISBN - 10:1598536354
ISBN - 13:9781598536355
Look for similar items by category: