Architectural Woodwork: Details for Construction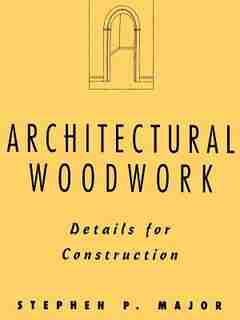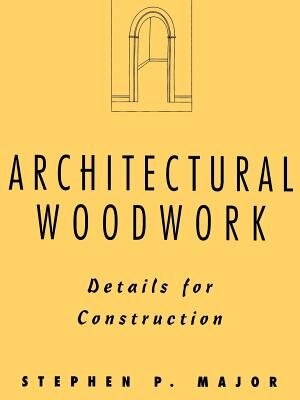 Architectural Woodwork Details for Construction Stephen P. Major Ifyou''re spending too much time chasing down information onarchitectural woodwork and its many synthetic counterparts--andstill not finding all the answers you need to do the job--you canstop looking now. Architectural Woodwork: Details for Constructionis the one-stop resource you''ve been looking for. Written by abuilder for builders, architects, and designers, it''s the firstbook exclusively devoted to the selection, design, detailing, andinstallation of both interior and exterior architectural woodwork.What''s more, it also covers synthetic wood substitutes such asaluminum millwork, vinyl siding, and styrene reproductionmouldings, and analyzes how each of these compares to traditionalwood products. Whether you''re designing windows or walls, doors ordecks, floors or fireplace trim, you''ll find everything you needhere to translate your design ideas into real woodwork. Just flipto the chapter on the type of woodwork you want and you''llfind:
* an explanation of the woodwork''s practical function
* characteristics of construction materials, and why some arebetter for the job
* an illustrated listing of choices available to you
* commonly encountered problems
* design considerations
* and construction details.
Convenient pro-and-con charts make the advantages and disadvantagesof materials and styles easy to compare. Whatever yourpriority--durability, cost, safety, aesthetics--you''ll find choicesthat work for you. In no time at all, you''ll learn how to masterevery phase of a project with the aid of clearly labeled, detailedcross-section construction drawings. And you''ll get expert help onthe special problems posed by curves and exterior protection. Armedwith the practical why and how-to information in this book, you''llknow what to look for, what questions to ask, and where not to cutcorners on cost. Most important, all this information is in oneplace, in a format that''s uncluttered and easy to read. Don''t getsidetracked by time-consuming research when you''ve got the realwork ahead of you. Get Architectural Woodwork.
Title:
Architectural Woodwork: Details for Construction
Format:
Paperback
Product dimensions:
240 pages, 10.79 X 8.29 X 0.52 in
Shipping dimensions:
240 pages, 10.79 X 8.29 X 0.52 in
Published:
April 7, 1995
Publisher:
Wiley
Language:
English
The following ISBNs are associated with this title:
ISBN - 10:047128551X
ISBN - 13:9780471285519
Look for similar items by category: