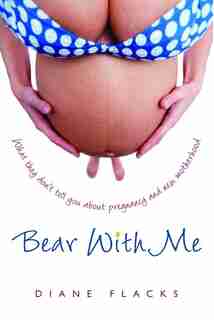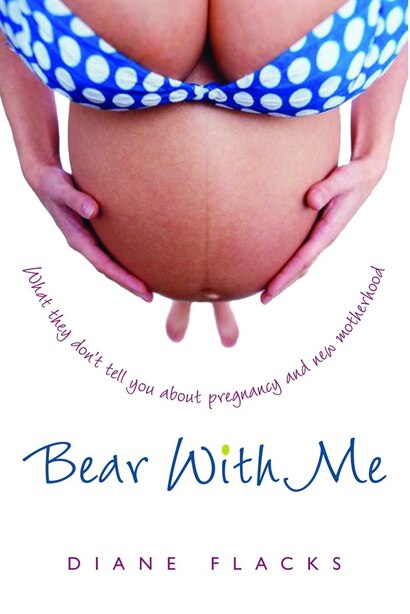 Bear With Me: What They Don't Tell You About Pregnancy And New Motherhood
Paperback

|

March 29, 2005
Pricing and Purchase Info
$24.99
Prices and offers may vary in store
Toronto comedy writer/performer Diane Flacks has written a frank and funny account of her pregnancy and the first months with her newborn. In the twenty-first century, it is hard to imagine that having a baby is still shrouded in secrecy and mythology. And yet many women go through their pregnancy with a sense of isolation and without an outlet to express their fears, doubts, and wonder. There is so much more to pregnancy than What to Expect When You're Expecting. In Bear With Me, readers will discover the truth about pregnancy – poignantly and hilariously. It is important to know how Dr. Sears suggests you work a nasal aspirator, but how do you get through your thirtieth day of morning sickness without shooting someone?!

Diane Flacks, who has written for Kids in the Hall and appeared with the Royal Canadian Air Farce, is open about her own experiences: dealing with hormonal mood swings and a changing body image, sex with a burgeoning belly, what really happens in the labour room, and (horror of horrors) becoming your mom. Flacks is witty, urbane, and refreshingly honest. In Bear With Me readers will find a voice that welcomes, does not judge or hide, and will make you laugh out loud.
Title:
Bear With Me: What They Don't Tell You About Pregnancy And New Motherhood
Format:
Paperback
Product dimensions:
248 pages, 9 X 6 X 0.63 in
Shipping dimensions:
248 pages, 9 X 6 X 0.63 in
Published:
March 29, 2005
Publisher:
McClelland & Stewart
Language:
English
The following ISBNs are associated with this title:
ISBN - 10:0771047649
ISBN - 13:9780771047640
Look for similar items by category:
Preview Your Review
Your Review Has Been Submitted
NO, I do not recommend this product.
Educational/Developmental Value:
Thank you. Your review has been submitted and will appear here shortly.
Read from the Book
Once I was showing, I suddenly noticed that pregnant women were everywhere: on the bus, in Swiss Chalet, at traffic court. Janis pointed out that they were always there, we just never gave a crap.I recently had lunch with a woman who was coming out of her first trimester. She looked at me conspiratorially, "You know what they don't tell you?""What?" I whispered back equally furtively over a stack of creamers that my eighteen­month-old had erected and was in the process of destroying."Pregnancy is so much fun!" she hooted. My son bellowed, "Okay!" and a creamer exploded in his mouth.While I wholeheartedly agree that being pregnant is one of the most joy-filled, awe­inspiring things a body can do, "fun" wasn't where I was at by week sixteen.My lunchmate was aware of this and said, "You're sort of my benchmark. Nothing in my first trimester was as bad as yours, so I figured I was doing okay."Glad I could help.THE LIGHTBy week sixteen of my pregnancy, I had begun to chart days: barf (b), not barf (nb), partial barf (pb). I meticulously measured and recorded these details in a futile effort to weave order and control into the unpredictable tapestry that was my stomach.Then, slowly, through a cluttered tunnel of charts and graphs, I realized that I was starting to see some light.It began the day I took a ride on my bike to the corner store. While I had to lower the gears to "Grandma with a bad hip" levels, and I had to grunt and heave and sweat my way up my street (which was on a slight, but definite incline, something I was determined to complain to the city about) I made it to the store.The only thing I can compare it to is when you have one of those long, ugly winter flus. You start to feel like you'll never have energy again, and you regret that you didn't really enjoy your life before. An endless wasteland of sick stretches before you. Until one day, you get a little pep back. Three days later, you forget what the flu was like.Yet, I wanted to hold on to my experience of the first trimester. I was thrilled that I might get my personality back, but I didn't want to forget the magnitude of the change that had occurred in and to me.I needn't have worried. The changes continued.
Editorial Reviews
"How do lesbians do it? With three Palm pilots to juggle the sperm donor date, some Italian porn for him, Aretha Franklin for them, and skip the turkey baster. Motherhood, through the eyes of the wickedly funny Diane Flacks, is a tender and tumultuous trip. If pregnancy has ever crossed your mind, you need Diane. She made me remember, ache, shriek with laughter, well up with mushiness. Her anecdotes are voyeuristically frank and liberatingly unconventional. And her wisdom is crisp: 'You are a mother. Therefore you are technically a lunatic.' (We should all be this crazy)."–Michele Landsberg"I've noticed that women tell their birth stories like old men tell their war stories: 'I was in Vimy Ridge when my water broke…' Diane Flacks has written a hugely entertaining and hilarious memoir of having her baby and trying to understand what just happened. Bear With Me reminds us of how important it is to keep our sense of humour through it all."–Bruce McCulloch, Kids In the Hall "Bear With Me is a wonderful book – entertaining, informative, full of wisdom and laugh-out-loud hilarious! The conception to birth of baby Eli is quite the journey. It boggles the mind that both Diane and her partner Janis were trying to conceive simultaneously – so strong was their desire to have a child in their lives. The writing in this book is rich, passionate, and candid – a real tour de force. Remarkable when you consider that a woman's brain shrinks when she becomes pregnant! As one of Canada's most talented writer/comediennes, Diane Flacks will go on to write many more 'little miracles.' And maybe even have another baby…" – Luba Goy, Royal Canadian Air Farce