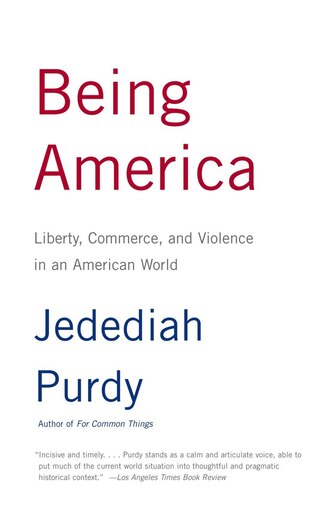 Being America: Liberty, Commerce, and Violence in an American World
Paperback

|

February 10, 2004
Pricing and Purchase Info
$21.00
Prices and offers may vary in store
Having risen to national attention with his first book, For Common Things, Jedediah Purdy now cements his claim to being one of the most arresting public intellectuals of his generation. In Being America, Purdy turns his erudition and unique perspective to America's relationship with a world that both admires and hates it.

Purdy has absorbed insights from people around the world: Westernized Egyptians who consider Osama bin Laden a hero, an urbane Indian who espouses gay rights and the most thuggish kind of Hindu nationalism, Cambodian sweat-shop workers, and others. Out of these conversations—and his inspired readings of political thinkers from Edmund Burke to James Madison—Purdy breathes new meaning into the American values of democracy, liberty, and free trade. Clear-thinking and far-sighted, Being America encourages America to strive to realize the potential it doesn't always know it has.
Title:
Being America: Liberty, Commerce, and Violence in an American World
Format:
Paperback
Dimensions:
368 pages, 8.03 X 5.16 X 0.77 in
Published:
February 10, 2004
Publisher:
Knopf Doubleday Publishing Group
Language:
English
The following ISBNs are associated with this title:
ISBN - 10:0375727558
ISBN - 13:9780375727559
Look for similar items by category:
Preview Your Review
Your Review Has Been Submitted
NO, I do not recommend this product.
Educational/Developmental Value:
Thank you. Your review has been submitted and will appear here shortly.
Read from the Book
CHAPTER 1Where All the Ladders StartThose masterful images, because complete Grew in pure mind, but out of what began? A mound of refuse or the sweepings of a street, Old kettles, old bottles, and a broken can, Old iron, old bones, old rags, that raving slut Who keeps the till. Now that my ladder''s gone I must lie down where all the ladders start, In the foul rag and bone shop of the heart.--William Butler Yeats, "The Circus Animals'' Desertion"I am reading another verse than Yeats''s, this one a text message on an Egyptian medical student''s mobile phone in a TGI Friday''s by the Nile in Cairo:SATURDAY NIGHT PARTY BOMBS IN WORLD TRADE CENTER SPECIAL DJ OSAMA BIN LADEN FLY IN COURTESY OF AMERICAN AIRLINESSitting with us are a young corporate lawyer and a first-year law student. The three are sisters, from an established but not eminent Egyptian family, and are fashionably turned out in tight black slacks and T-shirts several sizes too small. The medical student''s pink shirt, from Naf Naf, reads "Girls Only." They are all giggling, waiting for me to appreciate the satirical phone text. When I am slow to respond, the lawyer, Ingy, takes it on herself to explain: "So, all people in Egypt admire bin Laden, because he is the one who hit the U.S. So, he is like a hero for us, rather than a terrorist."I have come here trying to understand the attraction and resentment, the imitation and rejection that America inspires everywhere. I am hoping to glimpse the place where ideas and feelings begin.Ingy is my special friend in Cairo, having adopted me after her employer--a friend of a friend--offered to help me navigate this challenging city. She talks at precipitous speed, with nearly perfect lawyer''s English, precise but seldom evocative. Both her thoughts and her tongue run a half-step ahead of her mental translation from Arabic, and she bridges the gaps with "so" if she is expanding a point, "but" if she is refining it. Now she is concerned about my reticence, and picks at her chicken fingers and French fries while she waits for the conversation to repair itself.We chose TGI Friday''s because it is a modish destination for students and young professionals. The Oreo Sandwich and Mocha Madness Cake cost ten times more than a pita stuffed with chicken and sausage at one of the tiny shops that line Cairo''s roads and alleys. Because only professionals and aristocrats can afford to hold a table, the sex roles that govern Egyptian street life are suspended here. In Friday''s women can smoke the sheesha, the elaborate, thigh-high, brass water pipe whose curvaceous design and long breathing tube were the accessory of the mushroom-seated caterpillar in Alice in Wonderland. Sidewalk sheesha cafes are everywhere in Egypt, but they are the preserve of men. Here, though, stylish Cairenes can alternate between spoonfuls of heaping American desserts and drags of apple-flavored tobacco.The grimy, oily lanes where blacksmiths and mechanics work alongside food vendors are the ominous "Arab street," which many commentators suppose to be the seat of sympathy for Osama bin Laden and Islamic radicalism. These daughters of a senior civil servant in the regime that has been America''s most reliable Arab ally are not part of that street. They are, as we like to say, Westernized. The ensembles and phones are not just veneer. Before her sisters arrived and the conversation turned to politics, Ingy spent more than a half-hour describing her attitude to her work, her family, and her Islamic religion. She was one of the top law students at Cairo University, which guaranteed her a place in the public prosecutor''s office. In a country where political power is mainly a way of securing private fiefdoms, that prestigious position enables the prosecutor to protect family and friends and punish enemies. The venality of Egypt''s civil service is in constant competition with its indolence. A capable person can perform a full-time prosecutor''s duties in a few hours a day, a few days a week.Ingy''s father was determined that she should take the prosecutor''s job, so she did, and now she puts in her twelve weekly hours, filling out forms in Arabic and shuffling through the cases of accused criminals. Upon graduating, she also took a job with a young German lawyer who had just arrived in Cairo to try his luck in a less staid place than Germany. In his office she leads the working life of a Western lawyer, staying at her desk from eight in the morning until nine in the evening, six days a week, with breaks for visits to the prosecutor''s office. She explains to me, "From being a prosecutor you become a judge. That is very prestigious, and very secure. The president appoints you, and only he can remove you. You have immunity, and free health care at the best hospital, and a car and so on. But what you are doing there is really nothing. So it is just doing whatever is set before you. So if I have a master''s degree, so if I speak five languages or just one, it doesn''t make a difference."Instead, she says, she wants work that challenges and engages her, that makes her learn. She wants it to be at the center of her life. So work is not just something I do. It has become"--she struggles for a phrase--"my point of stance." "Your identity," I suggest, and she lights up: "Exactly."Ingy''s attitude toward work has the thrill of rebellion against a culture with limited space for professional women. Once when we were in her ground-floor office after dark, she made a show of pulling the curtains "so that the men in the street will not think I am being abused. It is a terrible thing for a woman to be made to work so late." This small performance was directed at me, a way of letting me know that her staid work has, in its context, a lively hint of scandal.Her work is also an anesthetic. Of her two closest friends from college, one has died of cancer, and the other is married and living in the oil-rich Gulf emirate of Dubai. "When my friend died," she tells me, "I worked so hard that I had no time to be depressed. So that was something for me." She is just as direct about losing the other friend to marriage: "She is telling me, you should get married and so on. And she is sitting there, pregnant." There is a hint of disgust in her face. "So of course she is telling me this."A career as stimulation, fulfillment, identity, and anesthetic: a place in the world and an obsessive distraction from one''s own life. These are contemporary, Western, and especially American experiences that have become global. But they have not set Ingy against Egypt, or made her one of the frenetic imitators of American manners who can now be found anywhere. She says of those people, "They do not belong in Egypt anymore, but they are not European or American, either. They want to be modern, but they adopt only the superficial things. So, a man and a woman live together before they are married. In the U.S., that is a part of your society; but here, it does not make sense, and they are not happy. And if they go abroad, then when there is terror, everyone will remember that they are Arabs."Ingy has always prayed five times a day, in the prescribed Muslim fashion, and a few years ago she had a kind of religious awakening: "Now I can feel it, it is what is in me, and it is beautiful." She does not elaborate on this passage from ritual to personal expression, but it is most important to her. It sits comfortably amidst the rebelliousness, conformity, perfectionism, and self-seeking of her professional life.Ingy seems a model for the view, fashionable among commentators on globalized culture, that people combine useful or compelling global trends with their local culture to make hybrid lives. With more options, people become more complicated versions of themselves--as has been true throughout history when cultures meet. Implicit in this picture is the idea that everyone will also become more tolerant and peaceful, as if all diversity had the mood of American multiculturalism.This optimist''s idea is in my mind as Ingy makes another try at elaborating on the text message promoting DJ Osama bin Laden. "Osama is a defender of the Palestinians. Of course, as Arabs we hate Israel. But that hatred for Israel we do not feel for the United States. And of course, people like me think that the way Osama did it was criminal. He should have attacked the White House. Then, no one could have said it was murder."I let that go unremarked. It is a commonplace among liberal Arabs that suicide bombings against Israeli government targets are legitimate, but that attacks on civilians are morally uncertain. Ingy assumes that extending that logic to the United States will reassure me. Instead of responding directly, I point out that Osama bin Laden has only recently put the Palestinians at the center of the account he gives of his terror campaign. His fatwas from 1997 and 1998 are directed mainly at the presence of American troops in Saudi Arabia. It was only after September 11 that he warned: "Americans will not know peace until the Palestinians know peace."When I recite this phrase, the young women laugh merrily. Between the American pop music hitting my right ear and the breeze blowing off the river, I think I must have missed something, and I look inquisitive. Ingy''s sister, the medical student, explains: "We laughed when he said that." Osama''s words placed the collapsing World Trade Center towers in a story of Israeli wrongs and Arab retribution that most Egyptians immediately understand. The same words that reassured Egyptian listeners sent Americans into their most intense alarm after the shock of the attacks themselves.Almost every major city abroad has a World Trade Center (or Centre), symbolizing its aspiration to commercial modernity. Cairo''s is across the Nile, its red neon logo glowing from the top floors. With the young women''s laughter like a translucent wall between us, I look away. Half the letters have burnt out, leaving only W T de Ce re, a nonsense phrase lighting a patch of the night.This is the first fact of global life. We Americans live in an American world, more than the citizens of imperial Rome inhabited a Roman world or nineteenth-century Englishmen a British one. The sun never sets on us. Where two or more are gathered, we are with them. Wherever one is trying to make sense of her life, we are there.Beyond our power and wealth, America provides the global language of dreams and the imagery of ambition. We are what everyone, everywhere, might yet be. Ours is the face that has launched millions of planes and billions of migrant journeys, whether from Bombay to New York or from a Tamil Nadu village to Bangalore.People everywhere want to spend their days not eking out survival, but enjoying the bounty of a rich country. The fantasy of a land of plenty is very old: it figures in Muslim views of paradise, Hindu descriptions of the Golden Age, and the legendary Cockaigne of medieval Christianity, an imagined place of perpetual feasting. Americans live in that place, the everyday tenants of one of the enduring human myths.Apart from wealth, people are moved by the wish for freedom--which today means American freedom. The ordinary liberty to go through a day or a week without harassment from the police; to choose your own friends and lovers; to speak your mind and come to your own opinions; to have ways of making the powerful answer to you: these are human aspirations, charged with new force in our age of democracy and human rights. For all its failings America stands for them. We live in the flesh and trip off the tongue of anyone, anywhere, who desires what it is human to want.The world''s hunger is not exactly a compliment, and we should not take it complacently. We are loved, desired, and resented, often in one breath. Life is full of injury, confusion, and humiliation in a world upset by vast migrations, the rise of huge cities only fifty years old, and the collapse of social orders to which people belonged for centuries and millennia. Resentment and hurt, like aspiration, run to America: the country that offers to the mind and heart everything that real life denies the hand and mouth. This is not a question of what attitude we deserve. Admiration and resentment have always attached themselves to the powerful, the successful, the visible.There is no guarantee of an American future. It is naive to believe that the migratory icons of American modernity--constitutions, regular elections, free markets, shopping malls, MTV--will turn every place to a version of what we already are. What awaits us is not restricted to what we wish for, or even what we can imagine.
Editorial Reviews
"Incisive and timely. . . . Purdy stands as a calm and articulate voice, able to put much of the current world situation into thoughtful and pragmatic historical context." —Los Angeles Times Book Review "Offers refreshing insight into today''s debates. . . . If you''re looking for something to challenge common assumptions, Purdy''s book . . . is well worth the effort." —The Philadelphia Inquirer"A profound thinker and a fine writer. . . . He offers fascinating theorires." —The Denver Post"Purdy is a surprisingly sharp observer. . . . He has the ability to perceive the mix of good and bad in most things." —The New York Times Book Review"Keenly observed and brightly reported." -—San Jose Mercury News