Betwixters: Once Upon a Time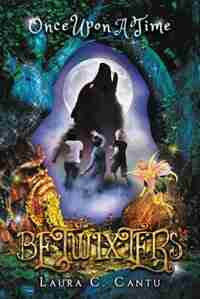 Prices and offers may vary in store
A mysterious forest near the cozy town of Herogate, England is more than what it seems. The gnarled trees appear to breathe, gloomy storms follow you around, and prowling shadows come to life before your very eyes. Referred to as The Dark Wood by the townsfolk, the forest is guarded by a strange old man and creatures not of this world. Even the locals never set foot in the bewitched woodlands, and trespassers have a way of turning up dead.
When Noah Walters moves to town with his parents, his father--a contractor working on a top secret project for a private security firm--makes Noah promise to never enter those woods; but he doesn't know that Fate has other plans.
Noah and his new best friends, Ethan and Skye, are chased into The Dark Wood by Grucker, a schoolyard bully, and their lives are changed forever. They are forced into the heart of the forest, where they discover a lost fairy who needs their help to find her way back home before it's too late.
Join Noah and his friends on a magical adventure as they race against time and plunge headfirst into the unknown. They are challenged with secrets to keep, a dangerous mission to accomplish, and a test of courage that will bring them face-to-face with magical creatures they thought only existed in fairy tales.
This is more than a tale of discovery, mystery, and excitement; it's an epic adventure that will usher you into a world where magic is in the air, in the trees, and in every heart.
SERIES GLIMPSE
Long ago, gifted humans known as Betwixters traveled between three magical realms and ensured the world existed in harmony. The realms were Merlydon, where enchanted beings such as faeries and elves lived; Suntamor, the human realm; and Haventhrone, where angel-like beings called Bellwethers resided. For centuries, Betwixters did their jobs well and Mother Nature existed in peace and harmony, but then a catastrophe struck and evil was born. The realms unexpectedly separated and magic was diminished in the human realm. Betwixters could no longer travel through portals or the mists; chaos ensued.
Thousands of years later, the balance of the world has reached a tipping point and Mother Nature sends a silent cry for help to humans in hopes of finding a new generation of Betwixters. Only the most innocent and loving hearts possess the ability to hear her call. She summons people who can travel between the realms in hopes of restoring balance and rescuing her from impending doom. But she's not looking for just anyone; the humans she needs are rare. They have powerful gifts and bravery that come not from pride, but from the willingness to believe. If she is to survive, they must become the first Betwixters in thousands of years.
Join Noah, Skye, Ethan, Olivia, and Neevya as they form unbreakable bonds and work tirelessly to restore the Order of Betwixters and save the world. They must learn and train for the prestigious title as well as travel far and wide, from one enchanted realm to another, in search of a powerful magical object that promises to heal the divides between dark and light. Along the way, they meet new friends, brave dangerous situations, master the powers of magic, and come of age. They will also learn about love, generosity, loyalty, courage and kindness. But will it be enough? Will they be able reunite the realms, save Mother Nature, and usher the world into a new era?
Title:
Betwixters: Once Upon a Time
Format:
Paperback
Product dimensions:
288 pages, 9 X 6 X 0.65 in
Shipping dimensions:
288 pages, 9 X 6 X 0.65 in
Published:
May 1, 2017
Publisher:
Winterwolf Press
Language:
English
The following ISBNs are associated with this title:
ISBN - 10:0988585197
ISBN - 13:9780988585195
Look for similar items by category:
Preview Your Review
Your Review Has Been Submitted
NO, I do not recommend this product.
Educational/Developmental Value:
Thank you. Your review has been submitted and will appear here shortly.