Black Flag: Guerrilla Warfare On The Western Border, 1861-1865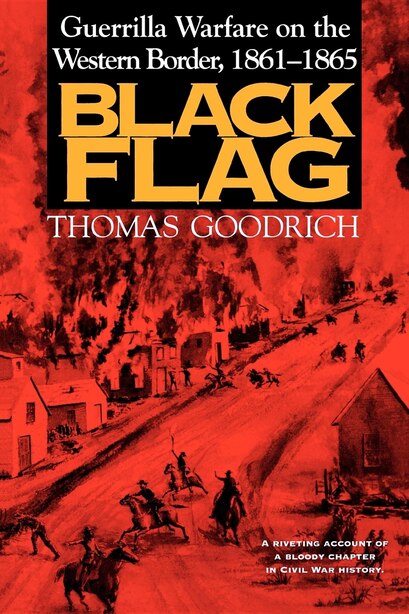 Find In Store
Prices and offers may vary in store
"[A] thorough and comprehensive study of this tragic, almost forgotten episode of American history." -History
"What Sherman did in Georgia and Sheridan in the Valley pales in comparison. This study truly shows the horrible cost inherent in any civil war." -Civil War Courier
"[A] well written and compelling account of an aspect of the Civil War which has not received sufficient attention." -Southern Historian
"Compelling . . ." -Publishers Weekly
"[A] fast-paced . . .absorbing discourse . . . Black Flag is a highly recommended book that transports the reader to the towns and dusty highways of Kansas and Missouri during the Civil War." -Kansas History
From 1861 to 1865, the region along the Missouri-Kansas border was the scene of unbelievable death and destruction. Thousands died, millions of dollars of property was lost, entire populations were violently uprooted. It was here also that some of the greatest atrocities in American history occurred. Yet in the great national tragedy of the Civil War, this savage warfare has seemed a minor episode.
Drawing from a wide array of contemporary documents-including diaries, letters, and first-hand newspaper accounts-Thomas Goodrich presents a hair-raising report of life in this merciless guerrilla war. Filled with dramatic detail, Black Flag reveals war at its very worst, told in the words of the participants themselves. Bushwhackers and Jayhawkers, soldiers and civilians, scouts, spies, runaway slaves, the generals and the guerrillas-all step forward to tell of their terrifying ordeals.
From the shocking, sensational massacres at Lawrence, Baxter Springs, and Centralia to the silent terror of a woman at home alone in the Aburnt district, Black Flag is a horrifying day-by-day account of life, death and war, told with unforgettable immediacy.
Title:
Black Flag: Guerrilla Warfare On The Western Border, 1861-1865
Product dimensions:
192 pages, 9 X 6 X 0.64 in
Shipping dimensions:
192 pages, 9 X 6 X 0.64 in
Publisher:
Indiana University Press
Appropriate for ages:
All ages