Blacks In The White Establishment?: A Study Of Race And Class In America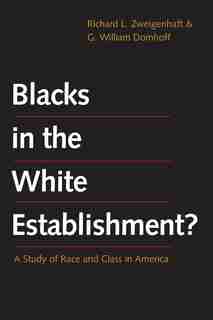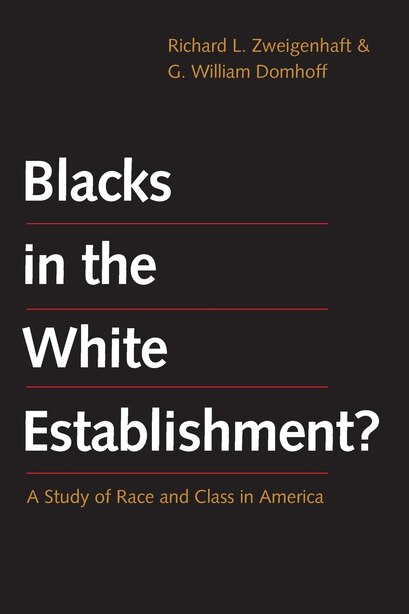 Find In Store
Prices and offers may vary in store
"The next thing the girl said was, 'I've never been near anyone black except for my maid.' And I thought, I'm going to have problems here."—Bobette Reed Kahn
What were the feelings and experiences of the young blacks from economically impoverished backgrounds who in the 1960s were placed in white upper-class prep schools? What do their current attitudes and achievements reveal about the importance of race and class in America? In this sensitive and engrossing book, a social psychologist and a political sociologist report on the early graduates of A Better Chance, a program designed to recruit and prepare minority students for entry into exclusive boarding schools, elite colleges and universities, and ultimately positions of power and prestige. Zwegenhaft and Domhoff's book is a vivid testimony to the costs and the rewards of this innovative attempt to transcend racial barriers.
As Zweigenhaft and Domhoff relate, these young men and women faced difficulties in the dramatic transition from black ghettos to the most exclusive boarding schools in the United States. Yet most not only endured but flourished. We hear their stories about the orientation programs they attended, their experiences in prep schools and colleges, the overt and covert forms of discrimination they faced, and the problems they encountered when they went home again. They discuss the pressures they felt, the friendships they made, the marriage partners they selected, and the frustrations and gratifications in their occupational lives.
The question of the relative importance of race and class in the United States is an ongoing controversy among policymakers, educators, and social scientists. Zweigenhaft and Domhoff's study sheds light on this debate—it concludes that while the importance of class has increased in the past few decades, race is still the paramount factor in the personal and social identity of blacks.
Title:
Blacks In The White Establishment?: A Study Of Race And Class In America
Product dimensions:
208 pages, 9.25 X 6.13 X 1 in
Shipping dimensions:
208 pages, 9.25 X 6.13 X 1 in
Publisher:
Yale University Press
Appropriate for ages:
All ages