Boarding the Enterprise: Transporters,Tribbles, And the Vulcan Death Grip in Gene Roddenberry's Star Trek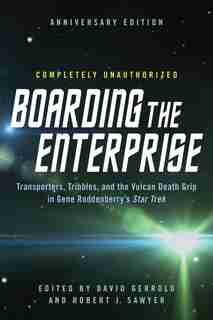 Find In Store
Prices and offers may vary in store
Rereleased for Star Trek: The Original Series ' 50th Anniversary, this in-depth analysis of the groundbreaking TV show features an updated introduction by Robert J. Sawyer and foreword by David Gerrold Trekkies and Trekkers alike will get starry-eyed over this eclectic mix of essays on the groundbreaking original Star Trek, one of the most culturally impactful TV shows of the last 50 years. Star Trek scriptwriters D. C. Fontana, David Gerrold, Norman Spinrad, and Howard Weinstein, science fiction writers including Allen Steele and Lawrence Watt-Evans, and various academics share behind-the-scenes anecdotes, discuss the show's enduring appeal and influence, and examine some of the classic features of the series.

Inside:

Communications and media theorist Paul Levinson shows how the unprecedented success of the "seventy-nine jewels" in syndication changed the way we look at television forever.

Star Trek writer D. C. Fontana remembers Gene Roddenberry and what it was like on the set and behind the scenes.

Hugo Awardwinning author Allen Steele explores the strong science fiction tradition that made the show so great.

Cultural theorist Eric Greene details the show's complex dialogue with the Vietnam War, highlighting the evolving stances on interventionist politics.

Science fiction novelist DON Debrandt contends that the famously logical Spock isn't quite as rational as Star Trek's writers would have you believe.

Scientist Robert A. Metzger proves that Scotty's ability to lie makes him the most valuable member of the Enterprise crew.

Fanfiction author Melissa Dickinson explains why we still feel compelled to write our own stories about Kirk, Spock, and the rest of the show's memorable characters.
Title:
Boarding the Enterprise: Transporters,Tribbles, And the Vulcan Death Grip in Gene Roddenberry's Star Trek
Product dimensions:
224 pages, 9.06 X 6.06 X 0.59 in
Shipping dimensions:
224 pages, 9.06 X 6.06 X 0.59 in
Appropriate for ages:
All ages