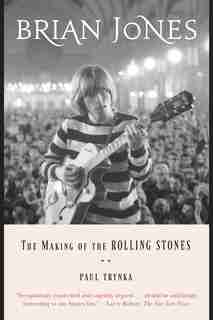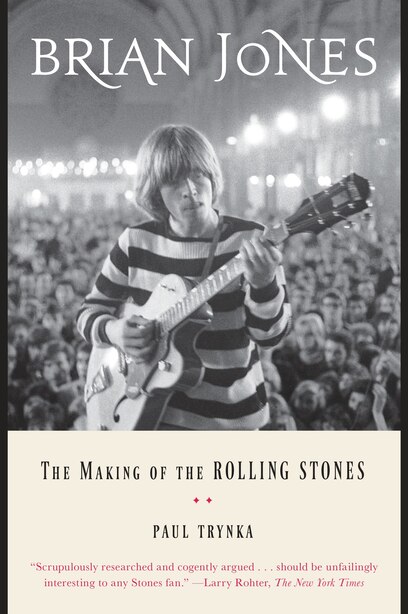 Brian Jones: The Making Of The Rolling Stones
Paperback

|

November 3, 2015
Pricing and Purchase Info
$22.00
list price
save 19%
Prices and offers may vary in store
"Should be unfailingly interesting to any Stones fan."—Larry Rhoter, New York Times
 
The Rolling Stones' rise to fame is one of rock 'n' roll's epic stories. Yet one crucial part of that story has never been fully told: the role of Brian Jones, the visionary who founded the band and meticulously controlled their early sound, only to be dethroned by Mick Jagger and Keith Richards. Tormented by paranoia and drug problems, Jones drowned at the age of twenty-seven. Drawing on new information and interviews with Richards, Andrew Oldham, and Marianne Faithfull, among dozens of others, Brian Jones lays bare the Rolling Stones' full story, in all its glory and squalor.
Title:
Brian Jones: The Making Of The Rolling Stones
Format:
Paperback
Product dimensions:
384 pages, 8 X 5.36 X 0.81 in
Shipping dimensions:
384 pages, 8 X 5.36 X 0.81 in
Published:
November 3, 2015
Publisher:
Penguin Publishing Group
Language:
English
The following ISBNs are associated with this title:
ISBN - 10:0147516455
ISBN - 13:9780147516459
Look for similar items by category:
Preview Your Review
Your Review Has Been Submitted
NO, I do not recommend this product.
Educational/Developmental Value:
Thank you. Your review has been submitted and will appear here shortly.
Read from the Book
 IT WAS ONLY a raggle-taggle bunch of musicians, kids really, and the way history normally unfolds, there should have been no way any witnesses would have spotted that something world-changing was happening. Yet, the leader of the band did have something special about him – the way he sneered at the audience, getting in their faces, coaxing out shimmering glissandos from his guitar in a style no one had ever seen before, or switching over to an amplified blues harp, still a radically new instrument for most of the teenagers who watched him and his companions intently. Elmo Lewis, as he called himself, introduced several of the numbers and ministered to the rest of his band lovingly, like a mother hen, checking that the singer Mick had got the beat, and keeping a close eye on his fellow guitarist's fretboard. Occasionally, when the riffs cohered into something stirring and electrifying, he and the piano player – the other more obviously experienced musician – would look at each other and smile in satisfaction.Truth is, though, that some people in that decent-sized crowd watching the Rolling Stones, crammed on to the Marquee stage, in July 1962 – and some among those at other little clubs around London over the next few weeks – did spot that something unique was happening. One girl felt the ground beneath her shifting as the band ripped through twenty songs, picked out and overseen by the blond guitarist. At her London grammar school, Cleo Sylvestre had been taught that the role of black people in culture was as 'heathens and savages'. Now, as the band hot-wired this obscure music from deep within the black ghettos of the Chicago Southside and the Mississippi Delta, a new world opened up – a world in which black people like her would have a voice, a role.Some musicians spotted it, too. Ginger Baker, an aggressive young drummer who had cut his teeth in the trad jazz clubs and was being persuaded into the blues scene by the silver-tongued club owner Alexis Korner, was dismissive of the Stones' upstart singer. Yet still he reckoned that the band's exuberant, snotty, teenage take on this deep, resonant music was something radical and new.Businessmen got it. Harold Pendleton, manager of the Marquee and a mainstay of the jazz scene, was likewise unimpressed by the band's music yet still noted something powerful about their attitude – a challenging of authority, a disregard for convention that emanated principally from Brian Jones, the twenty-one-year-old who styled himself Elmo Lewis. Jones was a visionary, Pendleton reckoned, although there was something he didn't like about him. He used the term 'evil genius'.As for Brian himself, the momentary satisfaction he felt as the band he'd masterminded took to the stage was itself world-changing. The music was the one thing that gave meaning to a life that was fractured, restless and unhappy. Now, over fifty years on, that situation endures. Brian Jones got many things wrong in his life, but the most important thing he got right, for his music was world-changing.History is written by the victors, and in recent years we've seen the proprietors of the modern Rolling Stones describe their genesis, their discovery of the blues, without even mentioning their founder. We've seen Brian Jones described as a 'kind of rotting attachment'. This phrase in itself gives an idea of the magnitude of this story. The dark power of the Stones' music derives from their internal battles, a sequence of betrayals, back-biting, sexual oneupmanship, violence, madness and mania.The aim of this book is not to gloss over the many flaws of Brian Jones, for if ever a man was driven by his flaws, it was he. His contrariness, his vulnerability and his unhappiness prompted his estrangement from the establishment, and ultimately would underpin the values of the band, which challenged that establishment so provocatively. There was a darkness in his heart that inspired his exploration of the Devil's music, of the story of Robert Johnson, the man who traded the secrets of guitar playing for his immortal soul. Brian sought out those secrets, and was the first man to communicate them to a new generation. It was he who opened the doors to that new world, unlocking its secrets both for his bandmates and for us.In the course of writing this book I've travelled far, and plumbed deep. It's a sad story – of messy lives, unwanted children, ruthlessness and misogyny, of feuds both petty and profound. But great art can come from messy situations. As we shall see, right from the start there was something of the Devil in Brian Jones. And as we know, the Devil has the best tunes.NEW WORLDS ARE often dreamed up in the most mundane locations. Few people would have imagined the genteel, manicured spa town of Cheltenham as a cradle for a radical new musical manifesto. But the place turns out to be funny that way, countless secrets having been harboured behind those deceptively staid facades. Brian Jones was in fact a typical Cheltonian. By the time he left the place he'd discovered more musical secrets than were ever supposed to exist, as well as amassing more secret children, and heartbreak, than can ever have been imagined.The word 'genteel' seems to get applied to Cheltenham with monotonous regularity. And yes, perhaps it is an appropriate adjective, as long as you bundle in alongside it the following words: secretive, exotic, futuristic, sordid, elegant, decadent and artistic. Nearly all of those terms capture the early life of Lewis Brian Hopkins Jones, a boy whose destiny seemed more than any other dictated by his surroundings and upbringing. He was the son of an ambitious man who worked at the cutting edge of a world-changing technology. Lewis Blount Jones was, like the son who carried his name, a genius; yet his life was defined by secrets, repression and the traditional British stiff upper lip. This legacy would also define the life of Lewis Jones Jr, for better and for worse.Any visitor who's new to the town would be instantly struck by the serene beauty of its gleaming white Regency buildings. A long, wide promenade runs south from the high street (location of Brian's grammar school) down to a group of buildings around Lansdown Crescent and Montpellier Walk, all airy shops and coffee bars, framed by caryatids – pillars in the shape of serene women, like those of the Acropolis. Over the road lie the fine green lawns of Imperial Gardens, with the Queens Hotel just in front; a little further down is the Pump Room, another jewel of Georgian architecture, based on the Pantheon; Regency terraces stretch in every direction, the very model of taste and discretion. But as Barry Miles, founder of counter-culture journal International Times and the Indica Gallery, who fled Cheltenham in 1962, points out, 'it's all a facade'. The elegant stone frontages of many buildings are in fact cheap painted stucco; the interiors are rickety and damp, thrown up quickly by speculative builders. With its exclusive Ladies' College, arts and music festivals, and well-heeled populace, many of them ex-colonials, post-war Cheltenham was indeed a centre of decorum and conservatism. But behind that lay a hotbed of intrigue and vice.This secretive character became more formal, more acknowledged, from the early fifties, when Cheltenham became the capital for the nation's spooks after GCHQ, the centre of the British eavesdropping and intelligence community, moved from Bletchley to two government-owned sites in the town. Modern apartment buildings started to spring up and then to fill with mysterious people, many of them European and multilingual; sometimes, if you spotted them drinking at the town's exclusive wine bars, you'd glimpse a security pass.The James Bond vibe was intensified by the Gloster Aircraft Company, builders of Britain's first operational jet fighter, the Meteor: its top-secret prototypes were assembled at a building on Cheltenham High Street. By the mid fifties Gloster were producing the Javelin, a glossily futuristic delta-wing interceptor. Gloster and Rotol, a part-owned subsidiary of Rolls-Royce launched as a joint venture with the Bristol Aeroplane Company, were the town's leading employers, drawing scientists and engineers like Brian Jones's father from around the country.Alongside the world's modern secretive industries, Cheltenham was a centre of the world's oldest secretive industry. The town hosted several US Air Force bases, and the presence of US and British military personnel encouraged a bounteous supply of prostitutes: according to one count, those elegant Regency facades hid a total of forty-seven brothels. Right up to the 1960s, Bayshill Road, two blocks down from the Promenade, was a haunt for streetwalkers, who'd cheekily ask any passing men if they were 'looking for business'. The Queens Hotel dominated the town's main drag and became a regular haunt for the teenage Brian Jones, all shirt and tie, formal and correct. Yet during the Cheltenham Festival horse-racing week the old colonial types were cleared out to make way for hard-core gamblers and intimidating Irish gangster types who'd play cards until dawn surrounded by high-class call girls who regarded the festival as a cornerstone of the year's working calendar. Even the political establishment had its louche side: the town's most popular mayor, Charles Irving, who became a favourite of Tory icon Margaret Thatcher, drove around town in a white Ford Thunderbird alongside a chauffeur who was dressed in mauve – a spectacle 'so gay
Editorial Reviews
"Brian Jones . . . is revisionist history of the best kind—scrupulously researched and cogently argued—and should be unfailingly interesting to any Stones fan " —Larry Rohter, New York Times   "Brian Jones . . . is the first serious, thoroughly reported biography of the ill-fated Stone, with extensive new research into Jones' privileged but difficult childhood and his transformation by the exotic language and vitality of American blues." —RollingStone.com   "[A] thoughtful, thorough bio based on lots of new interviews that shed light on his neglected life and controversial death" —Hollywood Reporter (Top 10 Music Books of 2014)   "In all, this is a must-read for Stones fans. If as the years continue to go by and Brian Jones becomes more and more a mere player in the tale he created, this book should bring him back into the position he belongs." —Glide Magazine   "Paul Trynka gives us a balanced and compassionate portrait of a guy who has been slagged off and diminished a lot in Rolling Stones history. The fact is there would have been no Rolling Stones without him. He at least deserves some respect for that. Brian Jones: The Making of The Rolling Stones delivers it." —Mike Segretto, Psychobabble   "Trynka has forged what may be the last great Stones book." —Kris Needs, Shindig Magazine   "Magnificent and controversial . . . a monumental book" —Paul Gleason, Stereo Embers magazine   "Impeccably researched, it will overturn all you've been spoon-fed by 'the victors'." —Ian Fortnam, Classsic Rock    "A fantastic piece of work, and a great counter balance to Mick and Keith's revisionist history." — James Marshall   "An impressive undertaking and a consistently interesting read. Stones fans owe it to themselves to get a new perspective on [this] anti-hero." —Jake G Rascoff, Dartmouth Review   "Paul Trynka―as he did in his biographies of David Bowie and Iggy Pop―does a masterful job in presenting a life that had a profound effect upon kids on both sides of the Atlantic. " —Mike Greenblatt, The Aquarian   "A great, cautionary tale" —George Byrne, Irish Independent   "Thorough and well researched" —Craig Brown, Mail on Sunday   "Fascinating . . . wonderful at evoking that very non-modern age of the 50s and 60s" —Mark Blake, Mojo   "By many accounts, Brian Jones was the visionary of the Rolling Stones, though he gets little of the credit. Paul Trynka puts the multi-instrumentalist at the forefront in Brian Jones." —Publishers Weekly   "A lively biography of the enigmatic founder of the Rolling Stones, who was dethroned and died just as the band approached its artistic peak . . . .Trynka's portrait is that of a young man determined to get what he wanted, flaunting conventions and consequences and exhibiting little conscience as he cemented his ambition to become a professional musician . . . . An intimate portrait of the multifaceted and beguiling Jones, who forever changed popular music and culture." —Kirkus Reviews