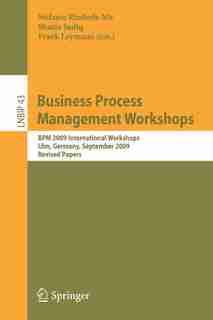 Business Process Management Workshops: Bpm 2009 International Workshops, Ulm, Germany, September 7, 2009, Revised Papers: Bpm 2009 Interna
Paperback

|

April 1, 2010
Pricing and Purchase Info
$254.50
list price
save 45%
Prices and offers may vary in store
Business process management (BPM) constitutes one of the most exciting - search areas in computer science and the BPM Conference together with its workshops provides a distinct platform for presenting the latest research and showing future directions in this area. These proceedings contain the ?nal v- sions of papers accepted for the workshops held in conjunction with the 7th International Conference on Business Process Management (BPM 2009). The BPM 2009 conference and workshops took place in Ulm, Germany. We received many interesting workshop proposals, eight of which were selected. Ultimately the workshops ran on September 7, 2009 featuring highly interesting keynotes, inspiring scienti?c presentations, and fruitful discussions. The history of ?ve years of BPM workshops in a row proves the continued success of the workshop program. Theworkshopsheldin2009includedonenewworkshoponempiricalresearch in business process management and seven well-established workshops. First International Workshop on Empirical Research in Business Process Management(ER-BPM 2009). The ER-BPM 2009 workshop addressed the demand for empirical research methods such as experimental or case studies to BPM and invited fellow colleagues to investigate both the potential and the limitations of BPM methods and technologies in practice. The ER-BPM workshop aimed at closing the gap in knowledge on process management and at discussing empirical research in the space of BPM and associated phenomena. 12th International Workshop on Reference Modeling (RefMod 2009). Although conceptual models have proven to be a useful means to support information systems engineering in the past few years, creating and especiallymaintainingconceptualmodelscanbequitechallengingandcostly.
Title:
Business Process Management Workshops: Bpm 2009 International Workshops, Ulm, Germany, September 7,...
Format:
Paperback
Product dimensions:
708 pages, 9.25 X 6.1 X 0 in
Shipping dimensions:
708 pages, 9.25 X 6.1 X 0 in
Published:
April 1, 2010
Publisher:
Springer-Verlag/Sci-Tech/Trade
Language:
English
The following ISBNs are associated with this title:
ISBN - 10:3642121853
ISBN - 13:9783642121852
Look for similar items by category:
Preview Your Review
Your Review Has Been Submitted
NO, I do not recommend this product.
Educational/Developmental Value:
Thank you. Your review has been submitted and will appear here shortly.
Table of Contents
BPD Workshop.- to the Fourth Workshop on Business Process Design (BPD 2009).- Diagnosing and Repairing Data Anomalies in Process Models.- Designing Generic Business Processes Based on SOA: An Approach and a Use Case.- Integrating Users in Object-Aware Process Management Systems: Issues and Challenges.- From Requirements to Executable Processes: A Literature Study.- Towards a Framework for Business Process Standardization.- BPI Workshop.- to the Fifth International Workshop on Business Process Intelligence (BPI 2009).- Analyzing Resource Behavior Using Process Mining.- Mobile Workforce Scheduling Problem with Multitask-Processes.- Understanding Spaghetti Models with Sequence Clustering for ProM.- Flexible Multi-dimensional Visualization of Process Enactment Data.- Autonomous Optimization of Business Processes.- Activity Mining by Global Trace Segmentation.- A Formal Model for Process Context Learning.- Process Mining: Fuzzy Clustering and Performance Visualization.- Trace Clustering Based on Conserved Patterns: Towards Achieving Better Process Models.- Visualization of Compliance Violation in Business Process Models.- BPMS2 Workshop.- Augmenting BPM with Social Software.- Enabling Community Participation for Workflows through Extensibility and Sharing.- AGILIPO: Embedding Social Software Features into Business Process Tools.- Workflow Management Social Systems: A New Socio-psychological Perspective on Process Management.- Requirements Elicitation as a Case of Social Process: An Approach to Its Description.- Co-creation of Value in IT Service Processes Using Semantic MediaWiki.- Models, Social Tagging and Knowledge Management - A fruitful Combination for Process Improvement.- Micro Workflow Gestural Analysis: Representation in Social Business Processes.- CBP Workshop.- to the Third International Workshop on Collaborative Business Processes (CBP 2009).- HLA/RTI-Based BPM Middleware for Collaborative Business Process Management.- Collaborative Specification of Semantically Annotated Business Processes.- A Modeling Approach for Collaborative Business Processes Based on the UP-ColBPIP Language.- Process Design Selection Using Proximity Score Measurement.- edBPM Workshop.- to the Second International Workshop on Event-Driven Business Process Management (edBPM09).- Feasibility of EPC to BPEL Model Transformations Based on Ontology and Patterns.- New Event-Processing Design Patterns Using CEP.- Towards an Executable Semantics for Activities Using Discrete Event Simulation.- External and Internal Events in EPCs: e2EPCs.- An Event-Driven Modeling Approach for Dynamic Human-Intensive Business Processes.- Healthcare Process Mining with RFID.- SLA Contract for Cross-Layer Monitoring and Adaptation.- ER-BPM Workshop.- to the First International Workshop on Empirical Research in Business Process Management (ER-BPM 2009).- The Concept of Process Management in Theory and Practice - A Qualitative Analysis.- An Evaluation Framework for Business Process Management Products.- Requirements for BPM-SOA Methodologies: Results from an Empirical Study of Industrial Practice.- On Measuring the Understandability of Process Models.- Declarative versus Imperative Process Modeling Languages: The Issue of Maintainability.- Tangible Business Process Modeling - Methodology and Experiment Design.- A Comparison of Soundness Results Obtained by Different Approaches.- Empirical Analysis of a Proposed Process Granularity Heuristic.- BPMNCommunity.org: A Forum for Process Modeling Practitioners - A Data Repository for Empirical BPM Research.- From ADEPT to AristaFlow BPM Suite: A Research Vision Has Become Reality.- ProHealth Workshop.- to the Third International Workshop on Process-Oriented Information Systems in Healthcare (ProHealth 2009).- A Hybrid Multi-layered Approach to the Integration of Workflow and Clinical Guideline Approaches.- Learning the Context of a Clinical Process.- A Light-Weight System Extension Supporting Document-Based Processes in Healthcare.- ???Flow: A Document-Based Approach to Inter-institutional Process Support in Healthcare.- An Approach for Managing Clinical Trial Applications Using Semantic Information Models.- Workflow for Healthcare: A Methodology for Realizing Flexible Medical Treatment Processes.- BPR Best Practices for the Healthcare Domain.- User-Oriented Quality Assessment of IT-Supported Healthcare Processes - A Position Paper.- Verification of Careflow Management Systems with Timed BDI CTL Logic.- Process-Aware Information System Development for the Healthcare Domain - Consistency, Reliability, and Effectiveness.- An Integrated Collection of Tools for Continuously Improving the Processes by Which Health Care Is Delivered: A Tool Report.- RefMod Workshop.- to the 12th International Workshop on Reference Modeling (RefMod 2009).- Enabling Widespread Configuration of Conceptual Models - An XML Approach.- On the Contribution of Reference Modeling to e-Business Standardization - How to Apply Design Techniques of Reference Modeling to UN/CEFACT''s Modeling Methodology.- The Potential of Reference Modeling for Simulating Mobile Construction Machinery.- On the Contribution of Reference Modeling for Organizing Enterprise Mashup Environments.