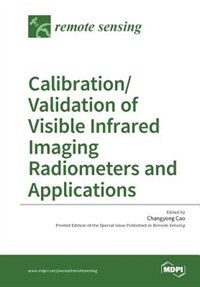 Calibration/Validation of Visible Infrared Imaging Radiometers and Applications
Paperback

|

February 13, 2017
Pricing and Purchase Info
$162.40
list price
save 12%
Prices and offers may vary in store
In a new era of global awareness and globalization, what's happening around the world in real-time such as hurricanes, volcanic eruption, fires, drought, pollution, and other environmental and climate challenges are becoming increasingly more important and affect people's lives. To meet these challenges, Earth observations from a new generation of satellites have now become available giving us unprecedented capabilities to monitor and study our planet. With global coverage twice daily for the next several decades, the Visible Infrared Imaging Radiometers on polar orbiting satellites provide rich and publically available data sets for a large number of land, atmosphere, and ocean applications, including the monitoring of aerosols, cloud properties, radiation budget, sea surface temperature, ocean color, active fire, albedo, snow and ice, vegetation, land use/land cover, night-lights from human activities, and natural disasters. Calibration and validation of these satellite observations are essential to ensure the quality, accuracy, precision, and stability of the data for the applications. This book will review recent advances in satellite optical sensor calibration and validation methodologies, algorithms, and techniques. Example calibration and validation of environmental data products are also discussed. It aims to serve all professionals, researchers, students, scientists alike in academics, industries, government, and beyond.
Title:
Calibration/Validation of Visible Infrared Imaging Radiometers and Applications
Format:
Paperback
Product dimensions:
558 pages, 9.61 X 6.69 X 1.52 in
Shipping dimensions:
558 pages, 9.61 X 6.69 X 1.52 in
Published:
February 13, 2017
Publisher:
MDPI AG
Language:
English
The following ISBNs are associated with this title:
ISBN - 10:3038423181
ISBN - 13:9783038423188
Look for similar items by category:
Preview Your Review
Your Review Has Been Submitted
NO, I do not recommend this product.
Educational/Developmental Value:
Thank you. Your review has been submitted and will appear here shortly.
Table of Contents
1) Assessment of S-NPP VIIRS On-Orbit Radiometric Calibration and Performance
2) VIIRS Reflective Solar Bands Calibration Progress and Its Impact on Ocean
Color Products
3) Comparison of the Calibration Algorithms and SI Traceability of MODIS, VIIRS, GOES, and
GOES-R ABI Sensors
4) An Overview of the Joint Polar Satellite System (JPSS) Science Data Product Calibration
and Validation
5) User Validation of VIIRS Satellite Imagery
6) Spectral Dependent Degradation of the Solar Diffuser on Suomi-NPP VIIRS Due to Surface
Roughness-Induced Rayleigh Scattering
7) Suomi NPP VIIRS Reflective Solar Bands Operational Calibration Reprocessing
8) Soumi NPP VIIRS Day/Night Band Stray Light Characterization and Correction Using Calibration
View Data
9) Assessing the Effects of Suomi NPP VIIRS M15/M16 Detector Radiometric Stability and Relative
Spectral Response Variation on Striping
10) JPSS-1 VIIRS Radiometric Characterization and Calibration Based on Pre-Launch Testing
11) Pre-Launch Radiometric Characterization of JPSS-1 VIIRS Thermal Emissive Bands
12) JPSS-1 VIIRS Pre-Launch Response versus Scan Angle Testing and Performance
13) Inter-Comparison of S-NPP VIIRS and Aqua MODIS Thermal Emissive Bands Using Hyperspectral
Infrared Sounder Measurements as a Transfer Reference
14) Preliminary Inter-Comparison between AHI, VIIRS and MODIS Clear-Sky Ocean Radiances for
Accurate SST Retrievals
15) Radiometric Inter-Calibration between Himawari-8 AHI and S-NPP VIIRS for the Solar
Reflective Bands
16) Fast and Accurate Collocation of the Visible Infrared Imaging Radiometer Suite Measurements
with Cross-Track Infrared Sounder
17) Improved Band-to-Band Registration Characterization for VIIRS Reflective Solar Bands Based on
Lunar Observations
18) Radiometric Stability Monitoring of the Suomi NPP Visible Infrared Imaging Radiometer Suite
(VIIRS) Reflective Solar Bands Using the Moon
19) Monitoring the NOAA Operational VIIRS RSB and DNB Calibration Stability Using Monthly and
Semi-Monthly Deep Convective Clouds Time Series
20) Evaluation of VIIRS and MODIS Thermal Emissive Band Calibration Stability Using Ground Target
21) Using Ground Targets to Validate S-NPP VIIRS Day-Night Band Calibration
22) Spectral Cross-Calibration of VIIRS Enhanced Vegetation Index with MODIS: A Case Study Using
Year-Long Global Data
23) Retrieval of Leaf Area Index (LAI) and Fraction of Absorbed Photosynthetically Active Radiation
(FAPAR) from VIIRS Time-Series Data
24) Quality Assessment of S-NPP VIIRS Land Surface Temperature Product
25) Validation of S-NPP VIIRS Sea Surface Temperature Retrieved from NAVO
26) The Potential of Autonomous Ship-Borne Hyperspectral Radiometers for the Validation of Ocean
Color Radiometry Data
27) Validation of the Suomi NPP VIIRS Ice Surface Temperature Environmental
Data Record
28) An Investigation of a Novel Cross-Calibration Method of FY-3C/VIRR against NPP/VIIRS in the
Dunhuang Test Site
29) Improved VIIRS and MODIS SST Imagery
30) Comparison between the Suomi-NPP Day-Night Band and DMSP-OLS for Correlating
Socio-Economic Variables at the Provincial Level in China