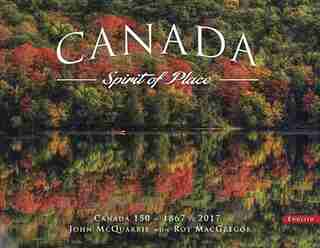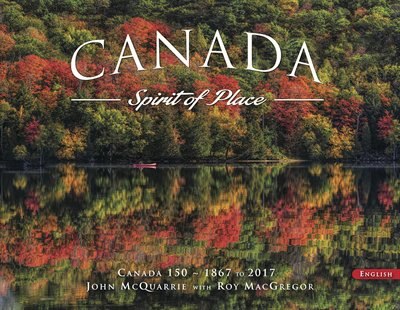 Find In Store
To check store inventory,
Prices and offers may vary in store
Canadians have long had a fascination with the quest for our 'Canadian Identity'. After 150 years many have tried to put their finger on it, to come up with a magic phrase that finally encapsulates who we are. But as the decades roll on, as the population grows and diversifies, as more and more layers are added, the 'answer' becomes more and more elusive. While a very few have gotten close enough to nibble around the edges, perhaps Roy MacGregor has most eloquently summed up the hopelessness of the pursuit.
"Like any Canadian, I'm familiar with the touchstones: the Canadian Shield, the Rockies, Peggy's Cove, Old Quebec, curling, Georgian Bay, Nanaimo bars, maple syrup, the Rockies, muskeg, road hockey, weather talk, late night newscasts being bumped by Hockey Night In Canada, place names like Climax, Saskatchewan, Dildo, Newfoundland and Medicine Hat, Alberta, legends like Mufferaw Joe of the Ottawa Valley and the Windigo of the northern Crees, the Avro Arrow, May "two-four" weekends, Celine Dion, the lake, John Deere caps, fiddleheads, This Country in the Morning, Razzle Dazzle, Corner Gas, Trailer Park Boys, Don Cherry, Michel Tremblay plays, Anne of Green Gables, poutine, "peace, order and good government," with everything held together by Red Green's duct tape….
I have seen flax in bloom, read Sinclair Ross, been to the Quebec Winter Carnaval, tried to play Gordon Lightfoot songs on a guitar, skinny-dipped in northern lakes, removed bloodsuckers, figured out the Toronto subway, portaged canoes, trapped beaver, whined about trivial matters, eaten fiddleheads, cheered for fringe theatre, toured a northern diamond mine, picked Saskatoons, played hockey, swatted mosquitoes, stood at both Mile "0's" on the Trans-Canada Highway, made love under the northern lights (just kidding, children), shovelled roofs, jogged the Hotel Macdonald stairs in Edmonton, boiled sap, kissed a cod, slept on an off-shore oil rig, complained about banks, used an outhouse, attended the Calgary Stampede and even rubbed Timothy Eaton's bronze toe in Winnipeg for good luck…
But do I know the country? Sometimes I think so; more often I feel I know nothing.
Canada, I sometimes think, is a country that, like Einstein's Theory of Relativity, is impossible for virtually all of us to grasp. Einstein's theory can be worked out on a blackboard. We have a thousand books, dozens of Royal Commissions, hundreds of learned papers and millions of panel discussions and late-night bar conversations – yet none has ever satisfactorily worked out the equation that is Canada.
All we know for sure is that for every sign that points one way, another seems to be pointing back. We are a country of endless contradiction."
Roy MacGregor, Canadians, A Portrait of a Country and its People (Penguin Canada, 2007)
Canada, Spirit of Place will not bring you any closer to defining who we are. And perhaps it doesn't matter that the answer may not exist. But what I do know is that, in producing this book, and a several others that have looked at Canada through a number of prisms, I love every square inch of it and, like the love of one human being for another, this too exists without a definition. So just revel in the lives we all enjoy in a country that wants for nothing.
Title:
Canada: Spirit Of Place
Product dimensions:
272 pages, 8.75 X 11.5 X 0.68 in
Shipping dimensions:
272 pages, 8.75 X 11.5 X 0.68 in
Published:
September 1, 2016
Publisher:
John McQuarrie Photography
Appropriate for ages:
All ages