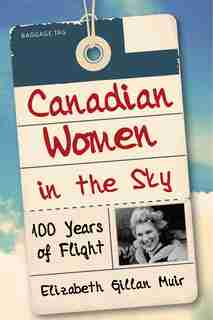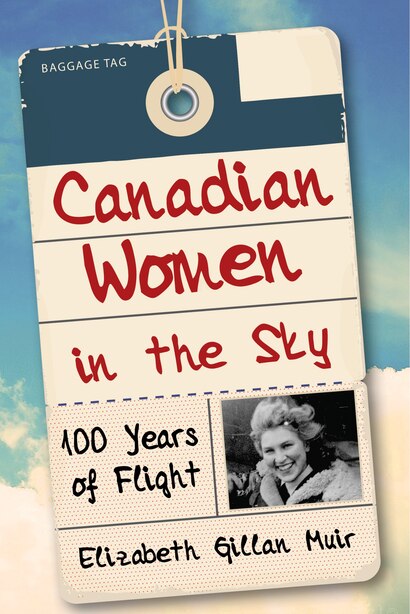 Canadian Women in the Sky: 100 Years of Flight
Paperback

|

November 14, 2015
Pricing and Purchase Info
$21.99
list price
save 7%
Prices and offers may vary in store
How a few women fought to board planes, then fly them, and finally to break through earth''s atmosphere into space.

The story of how women in Canada, from Newfoundland to British Columbia, struggled to win a place in the world of air travel, first as passengers, then as flight attendants and pilots, and, finally, as astronauts. Anecdotes, sometimes humourous and always amazing, trace these women''s challenges and successes, their slow march over 100 years from scandal to acceptance, whether in Second World War skies, in hostile northern bush country, and even beyond Earth''s atmosphere.

From the time the first woman climbed on board a flying machine as a passenger to the moment a Canadian woman astronaut visited the International Space Station, this is an account of how the sky-blue glass ceiling eventually cracked, allowing passionate and determined "air-crazy" women the opportunity to fly.
Title:
Canadian Women in the Sky: 100 Years of Flight
Format:
Paperback
Product dimensions:
176 pages, 9 X 6 X 1 in
Shipping dimensions:
176 pages, 9 X 6 X 1 in
Published:
November 14, 2015
Publisher:
Dundurn
Language:
English
The following ISBNs are associated with this title:
ISBN - 10:1459731875
ISBN - 13:9781459731875
Look for similar items by category:
Preview Your Review
Your Review Has Been Submitted
NO, I do not recommend this product.
Educational/Developmental Value:
Thank you. Your review has been submitted and will appear here shortly.
Read from the Book
Introduction Grace MacKenzie''s father ordered her to come home to Toronto at once; she was twenty-two years old and all she''d done was ride in an airplane over New York City, but that was about a hundred years ago when women weren''t supposed to be so outrageous as to fly in the sky, even as passengers. Elizabeth Wieben was hired as a bush pilot to fly passengers into isolated areas in northern Canada. She had to sneak onboard before the passengers, and afterwards, she wasn''t allowed to talk over the plane''s address system. The airline allowed her to fly their planes as long as the passengers didn''t know a woman was the pilot. A lot of people wouldn''t fly if they knew that a woman was at the controls. That was only forty years ago. It wasn''t long ago that many people in Canada thought women weren''t intelligent or strong enough to fly airplanes, that women were too emotional to be any good in an emergency. Indeed, even early in 2014 a passenger on a WestJet flight left a note on his seat saying that "the cockpit of an airline is no place for a woman" and asked that he be alerted the next time "a fair lady is at the helm" so that he could book another flight. When planes were in their infancy, a few American women flew in Canada; they were treated as heroes - women such as Alys McKey Bryant and Katherine Stinson Otero. But most Canadians believed that women in this country should stay home, cook and clean, and look after children. Being a pilot, or even flying in a plane as a passenger, was "man''s work." Women, Rowena Davison explained in 1909 in An Edwardian Housewife''s Companion, needed to run the home and attend to a husband''s wishes and needs, especially after "a [man''s] long and arduous day''s work," and make "the place called home an abiding joy." As the president of the Regina Flying Club reminded its members in the 1930s, "women''s only place in flying is as the mother of pilots." One recent report on women in the air in Canada explained in an understated fashion, "for some time there was some general social uneasiness about women flying." The report noted, however, that "Canadian women looked to some quite famous ''aviatrixes,'' mostly in Britain and the United States, for their inspiration and as role models." Although flying was not considered suitable for women, many women were determined to fly. They scrimped and saved to pay for flying lessons. Often they were blocked as they tried to carve out a career path in aviation, although some men did support them and help them along the way. Eventually women were accepted as pilots. This is the story of how a few women in Canada became airplane passengers, then flight attendants and pilots, and finally astronauts. This is the story of their challenges and their successes, their slow march over one hundred years from scandal to acceptance, from the time the first woman climbed onboard a flying machine as a passenger to a female Canadian astronaut''s second visit to the International Space Station. We need to remember that many other women lacked the resources, determination, or strength to overcome obstacles. But the few who were able to persist eventually broke down those barriers so that others could follow. The sky blue glass ceiling ultimately cracked.
Table of Contents
Contents 
Foreword by Danielle Metcalfe-Chenail
Preface
Acknowledgements
Introduction
Before There Were Planes
 The Early Years

2 Daredevil Female Passengers

3 The Flying Schoolgirl: Katherine Stinson 

4 It''s a Bird . It''s a Plane . It''s Madge Graham 

Dreams Can Come True 

7 Barbara Ann Scott: Queen of the Blades (1928-2012)
8 In the Captain''s Seat: Rosella Bjornson Pratt 

During the Second World War 

9 Angels in the Clouds: Early Stewardesses 

10 Margaret Fane Rutledge and the Flying Seven 

11 Queen of the Hurricanes: Elsie MacGill 

New Opportunities 

13 Into the Woods: Bush Pilots 

14 Around the World: Daphne Schiff and Friends 

15 Spies in the Skies: Operation Skywatch 

16 Airplane Gymnastics: The Snowbirds 

17 Over the Rainbow: Female Astronauts 

Afterword 
Appendix Milestones in Aviation 
Notes 
Bibliography 
Index
Editorial Reviews
Offer[s] fascinating insights into an industry that has revolutionized many aspects of life in Canada.
- Canada''s History.com