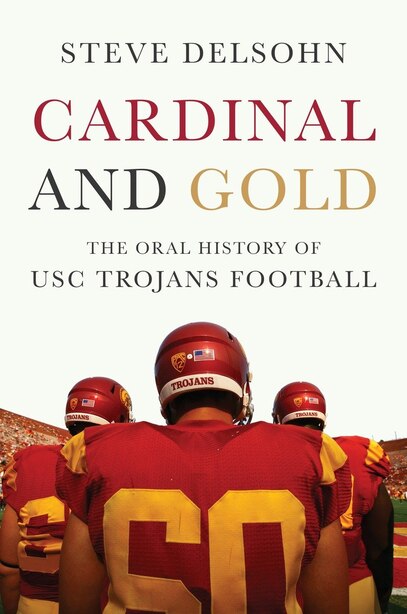 Cardinal And Gold: The Oral History Of Usc Trojans Football
Hardcover

|

August 16, 2016
Pricing and Purchase Info
Prices and offers may vary in store
From celebrated sports journalist Steve Delsohn comes the true story of University of Southern California football, told by those who know it best--the players, coaches, and everyone else who made USC football one of the most legendary programs in America. Over the years, USC has been surrounded by controversy, even as it won 11 national titles and produced six Heisman winners and numerous future NFL stars. This book will tell the story of the program at its best and worst, with a special focus on the past 40 years, starting with the "Tailback U" dynasty years of the 1970s--when the school won three championships in less than a decade--right up through the modern era in which iconic figures such as Pete Carroll and Reggie Bush had tremendous success and went on to NFL glory, but left tremendous controversy in their wake.
Title:
Cardinal And Gold: The Oral History Of Usc Trojans Football
Format:
Hardcover
Product dimensions:
336 pages, 9.5 X 6.3 X 1.1 in
Shipping dimensions:
336 pages, 9.5 X 6.3 X 1.1 in
Published:
August 16, 2016
Publisher:
Crown/Archetype
Language:
English
The following ISBNs are associated with this title:
ISBN - 10:0307888401
ISBN - 13:9780307888402
Look for similar items by category:
Preview Your Review
Your Review Has Been Submitted
NO, I do not recommend this product.
Educational/Developmental Value:
Thank you. Your review has been submitted and will appear here shortly.
Read from the Book
1The Shadow of John McKay 1976–1977In 1976 in the state of California, Jerry Brown dated the enormously popular singer Linda Ronstadt while serving his first term as governor. Two years after resigning over the Watergate scandal, Richard Nixon lived in exile in San Clemente and the Warner Bros. studio in Burbank released its Oscar-winning film All the President's Men. A San Francisco jury convicted Patty Hearst of participating in an armed bank robbery with the revolutionaries who had kidnapped her. The first year of a terrible two-year drought battered farmers and ranchers and ended up producing nearly $1 billion in economic losses. On a more pleasant note, Napa Valley rejoiced when one of its red wines and one of its whites were deemed superior to the finest French wines at a legendary blind tasting in Paris.In 1976 in Los Angeles, the fabled John McKay left USC to become the first head coach of the newly formed Tampa Bay Buccaneers. McKay later said, "I wanted to make some money--it's that simple." In 1975, USC had paid him $48,000 a year to be its coach and athletic director. Tampa Bay, the new NFL expansion team, had reportedly offered him a ten-year deal at $250,000 per year. Back in 1960, he was still an obscure USC assistant when he replaced the struggling head coach Don Clark. Los Angeles wasn't thrilled at the news of McKay's promotion or when his first two teams won a total of eight games. Then, in 1962, USC went 11–0 and won its first national title since 1939 under Howard Jones. McKay went on to win three more national championships in 1967, 1972, and 1974. His 16 USC teams also won nine Pac-8 titles and five Rose Bowls and three times went undefeated.McKay did not invent the Power I formation, but he nearly perfected it. The five dynamic running backs he coached--Mike Garrett, O.J. Simpson, Clarence Davis, Anthony Davis, and Ricky Bell--earned the school the nickname Tailback U. Garrett and Simpson won USC's first two Heisman Trophies in 1965 and 1968. Davis should have won the third in 1974, but the player known as AD perhaps had too much swagger for the predominantly white Heisman voters. They awarded it instead to Ohio State's talented and more reserved Archie Griffin.Off the football field, McKay had a famously dry sense of humor. When the Buccaneers turned out to be awful, losing their first 26 games, he was asked to comment on their execution. "I'm all for it," McKay said. When asked about the importance of emotion, he said, "Emotion is overrated. My wife is emotional, but she's a lousy football player." Another time he reminded the Los Angeles press: "There are still over 600 million Chinese who don't care if we win or lose."That was the witty McKay who charmed the writers, boosters, and alumni. Gary Jeter, an All-American defensive tackle, says McKay was distant with players. In Jeter's case that began when McKay recruited him at his Cleveland high school.GARY JETER: He was the only major college coach who didn't visit me. I took that as, I'm not good enough. Then my mother got on the phone and kind of threatened him. She said, "You're the only coach that hasn't been there. Joe Paterno and Ara Parseghian and Tom Osborne and Woody Hayes--they've all been here but you." And he still didn't come to visit. But it worked. I wanted to prove myself to John McKay.On Saturday he would give you that pregame speech, that halftime speech, that postgame speech. During the week, man, you got nothing. He rarely told his players anything directly. He would drive around practice in his electric golf cart. It was so finely tuned, you literally couldn't hear it. Then suddenly he'd hit that horn, and it would stop practice. McKay would point at an assistant coach. He would run over to McKay, and McKay would chew out the assistant. Then the assistant would chew out the player or the two or three players. That was just how it worked there then.If you really wanted to know how John McKay felt about you, you had to read it in the newspaper. He had a little quotation that he would put behind a player's name. Those words were "I've ever seen." As in "Gary Jeter is the toughest I've ever seen" or "Gary Jeter is the quickest I've ever seen." If he said those words, you were anointed, man. It went across the country like wildfire. And it was like he put money in your pocket with the pros.McKay also was known for his willingness to recruit and start the best players regardless of their race. During the 1960s, when black players were not allowed to play at most southern schools, and many northern schools such as Notre Dame were still primarily white, McKay's progressive and pragmatic stance brought many top black athletes to USC. In 1970, it was the Trojans' famous "all-black" backfield--quarterback Jimmy Jones, fullback Sam Cunningham, and tailback Clarence Davis--that led them to their historic 41–21 victory at Alabama.GARY JETER: You ever hear the line "Sam Cunningham did more for integration in the south than Martin Luther King Jr.?" That was a true story. Bear Bryant and John McKay were good buddies. And the one thing Bear's Alabama teams lacked was speed. They had all these white kids--gutty white kids that couldn't run. So McKay said to Bear Bryant, "Why don't I take my team down there and we'll play a game?" So they go down to Birmingham in 1970, and Sam Cunningham runs buck wild. Then all these predominantly white fans go, "Wow!" They are in awe. As a result of that game, that's when the black players started coming into Alabama and the rest of the SEC. Before that game, they weren't there. That's what actually got the SEC going.By 1975, McKay's final year, Pat Haden had graduated and a junior named Vince Evans became USC's third black starting quarterback. Before Evans there was Jimmy Jones, the first black quarterback to appear on the cover of Sports Illustrated, in 1969, and before Jones there was Willie Wood, the first black quarterback in Pac-8 history. Evans had grown up in segregated Greensboro, North Carolina. VINCE EVANS: Before USC I played one year at Los Angeles City College. During that era, there still weren't very many African American quarterbacks at the D-1 level. But I had seen Jimmy Jones. He was starting at USC, and he was excelling. I thought, They have a white coach and an African American QB. But when I actually got there, I was thinking USC might make me a running back. Coach McKay said, "No, you're a quarterback. That's what we recruited you for." Those were encouraging words from an icon like John McKay. But in 1975, his first year as a starter, Evans threw for three touchdowns and nine interceptions while completing just 31 percent of his passes. There were bumper stickers on campus saying save usc football. shoot vince evans.VINCE EVANS: I'd been getting hate mail since I had been there. That year was the worst because USC was used to winning national championships and Rose Bowls and that year we went 8–4. I got another unsigned letter before the UCLA game. It basically said, "Nigger, you go out there today, we're going to blow your brains out." I took that letter to Coach McKay. He called the LAPD. I was later told there was extra surveillance around the stadium.Coach McKay asked me if I wanted to play that game. I said, "I grew up in racist environments. I went to theaters where African Americans sat in the balcony and whites sat on the main floor. Separate bathrooms and all of that. I didn't come 3,000 miles to be intimidated by something like this."USC lost, 25–22, and Evans played so poorly in the second half, Sports Illustrated wrote that "he couldn't have thrown a football into the Grand Canyon while standing at the rim." Evans would return for his senior year with that criticism still fresh in his psyche and without McKay, the coach who had given him a chance.In 1975, McKay's farewell season, defensive back Danny Reece was a team captain. He is still second all-time at USC with 18 career interceptions.DANNY REECE: We had no stars on those teams. Coach McKay was the only star. As a freshman, I had never flown on an airplane. I was scared to death. But once I got on the plane and Coach was on there, I said to myself, This plane's not gonna crash. We got Coach McKay on this thing.He was coach and athletic director, so he had to keep some distance. Not all the players liked that. A lot of kids coming into college were needy. But he wasn't the type who would put his arms around you and hug you. He would sometimes say, "If you guys win, I'll treat you like men. If you don't, we'll practice on Sunday." Quarterback Rob Hertel played two seasons for McKay and started as a senior after McKay departed.ROB HERTEL: John McKay was Catholic, and he respected Notre Dame. But I remember one game we were standing on the sidelines. He's talking to us, but he's looking at their coach, Ara Parseghian. McKay says, "Right 28 pitch. Right 28 pitch." He was looking straight at Ara and challenging him! Like, I'm coming after you, Ara. I said 28 pitch. Did you hear me?By then McKay and Parseghian were two of the epic figures in the Trojans-Irish rivalry. The most popular origin story for the glamorous series has the wives of USC athletic director Gwynn Wilson and Notre Dame coach Knu
Editorial Reviews
"Steve Delsohn''s long history of ground-breaking reporting as both a journalist and author imbues Cardinal and Gold with a color and richness guaranteed to captivate fans of Trojan football -- hell, sports of any kind. From McKay to present day you get the untold story behind USC''s success on the field and the scandal off it, from those who lived it day after day. Oral histories are a high-wire act...and this book soars." -- Armen Keteyian, New York Times bestselling author of The System, correspondent for "60 Minutes Sports" and "60 Minutes."   "The most engrossing college football book I''ve read in ages. If you love USC—or simply love the history of America''s most beloved sport—Steve Delsohn''s work is all you."— Jeff Pearlman, New York Times Bestselling author of Showtime   "At its height, which was often, USC was a Trojan football empire. It rotated between regal and stunning, arrogant doomed. Steve Delsohn takes us inside the empire—way inside—with the definitive oral history of those glorious rise and those mesmerizing falls" —Gene Wojciechowski, ESPN   "An amazing book. I couldn''t put this book down. An extraordinary journey through one of college football''s Mount Rushmore programs. I highly recommend this book to any college football fan. A must-read." – Paul Finebaum, New York Times bestselling author of My Conference Can Beat Your Conference   "Steve Delsohn, once again, captures history by using the direct voices and memories of those who lived it. With striking clarity and behind-the-scenes description and stories untold, Delsohn vividly ties together the story of USC. It''s a great read and is a lot of fun to reminisce! " – Shelley Smith, ESPN