Classification as a Tool for Research: Proceedings Of The 11th Ifcs Biennial Conference And 33rd Annual Conference Of The Gesellschaft Fur
Paperback

|

August 23, 2010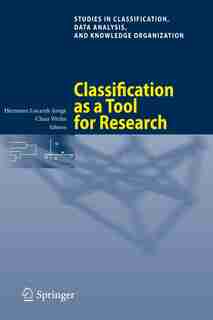 $354.95
list price
save 42%
Prices and offers may vary in store
Clustering and Classification, Data Analysis, Data Handling and Business Intelligence are research areas at the intersection of statistics, mathematics, computer science and artificial intelligence. They cover general methods and techniques that can be applied to a vast set of applications such as in business and economics, marketing and finance, engineering, linguistics, archaeology, musicology, biology and medical science. This volume contains the revised versions of selected papers presented during the 11thBiennial IFCS Conference and 33rdAnnual Conference of the German Classification Society (Gesellschaft für Klassifikation - GfKl). The conference was organized in cooperation with the International Federation of Classification Societies (IFCS), and was hosted by Dresden University of Technology, Germany, in March 2009.
Title:
Classification as a Tool for Research: Proceedings Of The 11th Ifcs Biennial Conference And 33rd An...
Format:
Paperback
Product dimensions:
823 pages, 9.25 X 6.1 X 0 in
Shipping dimensions:
823 pages, 9.25 X 6.1 X 0 in
Published:
August 23, 2010
Publisher:
Springer-Verlag/Sci-Tech/Trade
Language:
English
The following ISBNs are associated with this title:
ISBN - 10:3642107443
ISBN - 13:9783642107443
Look for similar items by category:
Preview Your Review
Your Review Has Been Submitted
NO, I do not recommend this product.
Educational/Developmental Value:
Thank you. Your review has been submitted and will appear here shortly.
Table of Contents
(Semi-) Plenary Presentations.- Hierarchical Clustering with Performance Guarantees.- Alignment Free String Distances for Phylogeny.- Data Quality Dependent Decision Making in Pattern Classification.- Clustering Proteins and Reconstructing Evolutionary Events.- Microarray Dimension Reduction Based on Maximizing Mantel Correlation Coefficients Using a Genetic Algorithm Search Strategy.- Classification and Data Analysis.- Multiparameter Hierarchical Clustering Methods.- Unsupervised Sparsification of Similarity Graphs.- Simultaneous Clustering and Dimensionality Reduction Using Variational Bayesian Mixture Model.- A Partitioning Method for the Clustering of Categorical Variables.- Treed Gaussian Process Models for Classification.- Ridgeline Plot and Clusterwise Stability as Tools for Merging Gaussian Mixture Components.- Clustering with Confidence: A Low-Dimensional Binning Approach.- Local Classification of Discrete Variables by Latent Class Models.- A Comparative Study on Discrete Discriminant Analysis through a Hierarchical Coupling Approach.- A Comparative Study of Several Parametric and Semiparametric Approaches for Time Series Classification.- Finite Dimensional Representation of Functional Data with Applications.- Clustering Spatio-Functional Data: A Model Based Approach.- Use of Mixture Models in Multiple Hypothesis Testing with Applications in Bioinformatics.- Finding Groups in Ordinal Data: An Examination of Some Clustering Procedures.- An Application of One-mode Three-way Overlapping Cluster Analysis.- Evaluation of Clustering Results: The Trade-off Bias-Variability.- Cluster Structured Multivariate Probability Distribution with Uniform Marginals.- Analysis of Diversity-Accuracy Relations in Cluster Ensemble.- Linear Discriminant Analysis with more Variables than Observations: A not so Naive Approach.- Fast Hierarchical Clustering from the Baire Distance.- The Trend Vector Model: Identification and Estimation in SAS.- Discrete Beta-Type Models.- The R Package DAKS: Basic Functions and Complex Algorithms in Knowledge Space Theory.- Methods for the Analysis of Skew-Symmetry in Asymmetric Multidimensional Scaling.- Canonical Correspondence Analysis in Social Science Research.- Exploring Data Through Archetypes.- Exploring Sensitive Topics: Sensitivity, Jeopardy, and Cheating.- Sampling the Join of Streams.- The R Package fechner for Fechnerian Scaling.- Asymptotic Behaviour in Symbolic Markov Chains.- An Interactive Graphical System for Visualizing Data Quality-Tableplot Graphics.- Symbolic Multidimensional Scaling Versus Noisy Variables and Outliers.- Principal Components Analysis for Trapezoidal Fuzzy Numbers.- Factor Selection in Observational Studies - An Application of Nonlinear Factor Selection to Propensity Scores.- Nonlinear Mapping Using a Hybrid of PARAMAP and Isomap Approaches.- Dimensionality Reduction Techniques for Streaming Time Series: A New Symbolic Approach.- A Batesian Semiparametric Generalized Linear Model with Random Effects Using Dirichlet Process Priors.- Exact Confidence Intervals for Odds Ratios with Algebraic Statistics.- The CHIC Analysis Software v1.0.- Applications.- Clustering the Roman Heaven: Uncovering the Religious Structures in the Roman Province Germania Superior.- Geochemical and Statistical Investigation of Roman Stamped Tiles of the Legio XXI Rapax.- Land Cover Classification by Multisource Remote Sensing: Comparing Classifiers for Spatial Data.- Are there Cluster of Communities with the Same Dynamic Behaviour?.- Land Cover Detection with Unsupervised Clustering and Hierarchical Partitioning.- Using Advanced Regression Models for Determining Optimal Soil Heterogeneity Indicators.- Local Analysis of SNP Data.- Airborne Particulate Matter and Adverse Health Events: Robust Estimation of Timescale Effects.- Identification of Specific Genomic Regions Responsible for the Invasivity of Neisseria Meningitidis.- Classification of ABC Transporters Using Community Detection.- Estimation of the Number of Sustained Viral Responders by Interferon Therapy Using Random Numbers with a Logistic Model.- Virtual High Throughput Screening Using Machine Learning Methods.- Network Analysis of Works on Clustering and Classification from Web of Science.- Recommending in Social Tagging Systems Based on Kernelized Multiway Analysis.- Dynamic Population Segmentation in Online Market Monitoring.- Gaining ''Consumer Insights'' from Influential Actors in Weblog Networks.- Visualising a Text with a Tree Cloud.- A Tree Kernel Based on Classification and Citation Data to Analyse Patent Documents.- A New SNA Centrality Measure Quantifying the Distance to the Nearest Center.- Mining Innovative Ideas to Support New Product Research and Development.- The Basis of Credit Scoring: On the Definition of Credit Default Events.- Forecasting Candlesticks Time Series with Locally Weighted Learning Methods.- An Analysis of Alternative Methods for Measuring Long-Run Performance: An Application to Share Repurchase Announcements.- Knowledge Discovery in Stock Market Data.- The Asia Financial Crises and Exchange Rates: Had there been Volatility Shifts for Asian Currencies?.- The Pricing of Risky Securities in a Fuzzy Least Square Regression Model.- Classification of the Indo-European Languages Using a Phylogenetic Network Approach.- Parsing as Classification.- Comparing the Stability of Clustering Results of Dialect Data Based on Several Distance Matrices.- Marketing and Regional Sales: Evaluation of Expenditure Strategies by Spatial Sales Response Functions.- A Demand Learning Data Based Approach to Optimize Revenues of a Retail Chain.- Missing Values and the Consistency Problem Concerning AHP Data.- Monte Carlo Methods in the Assessment of New Products: A Comparison of Different Approaches.- Preference Analysis and Product Design in Markets for Elderly People: A Comparison of Methods and Approaches.- Usefulness of A Priori Information about Customers for Market Research: An Analysis for Personalisation Aspects in Retailing.- Importance of Consumer Preferences on the Diffusion of Complex Products and Systems.- Household Possession of Consumer Durables on Background of some Poverty Lines.- Effect of Consumer Perceptions of Web Site Brand Personality and Web Site Brand Association on Web Site Brand Image.- Perceptually Based Phoneme Recognition in Popular Music.- SVM Based Instrument and Timbre Classification.- Three-way Scaling and Clustering Approach to Musical Structural Analysis.- Improving GMM Classifiers by Preliminary One-class SVM Outlier Detection: Application to Automatic Music Mood Estimation.- Multiobjective Optimization for Decision Support in Automated 2.5D System-in-Package Electronics Design.- Multi-Objective Quality Assessment for EA Parameter Tuning.- A Novel Multi-Objective Target Value Optimization Approach.- Desirability-Based Multi-Criteria Optimisation of HVOF Spray Experiments.
Editorial Reviews
From the reviews: "It presents some recent developments in the arena of classification and data analysis. . this volume may help to widen and deepen the exchange of knowledge in all aspects of clustering and data analysis, as well as in other related fields. . the targeted audience may be . cluster of individuals doing research in these areas and, of course, libraries. One of the prominent features of the volume is that it blends theoretical aspects with practical problems so it can equally attract researchers and practitioners." (Technometrics, Vol. 53 (3), August, 2011)