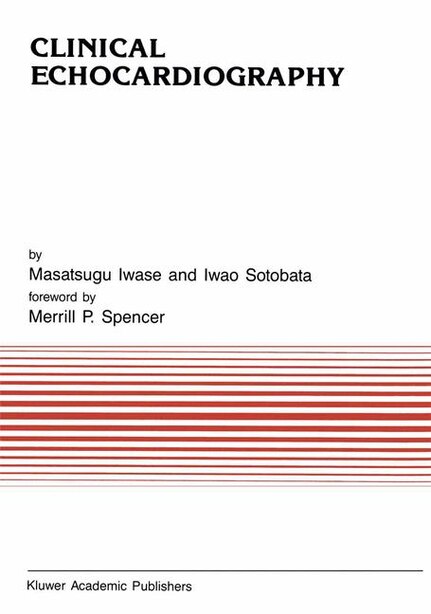 Clinical Echocardiography
Paperback

|

February 28, 2012
Pricing and Purchase Info
$113.95
list price
save 7%
Prices and offers may vary in store
Recently, much progress has been made with echocardiography and Doppler techniques and these ultrasound methods have grown in importance and reliability as non-invasive diagnostic procedures for many cardiovascular disorders. The objective of this t<xtbook is to offer a detailed yet concise overview of the echocardiographic diagnosis of the various cardiovascular diseases. The book focuses upon the practical echocardiographic (including Doppler) exam­ ination. Accordingly, the fundamental principles of echocardiography and the Doppler techniques (pulsed and continuous wave and color flow mapping are covered briefly but comprehensively). A copious amount of representative figures and illustrations is included so that the reader is able to understand the clinical application of each modality in the various cardiovascular pathologies and the echocardiographic diagnosis. In keeping with the concept of an integrated echocardiographic examination, the two-dimensional, M-mode and Doppler echocardiographic findings are included in many of the diseases. Usually, the echocardiographic examination is approached first by two-dimensional imag­ ing to give an understanding of the anatomical correlations, if necessary adding M-mode to clarify the time course of intracardiac movements, and secondly by each Doppler technique to evaluate the hemodynamic conditions. When familiar with these approaches, one can make not only the diagnosis of many cardiovascular diseases with echocardiography alone, but also the rational and expeditious management of patients. Today, some of the cardiac diseases (Atrial Myxoma, Atrial Septal Defect, Infective endocarditis and so forth) have been oper­ ated based only on echocardiographic findings.
Title:
Clinical Echocardiography
Format:
Paperback
Product dimensions:
304 pages, 10 X 7.01 X 0 in
Shipping dimensions:
304 pages, 10 X 7.01 X 0 in
Published:
February 28, 2012
Publisher:
Springer Nature
Language:
English
The following ISBNs are associated with this title:
ISBN - 10:9401068771
ISBN - 13:9789401068772
Look for similar items by category:
Preview Your Review
Your Review Has Been Submitted
NO, I do not recommend this product.
Educational/Developmental Value:
Thank you. Your review has been submitted and will appear here shortly.
Table of Contents
1. The basics of cardiac ultrasound.- Physical properties of ultrasound.- Cardiac ultrasound imaging systems.- Doppler echocardiography.- 2. Echocardiographic examination.- Placement of the transducer.- Two-dimensional examination of the heart.- A. Left ventricular long axis view.- B. Left ventricular short axis view.- C. Four chamber view.- M-mode examination.- Contrast echocardiography.- Pulsed Doppler examination.- A. Left ventricular outflow.- B. Left ventricular inflow.- C. Right ventricular outflow.- D. Right ventricular inflow.- Continuous wave (CW) Doppler examination.- High PRF Doppler examination.- 3. Acquired valvular heart disease.- Mitral valve stenosis.- Giant left atrium.- Mitral valve regurgitation (rheumatic in origin).- Mitral valve prolapse.- Ruptured chordae tendineae.- Aortic valve stenosis.- Aortic valve regurgitation.- Infective endocarditis.- Tricuspid valve stenosis.- Tricuspid valve regurgitation.- Pulmonary valve regurgitation.- Prosthetic valve.- 4. Congenital heart disease.- Atrial septal defect.- Endocardial cushion defect.- Persistent left superior vena cava.- Ventricular septal defect.- Sinus of Valsalva aneurysm.- Patent ductus arteriosus.- Pulmonary stenosis.- Ebstein''s anomaly.- Tetralogy of Fallot.- Double outlet of the right ventricle.- Single ventricle.- Corrected transposition of great arteries.- Tricuspid atresia.- Cor triatriatum.- Bicuspid aortic valve.- Supravalvular aortic stenosis.- Coronary artery fistula.- Anomalous origin of the left main coronary artery from the pulmonary trunk.- Marfan''s syndrome.- 5. Coronary artery disease.- Wall motion abnormalities.- Wall thickening and echo intensity abnormalities.- Complications of myocardial infarction.- A. Ventricular aneurysm.- B. Mural thrombus of the left ventricle.- C. Rupture of the ventricular septum.- D. Mitral regurgitation.- E. Right ventricular myocardial infarction.- Ischemic cardiomyopathy.- Examination of coronary arteries.- 6. Myocardial diseases.- Hypertrophic cardiomyopathy.- Dilated cardiomyopathy.- Secondary cardiomyopathy.- Inflammatory process of the myocardium.- Myocardial abnormality due to toxic agents.- 7. Other cardiac diseases.- Left atrial myxoma.- Right atrial myxoma.- Intracardiac rhabdomyoma.- Left ventricular fibroma.- Malignant primary cardiac tumor.- Secondary tumors of the heart.- Pericardial effusion.- Pleural effusion.- Constrictive pericarditis.- Pericardial defect.- False tendon.- Chiari network.- Atrial septal aneurysm.- Sigmoid septum.- Mitral anular calcification.- Aneurysm of the aorta.- Primary pulmonary hypertension.- 8. Evaluation of left ventricular function.- M-mode echocardiography.- Two-dimensional echocardiography.- Doppler method.- A. Evaluation of systolic function.- B. Evaluation of diastolic behavior.- 4. Age related changes in the left ventricular function.- 9. Pulmonary hypertension.- M-mode echocardiographic evaluation.- Pulsed Doppler evaluation.- 10. Echocardiographic evaluation of arrhythmia.- Bundle branch block.- Wall-Parkinson-White (WPW) syndrome.- Atrial fibrillation.- Atrial flutter.- Ectopic atrial rhythm.- Supraventricular premature contraction.- Ventricular premature contraction.- Abnormal atrio-ventricular conduction.- Cardiac pacing.- 11.Color coded Doppler flow mapping.- References.- Additional references.- Index of subjects.