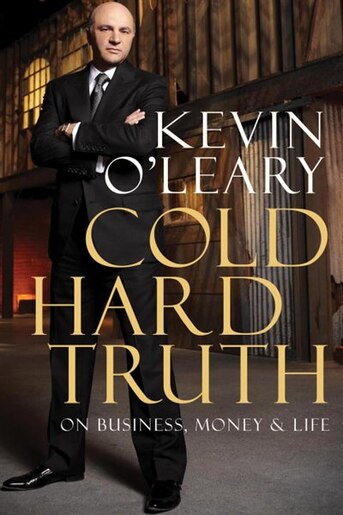 Cold Hard Truth: On Business, Money & Life
Hardcover

|

September 27, 2011
Pricing and Purchase Info
$29.95
Prices and offers may vary in store
Kevin O'Leary shares invaluable secrets on entrepreneurship, business, money and life.
 
Can you make millions just by "visualizing yourself rich" as some business prophets suggest? Don't buy it, says Kevin O'Leary. If you want to be a successful entrepreneur and amass wealth, you're going to have to work for it. But the good news is: with the right guidance, focus and perseverance, you can turn entrepreneurial vision into lucrative reality and have the personal freedom that only wealth can buy.  

Kevin O'Leary would know. The much-feared and revered Dragon on the immensely popular show Dragons' Den (and Shark Tank in the U.S.) started his company in his basement with a $10,000 loan from his financially savvy mother. A few years later, Kevin sold that company for more than four billion dollars. In this compelling, candid and, above all else, brutally honest business memoir, Kevin provides engaging, practical advice and lessons that will give anyone a distinct competitive edge.
Title:
Cold Hard Truth: On Business, Money & Life
Format:
Hardcover
Product dimensions:
256 pages, 9.32 X 6.26 X 1.04 in
Shipping dimensions:
256 pages, 9.32 X 6.26 X 1.04 in
Published:
September 27, 2011
Language:
English
The following ISBNs are associated with this title:
ISBN - 10:0385671741
ISBN - 13:9780385671743
Look for similar items by category:
Preview Your Review
Your Review Has Been Submitted
NO, I do not recommend this product.
Educational/Developmental Value:
Thank you. Your review has been submitted and will appear here shortly.
Read from the Book
SPEND THE INTEREST, NEVER THE PRINCIPAL— AND OTHER LESSONS MY MOTHER TAUGHT ME Why A$$holes Get Rich It was the fall of 2006, and the place was Pearson International Airport in Toronto. I was with my wife, Linda, and our kids, Savannah and Trevor. We had just flown in from our place in Boston to hit the Toronto International Film Festival. I had to use the men's room, so I asked my family to wait outside for a second. While washing my hands and minding my own business, I could sense next to me a stranger turning and staring at my profile. He was doing it every few seconds. These were the early days of Dragons' Den. If you tuned in to the CBC show back then, you'd have seen five well-dressed venture capitalists shifting around uncomfortably in mismatched chairs in some anonymous warehouse in downtown Toronto. The cast that first season consisted of Jim Treliving, of Boston Pizza fame; Robert Herjavec, who made a fortune in Internet security software; Laurence Lewin, who had an enviable job helming a lingerie empire; and Jennifer Woods, a whip-smart cattle mogul. One after the other, jittery entrepreneurs descended a staircase to present their business proposals, in hopes of scoring much-needed injections of capital to take them to the next level. Much like in the real world, we invested in some, but we dismissed most. I have to admit that on more than one occasion during the shoot, I thought I had made a mistake aligning myself with this strange TV show that had originated, naturally, in Japan. Back then, the pitchers were corralled in a hot tent in the middle of an industrial pit in downtown Toronto. We were fed bad food, worked long hours, and, frankly, were less than impressed with the quality of business ideas being brought to us. I'd seen the British version of Dragons' Den, which by then was heading into its second successful season, but I wasn't sure that a show about venture capitalism would really take off in Canada. I find the world of venture capitalism to be the most exciting arena known to man. But it's also full of dry jargon, where you bat around terms such as ROI (return on investment), EBITDA (earnings before interest, taxes, depreciation, and amortization), and valuation (what you think your company's worth). Riveting stuff to my ilk. But I worried that producers would have to cut out the business essentials in order to make a show like this palatable to the average viewer, thereby alienating its core audience of business fans. We debuted on October 3, 2006, to lackluster ratings—a disappointment, but not a surprise. Every week, however, the ratings seemed to creep up a bit. By the end of season one, we were a cult hit—by no means as big as we are now, but people had begun to tune in. I started to become recognized in public, at first in the business arena, and then at the odd restaurant or function, and now I was being gawked at in an airport washroom! Finally, I shot the guy a look, as though to say, "Do you mind?" And there it was, that flicker of recognition. "Hey," this stranger asked, "are you Kevin O'Leary? From that TV show Dragons' Den?" "Yes, I am." "I love that show!" "Thank you." "But you are a total asshole." "Oh, really?" I said, a little shocked by such an insult. "Why do you say that?" "Because you and those other Dragons stole that company from those kids last night. Asking for 50 percent. It's outrageous! You completely stole their company and their souls." He was talking about a company called JobLoft, created by three savvy MBA students. They had built an easily navigable website that advertised minimum-wage jobs in restaurants and other franchises. I, and a few other Dragons, leapt on it. During the pitch, Jim Treliving alluded to the increasing difficulty in finding restaurant workers for that high-turnover industry, and here was a website that corralled them. (The deal fell apart during the check handover, in a spectacular storm of post–due diligence hubris. More on that in chapter 9.) "Wait a minute," I said to the irate guy in the bathroom. "Those kids built a great website, but they've never run a business. We have every right to want control. That's what you do when you get into business with novices who've never made a dime. They'll learn a lot from us. And that knowledge, my friend, doesn't come free." "Still," the guy said, throwing his spent paper towel in the garbage can, "you're an asshole." "Maybe so," I said, "but assholes get rich because they're not afraid to ask for what they want." The gentleman left in a huff. He saw a woman standing outside the washroom. "Guess who's in there," he said as he passed her. "That asshole Kevin O'Leary from Dragons' Den." "Yes," the woman said, smiling wearily. "I know." That woman was Linda, my wife. Since that incident, I have been called much worse names than "asshole"—on and off the screen. And I'll tell you why it has never bothered me: because I speak the truth. Not just because I'm a nice guy and want to do the right thing, both of which are mostly true. I tell the truth because I don't like to lead people astray or to waste time. Money's great, money's the point of everything, and I can always earn more. But time is a scarce commodity. It is the true universal currency, because you can't invent, manufacture, or buy time. And not a day goes by when I don't lament that fact. Therefore, I have no time for people, places, or things that waste it. A few months ago, I received a pitch from a smart-sounding sales guy about launching O'Leary Funds in India. It was an interesting proposition, but midway through the conversation, obstacles began to surface in my mind. As this man was speaking, I realized that the hurdles we'd have to overcome were too high at this juncture in our company's growth cycle. There'd be no way to structure the funds so that they'd get the kind of yield that O'Leary Funds investors were accustomed to. I interrupted the pitch and told the sales guy that, for now, expanding into India was not a viable plan. But thanks anyway. He asked me if we could still book lunch, if only to lay the groundwork for a possible future collaboration. I said no, we wouldn't be meeting for lunch. He implored me. I said no again. There was an uncomfortable pause. Instead of calling me an asshole, which is what I think was on the tip of his tongue, he thanked me and got off the phone. I had clearly hurt his feelings. But my only thought was, "Oh well." Unless there's money to be earned, I don't take meetings with people I don't know or need to see. That hour of lunch went into a precious "time bank" I guard as fiercely as I would a few bars of gold. You might say that this man could have become a valuable contact, someone I could eventually do business with. Maybe. But instead of spending my time on more remote possibilities, I prefer to spend it on current ventures I know will yield results. That's why I said no. It's not personal. I call myself the Merchant of Truth because I speak the truth to everybody all the time. And it can sound blunt to the unaccustomed ear. It might make me come across as an asshole, but that's only because the brutal truth is so rarely spoken these days. It's like an ancient tribal language we've forgotten we know how to speak. But it's a language I learned at the feet of a woman who was a master with money: my mother, Georgette. NEVER LET THEM SEE YOU SWEAT . . . AND NEVER PAY WITH CREDIT I was born in Montreal, Canada, in 1954, smack dab in the middle of the baby-boom generation, about as statistically average as you can get. But nothing about my family was average. On my mother's side, I'm descended from a long line of Lebanese merchants, who passed down that vital Phoenician blood. The Phoenicians were merchant mariners—traders and sailors—who basically put a price tag on one-half of the Mediterranean, selling it to the other half. Silk, tin, wood, or textiles—it didn't matter as long as they could make a buck. That Phoenician facility with money, coupled with my biological father's Irish charisma and gift of the gab—a laboratory couldn't blend a better vintage of salesman DNA than mine. Business is bred in my bones. In 1904, my maternal grandfather, Joseph Bookalam, came to Canada from a small village in Lebanon. He was sixteen, and he headed straight to the mining town of Cobalt, Ontario, where he had an uncle who owned a general store. He worked like a dog for about three years, running the till, handling the inventory, and serving customers. Finally, he'd saved enough money to buy a horse and sleigh, and he struck out on his own. Like his forebears and his progeny, he couldn't stand working for someone else, so he became a roving salesman, trading with indigenous populations that dotted the outlying villages. Like a true Phoenician, he didn't care who his clients were; he had no issues with their religion, ethnicity, or race. If you wanted what he had, he'd sell it to you: cooking and hunting utensils, supplies for the fur trade, all of it for cash. The man didn't do credit.
Editorial Reviews
 "O'Leary's book reads exactly like he talks on Dragon's Den. He's a consummate marketer, so it's no surprise he does a masterful job of telling his life story with the right mix of swagger and humility. You'll gain a deeper appreciation for his business acumen, drive and determination. And if you're an aspiring entrepreneur or someone who's debating whether to pursue your passion, you'll get some invaluable advice and cold hard truth for the bargain price of just $29.95." —Hamilton Spectator"[Kevin O'Leary] is a master at relaying the cold, hard truth to people, even when it makes them cry and stomp their feet. That''s why the title of his new memoir, Cold Hard Truth, cuts to the heart of his philosophy of life and money, which really boils down to one thing: focus on making cash or get out of business." —Chatelaine