Color Lab For Mixed-media Artists: 52 Exercises For Exploring Color Concepts Through Paint, Collage, Paper, And More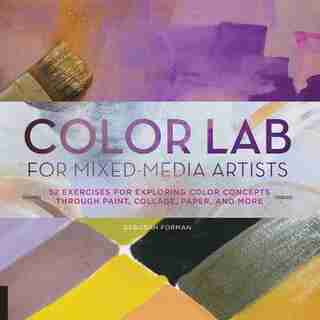 Find In Store
Prices and offers may vary in store
Create the very best mixed media with 52 inspiring exercises!
Strenthening your understanding and use of color will make your mixed-media art shine as you complete 52 labs that span painting, collage, drawing, assemblage and more.
In Color Lab for Mixed Media Artists, color is explored through multiple lenses-nature, history, psychology, expression-as you work through 52 exciting and approachable projects that explore the infinite potential of the chromatic experience.
Artist and color-theory expert Deborah Forman provides you with techniques and instruction. These materials and labs focus primarily on paint and collage, along with experimental projects for book making, sculpture and installation. Work your way through the color spectrum, using the steady beat of color as the guiding framework.
Don't be intimidated by color--understand how it works, what shade, tint, and pure color will work for your project, and how to select, mix, or pair colors. When you're done, you'll have 52 personal, meaningful, outstanding, and colorful projects and the inspiration to create many more!
"Deb Forman's book is a welcome addition to my studio book shelf. The exercises provide the novice with valuable information on techniques and materials combined with the confidence to explore their own intuitive creative path. For the experienced artist the exercises offer an opportunity to engage with familiar painting mediums in fresh new ways. I would recommend this book both to novice artists just starting out and established artists seeking to reinvigorate their studio practice." - Neal Walsh, Painter and Gallery Director at AS220
"Deborah Forman is a fantastic teacher. She is able to bring her myriad talents to bear in the classroom by transmitting the joy and pleasure she takes in her own artistic practice to her students, who are at many different points in their own creative journeys. She is incredibly generous with her ideas, and honors the integrity of all of her students by encouraging experimentation, tenacity, and compassion as they develop their own skills as artists." - Dr. Karen Carr, Humanities Professor, RISD
"Deborah Forman's Color Theory course was inspiring, exciting and informative. She encouraged her students to push their experimentation with color to the limits which resulted in beautiful palettes that I never dreamed I could create. Overall, this class was a wonderful experience and gave me great insight as to which direction I want to take with my own artwork.€‹"€‹ - former student
Title:
Color Lab For Mixed-media Artists: 52 Exercises For Exploring Color Concepts Through Paint, Collage, Paper, And More
Product dimensions:
144 pages, 8.75 X 8.75 X 0.5 in
Shipping dimensions:
144 pages, 8.75 X 8.75 X 0.5 in
Published:
November 1, 2015
Appropriate for ages:
All ages