Condominium: Smoke Free Condos - How We Restricted Smoking Inside Units And Declared Secondhand Smoke A Nuisance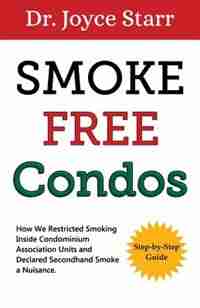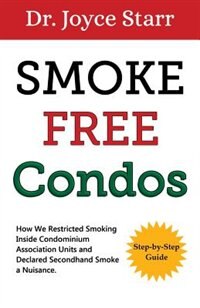 Prices and offers may vary in store
Condominium Owners: Do you long for smoke free living? Do you wish you could convince your condo board to restrict second hand smoke inside units? Smoke Free Condos is the first comprehensive guide for a smoke free environment.
The author addresses recent case and state law on secondhand smoke in condominiums, the Law of Nuisance, Quiet Enjoyment of Property and amendment procedures. She describes essential tasks, amendment milestones and costs. Smoke Free Condos is a crucial resource for condominium associations and HOAs, community association law firms, nonprofit organizations promoting smoke-free policies and government agencies.
Dr. Joyce Starr fought a four year battle against second hand smoke in her condo association. After numerous setbacks, she was elected to her condo board, and thereafter as treasurer, where she led the effort to amend the Governing Declaration to restrict smoking inside units and to define secondhand smoke as a nuisance. A single misstep could have undermined the entire endeavor.
According to available records, her medium-sized condominium complex was the first in Florida to amend the Governing Declaration for this purpose. The challenges and hurdles faced - and overcome - are vividly presented. "It was an uphill fight until the very last vote was counted, with a colorful cast of proponents, doubters and vigorous opponents."
Naysayers warned that the amendment would fail in the best of times, let alone during a difficult economy. Opponents stated with certainty that the Association would be sued and lose. They raised the specter of staggering legal costs that would sink the condominium association. Defending their castle, they compared the smell of secondhand smoke to garlic and bacon.
Title:
Condominium: Smoke Free Condos - How We Restricted Smoking Inside Units And Declared Secondhand Smo...
Format:
Paperback
Product dimensions:
82 pages, 8.5 X 5.5 X 0.17 in
Shipping dimensions:
82 pages, 8.5 X 5.5 X 0.17 in
Published:
September 30, 2013
Publisher:
Dr. Joyce Starr
Language:
English
The following ISBNs are associated with this title:
ISBN - 10:0988239477
ISBN - 13:9780988239470
Look for similar items by category: