Consciousness, Language, And Self: Psychoanalytic, Linguistic, And Anthropological Explorations Of The Dual Nature Of Mi: Psychoanalyt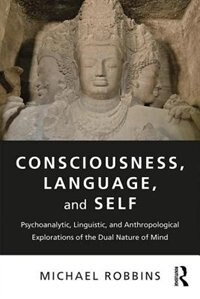 In-Store Availability
Prices and offers may vary in store
Consciousness, Language, and Selfproposes that the human self is innately bilingual. Conscious mind includes two qualitatively distinct mental processes, each of which uses the same formal elements of language differently. The "mother tongue," the language of primordial consciousness, beginsin uteroand our second language, reflective symbolic thought, begins in infancy.
Michael Robbins describes the respective roles the two conscious mental processes and their particular use of language play in the course of normal and pathological development, as well as the role the language of primordial consciousness plays in adult life in such phenomena as dreaming, infant-caregiver attachment, creativity, belief systems and their effects on social and political life, cultural differences, and psychosis. Examples include creative persons, extreme political figures and psychotic individuals. Five original essays, written by the author's current and former patients, describe what they learned about their aberrant uses of language and their origins.
This book sheds new light on several controversies that have been limited by the incorrect assumption that reflective representational thought and its language is the only conscious mental state. These include the debate within linguistics about whether language is the expression of a hardwired instinct whose identifying feature is recursion; within psychoanalysis about the nature of conscious and unconscious mental processes, and within cognitive philosophy about whether language and thought are isomorphic.
Consciousness, Language, and Selfwill be of great value to psychoanalysts, as well as students and scholars of linguistics, cognitive philosophy and cultural anthropology.
Title:
Consciousness, Language, And Self: Psychoanalytic, Linguistic, And Anthropological Explorations Of ...
Format:
Paperback
Product dimensions:
178 pages, 9.21 X 6.14 X 0 in
Shipping dimensions:
178 pages, 9.21 X 6.14 X 0 in
Published:
April 22, 2018
Publisher:
Routledge
Language:
English
The following ISBNs are associated with this title:
ISBN - 10:1138487643
ISBN - 13:9781138487642
Look for similar items by category: