Delight In Disorder: Selected Poems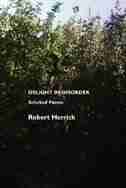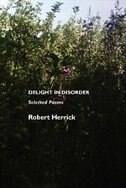 Prices and offers may vary in store
ROBERT HERRICK: SELECTED POEMS

ROBERT HERRICK (1591-1674) was one of the Cavalier poets (other Cavalier poets included Suckling, Carew and Lovelace). He was born in London and lived much of his life in the rough remoteness of a parish in Devonshire. He studied at Cambridge (St John's College and Trinity Hall). His law studies were dropped in 1623, and he was ordained as a deacon and priest in 1624.

Herrick's major work, Hesperides or The Works Both Humane and Divine of Robert Herrick Esq., was published in 1648. There are some 1130 poems in the first, secular part, Hesperides, and 272 in Noble Numbers, the religious pieces.

Herrick's poetry (his Hesperides) followed the plan outlined the poem 'The Argument of His Book', with its lyrical evocation of the natural world. Herrick was particularly well situated, geographically, to write nature poetry. Like Coleridge, Wordsworth and Bront , Herrick lived in the midst of the countryside, in the relative isolation of Dean Prior, on the edge of Dartmoor in Devon.

There are many poems in Robert Herrick's work of love - about love desired, lost and mourned. Herrick is very definitely a 'Muse poet', to use Robert Graves's term. There are many poems about various mistresses, 'my dearest Beauties' he calls them in 'To My Lovely Mistresses' (Anthea, Perilla, Electra, Blanch, Judith, Silvia, and the most beloved of all, Julia).

There are many poems to certain 'muses' or 'maidens'. The sheer number (and quality) of Herrick's poems to Julia attests to his deep passion for the friendship and strength of women: 'To Julia', 'To Roses in Julia's Bosom', 'To Julia, Her Dawn, or Daybreak', 'The Parliament of Roses to Julia', 'Upon Julia's Recovery', 'On Julia's Fall', 'His Sailing From Julia', 'Her Legs', 'Her Bed', 'On Julia's Picture', 'The Bracelet to Julia', 'To Julia in the Temple' and so on.

Apart from poems addressed 'To His Book', there are more poems in Robert Herrick's output 'To Julia' than to anything else. Julia is 'the prime of Paradise' ('To Julia, in Her Dawn, or Day-breake'). She is utterly adored, often erotically. There are poems which eulogize her breasts and nipples, for instance: 'Display thy breasts.../ Between whose glories, there my lips I'll lay, / Ravisht', he writes (in 'Upon Julia's Breasts'); other paeans to Julia's breasts include 'Upon the Roses in Julia's Bosom', and 'Upon the Nipples of Julia's Breast'.

Herrick makes the age-old connections between the fertility of nature outside (the rain, the lush vegetation, the rivers of the Paradisal Earth) and the bounty of women inside (Julia's breasts form a valley of abundance, as in William Shakespeare's 'Venus and Adonis', in which the poet would like to languish). Women in Herrick's poetry are seen as the givers of pleasure (expressed as sex), nurturance (breast milk), and all things worthy in the world (love). 'All Pleasures meet in Woman-kind', he writes in 'On Himself'. They are just as important in his poetry as God, the King or Christianity.
Title:
Delight In Disorder: Selected Poems
Format:
Paperback
Product dimensions:
108 pages, 9.21 X 6.14 X 0.22 in
Shipping dimensions:
108 pages, 9.21 X 6.14 X 0.22 in
Published:
February 1, 2008
Publisher:
Crescent Moon Publishing
Language:
English
The following ISBNs are associated with this title:
ISBN - 10:186171145X
ISBN - 13:9781861711458
Look for similar items by category: