Don't Waste Your Time In The Canadian Rockies: The Opinionated Hiking Guide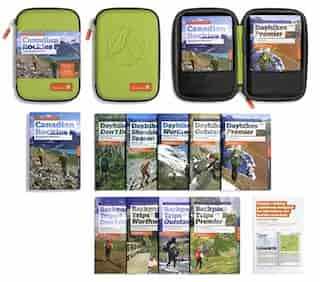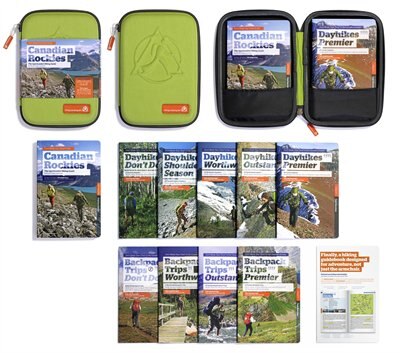 Find In Store
To check store inventory,
Prices and offers may vary in store
Don't Waste Your Time is a lively, stimulating departure from the dull-guidebook tradition. It dazzles with 560 colour photos, and a graphic, easy-to-read map for each hike. And this meticulous, 677-page opus is now ultralight gear. Take only the trail directions with you, leave the rest behind. Average trail weight: 67 grams (2.4 oz) per hike. Finally, a hiking guidebook fit for adventure, not just the armchair.

Each of the 145 trips in Don't Waste Your Time is rated Premier, Outstanding, Worthwhile, or Don't Do. The book covers Banff, Jasper, Kootenay, Yoho and Waterton Lakes national parks, plus Mt. Robson and Mt. Assiniboine provincial parks. It includes 84 dayhikes, 41 backpack trips, and 20 shoulder-season trips.

A guidebook is essential hiking gear. Shouldn't it be ultralight? Yes, so you can pack it with you on the trail. That's why the all new, Ultralight Gear, 7th Edition of Don't Waste Your Time in the Canadian Rockies, allows you to take pages, not the whole book. It comes in a zip-open, hardshell case (24 x 16.5 x 6.4 cm). The Opinion book contains all the trip descriptions, and most of the photos. Use it at home, in the car, at the trailhead. It provides everything you need to know to choose your next hike. It's also a trove of inspiration when you're between trips. But leave it behind when you go hiking. The nine Fact booklets contain the trail directions, including the maps. Pack the one booklet you need, so you can refer to it while hiking. The booklets' average trail weight is seriously ultralight—a mere 67 grams (2.4 oz) per hike—so you can always have this essential piece of gear with you in the backcountry.

Each Fact booklet is much lighter than any smartphone, tablet or eReader. Not restricted by battery life, the booklets never need recharging, and never die. They won't break if dropped. Flipping back-and-forth to compare hikes is easy. Photos are impressively big. Text is easy on the eyes. To accurately represent one of the world's most exciting mountain ranges, shouldn't a guidebook itself excite? Yes. So the all new, Ultralight Gear, 7th Edition of Don't Waste Your Time does just that. It tells you about each trail as would a very experienced friend: honestly, specifically, colourfully. With intelligence and humour. With insight and emotion. With your needs at heart. As a result, Don't Waste Your Time illuminates each trail, empowering you to choose the optimal one for your interests, ability and mood. It offers discerning advice that can boost a day on the trail from "hmm" to "Wow!" The entire book is such a compelling read that you can turn to it anytime for a motivating reminder of why you love to hike.

And whenever you are on the trail, you'll find the By Vehicle and On Foot directions in Don't Waste Your Time are carefully crafted—precise, clear, complete—ensuring you spend your weekend or vacation striding instead of searching.

We hope this book compels you to get outdoors more often and stay out longer. Do it to cultivate your wild self. It will give you perspective. Do it because the backcountry teaches simplicity and self-reliance, qualities that make life more fulfilling. Do it to remind yourself why wilderness needs and deserves your protection. A deeper conservation ethic develops naturally in the mountains. And do it to escape the cacophony that muffles the quiet, pure voice within.
Title:
Don't Waste Your Time In The Canadian Rockies: The Opinionated Hiking Guide
Product dimensions:
640 pages, 9.25 X 6.25 X 2.5 in
Shipping dimensions:
640 pages, 9.25 X 6.25 X 2.5 in
Publisher:
hikingcamping.com, inc.