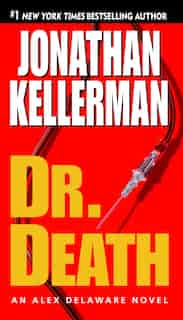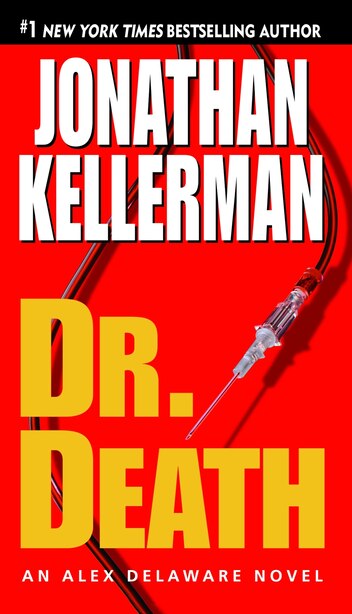 Dr. Death: An Alex Delaware Novel
Paperback

|

May 20, 2008
Pricing and Purchase Info
$11.99
Prices and offers may vary in store
Who killed the killer? In this brilliant and startling psychological thriller, Jonathan Kellerman, perennial bestselling author, gives a sharp and timely twist to homicide''s central question.

Someone has murdered euthanasia champion Dr. Eldon Mate—a self-styled Dr. Death responsible for scores of assisted suicides. In a burst of bloody irony, the killer chooses to dispatch the doctor in the back of Mate''s own suicide van, hooking him up to the killing apparatus dubbed "the Humanitron"—and adding some butchering touches of his own. The case is assigned to veteran LAPD homicide detective Milo Sturgis, who turns, once again, to his friend Dr. Alex Delaware. But working this case raises a conflict of interest for Alex so profound that he can''t even discuss it with Milo. The tension that develops between cop and psychologist further complicates an already baffling and complex murder investigation—one whose suspects include the families of Dr. Mate''s "travelers," Mate''s own son, and a psychopathic killer who relishes the geometry of death.

Dr. Death is a rich brew of unforgettable characters, labyrinthine plotting, page-turning prose, and the unique insights into the darkest corners of the human mind that have earned Jonathan Kellerman international accolades as the master of psychological suspense.
Title:
Dr. Death: An Alex Delaware Novel
Format:
Paperback
Product dimensions:
480 pages, 7.6 X 4.1 X 1.1 in
Shipping dimensions:
480 pages, 7.6 X 4.1 X 1.1 in
Published:
May 20, 2008
Publisher:
Random House Publishing Group
Language:
English
The following ISBNs are associated with this title:
ISBN - 10:0345508521
ISBN - 13:9780345508522
Look for similar items by category:
Preview Your Review
Your Review Has Been Submitted
NO, I do not recommend this product.
Educational/Developmental Value:
Thank you. Your review has been submitted and will appear here shortly.
Read from the Book
Irony can be a rich dessert, so when the contents of the van werepublicized, some people gorged. The ones who''d believed Eldon H. Mate to bethe Angel of Death.Those who''d considered him Mercy Personified grieved.I viewed it through a different lens, had my own worries.Mate was murdered in the very early hours of a sour-smelling, fog-ladenMonday in September. No earthquakes or wars interceded by sundown, so thedeath merited a lead story on the evening news. Newspaper headlines in theTimes and the Daily News followed on Tuesday. TV dropped the story withintwenty-four hours, but recaps ran in the Wednesday papers. In total, fourdays of coverage, the maximum in short-attention-span L.A. unless the corpseis that of a princess or the killer can afford lawyers who yearn for Oscars.No easy solve on this one; no breaks of any kind. Milo had been doing hisjob long enough not to expect otherwise.He''d had an easy summer, catching a quartet of lovingly stupid homicidesduring July and August--one domestic violence taken to the horrible extremeand three brain-dead drunks shooting other inebriates in squalid Westsidebars. Four murderers hanging around long enough to be caught. It kept hissolve rate high, made it a bit--but not much--easier to be the only openlygay detective in LAPD."Knew I was due," he said. It was the Sunday after the murder when he phonedme at the house. Mate''s corpse had been cold for six days and the press hadmoved on. That suited Milo just fine. Like any artist, he craved solitude. He''d playedhis part by not giving the press anything to work with. Orders from thebrass. One thing he and the brass could agree on: reporters were almostalways the enemy.What the papers HAD printed was squeezed out of clip-file biographies, theinevitable ethical debates, old photos, old quotes. Beyond the fact thatMate had been hooked up to his own killing machine, only the sketchiestdetails had been released:Van parked on a remote section of Mulholland Drive, discovery by hikers justafter dawn.DR. DEATH MURDERED.I knew more because Milo told me.The call came in at 8 P.M., just as Robin and I had finished dinner. I wasout the door, holding on to the straining leash of Spike, our little Frenchbulldog. Pooch and I both looking forward to a night walk up the glen. Spikeloved the dark because pointing at scurrying sounds let him pretend he was anoble hunter. I enjoyed getting out because I worked with people all day andsolitude was always welcome.Robin answered the phone, caught me in time, ended up doing dog-duty as Ireturned to my study."Mate''s yours?" I said, surprised because he hadn''t told me sooner. Suddenlyedgy because that added a whole new layer of complexity to my week."Who else merits such blessing?"I laughed softly, feeling my shoulders humping, rings of tension around myneck. The moment I''d heard about Mate I''d worried. Deliberated for a longtime, finally made a call that hadn''t been returned. I''d dropped the issuebecause there''d been no good reason not to. It really WASN''T any of mybusiness. Now, with Milo involved, all that had changed.I kept the worries to myself. His call had nothing to do with my problem.Coincidence--one of those nasty little overlaps. Or maybe there really areonly a hundred people in the world.His reason for getting in touch was simple: the dreaded W word: whodunit. Acase with enough psychopathology to make me potentially useful.Also I was his friend, one of the few people left in whom he could confide.The psychopathology part was fine with me. What bothered me was thefriendship component. Things I knew but didn''t tell him. COULDN''T tell him.
Editorial Reviews
Praise for Monster"Kellerman is in peak form. . . . A surprising and complex story of festering evil--a tale that snakes its way to a stunningly dramatic conclusion."--People (Page-Turner of the Week)Praise for Billy Straight"Billy Straight is everything a thriller ought to be. The writing is excellent. The plotting is superior. The characters ring true. . . . A taut, compelling story."                  --USA TodayPraise for Jonathan Kellerman"Jonathan Kellerman doesn''t just write psychological thrillers--he owns the genre."--Detroit Free Press"Often, mystery writers can either plot like devils or create believable characters. Kellerman stands out because he can do both. Masterfully."--USA Today"Kellerman excels at plotting, dialogue, procedural detail and insight into abnormal states of mind."--Los Angeles Times"Kellerman is the acknowledged king of the psychological thriller."--The Dallas Morning News