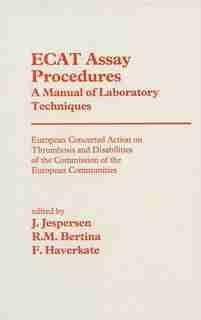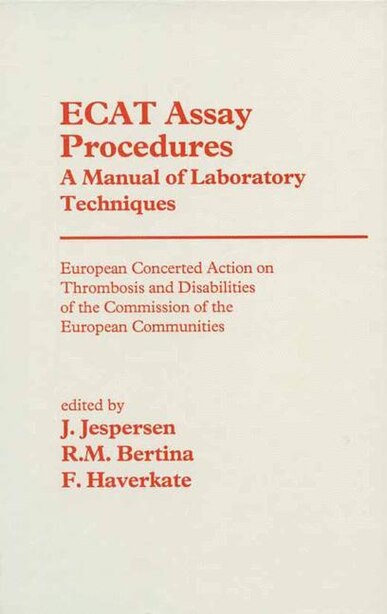 ECAT Assay Procedures A Manual of Laboratory Techniques: European Concerted Action on Thrombosis and Disabilities of the Commission of the European Communit
Paperback

|

October 18, 2012
Pricing and Purchase Info
$113.95
list price
save 10%
Prices and offers may vary in store
This book offers a description of current and recently developed laboratory assays in the field of haemostasis and thrombosis. It is the result of a unique cooperation between experts from more than 60 institutes in 12 European countries, brought together by the ECA T (European Concerted Action on Thrombosis and Disabilities) under the auspices of the Commission of the European Communities in Brussels, Belgium. The ECAT, which was initiated in 1981, designed and performed three prospective clinical studies to establish haemostatic factors as risk indicators of thrombosis. Included were patients with angina pectoris at risk from myocardial infarction, patients undergoing angioplasty at risk from re-stenosis, and patients receiving hip replacement at risk from deep venous thrombosis. Assay procedures were chosen, training courses for technicians held, and essential reagents were supplied from a central source. A quality control assessment scheme served to compare assay results both within and between laboratories. In the angina pectoris study, centres determined most of the assays locally; in the other two studies assays were performed centrally. The need for further quality assessment in Europe Dr J. F. Davidson in Glasgow, led to a separate activity coordinated by including coagulation inhibitors and plasminogen as risk factors for familial venous thrombosis. The Editors hope the ECA T Assay Procedures book will contribute to further harmonization ofhaemostasis assays, and ultimately to their standardization.
Title:
ECAT Assay Procedures A Manual of Laboratory Techniques: European Concerted Action on Thrombosis an...
Format:
Paperback
Product dimensions:
230 pages, 9.25 X 6.1 X 0 in
Shipping dimensions:
230 pages, 9.25 X 6.1 X 0 in
Published:
October 18, 2012
Publisher:
Springer Nature
Language:
English
The following ISBNs are associated with this title:
ISBN - 10:9401053308
ISBN - 13:9789401053303
Look for similar items by category:
Preview Your Review
Your Review Has Been Submitted
NO, I do not recommend this product.
Educational/Developmental Value:
Thank you. Your review has been submitted and will appear here shortly.
Table of Contents
Preface. 1. Quality Assessment of Haemostatic Assays; S.G. Thompson, J.M. Thomson. 2. Blood Collection and Preparation: Pre-Analytical Variation; J.M. Thomson. 3. Beta-Thromboglobulin and Platelet Factor 4; D.S. Pepper, C.V. Prowse. 4. The Activated Partial Thromboplastin Time (APTT); L. Poller, J.M. Thomson. 5. The Prothrombin Time Test; L. Poller. 6. Fibrinogen; G.A. Marbet, F. Duckert. 7. Factor VII Clotting Activity; G.A. Marbet, F. Duckert. 8. Factor VIII Clotting Activity; P.M. Mannucci, A. Tripodi. 9. Von Willebrand Factor; P.M. Mannucci, R. Coppola. 10. Antithrombin III Activity and Antigen; J. Conard. 11. Protein C Activity and Antigen; R.M. Bertina. 12. Protein S Antigen; R.M. Bertina. 13. Fibrinopeptide A (FPA); A. Haeberli. 14. Thrombin-Antithrombin III Complexes; J. Harenberg. 15. Euglobulin Clot Lysis Time; E. Preston, P.C. Cooper. 16. Tissue Type Plasminogen Activator Antigen (t-PA Ag); I. Juhan-Vague, M.C. Alessi. 17. Tissue-Type Plasminogen Activator Activity Assay; J.H. Verheijen. 18. Plasminogen Activator Inhibitor Activity Assay; E.K.O. Kruithof. 19. Plasminogen Activator Inhibitor Antigen Assay; E.K.O. Kruithof. 20. Plasminogen Activity; P.J. Gaffney. 21. Alpha-2-Antiplasmin Activity; C. Kluft. 22. Plasmin-Alpha-2-Antiplasmin Complexes; E. Hattey, M. Haumer, A. Binder, B.R. Binder. 23. Plasma Histidine-RichGlycoprotein (HRG); J. Gram. 24. Quantitative Enzyme Immunoassays for Degradation Products of Fibrinogen (FgDP), Fibrin (FbDP) and Total of FgDP and FbDP (TDP); W. Nieuwenhuizen. 25. B-Beta 15-42 Peptide; A. Haeberli. 26. Vein Occlusion Test; J. Jespersen. List of Manufacturers. Index.
Editorial Reviews
`This is a unique contribution to the haemostasis literature and should be given a place in all working haemostasis laboratories. It can be unreservedly recommended.'' John L. Francis, Blood Coagulation and Fibrinolysis `It is pleasant to read and will certainly be useful for investogators who are starting their experience in this field. Also leaders of routine clinical laboratories will find here a good summary of many types of coagulation-related tests.'' S. Béguin, Haemostasis