Educar Con Serenidad: Soluciones Creativas Para Padres Desesperados / Educating Stress-free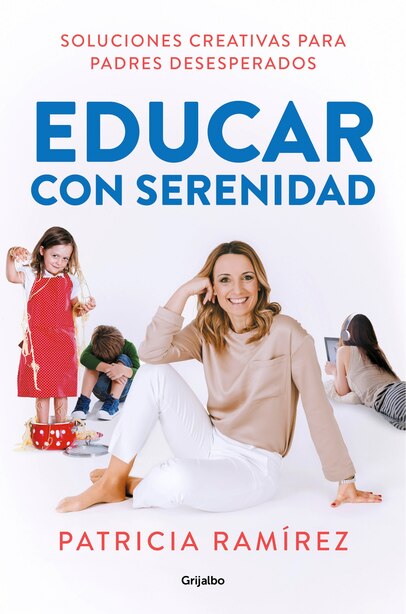 Buy In Store
Prices and offers may vary in store
Los padres y las madres nos tomamos la educación muy en serio, pero debemos dejar de copiar antiguos modelos para empezar a innovar, ser creativos y pensar que existe otra forma de educar sin recurrir a los gritos y a la figura de autoridad. Y, sobre todo, sin desesperarnos.

¿Qué padres y madres no han sentido alguna vez desesperación ante el reto de lidiar con los conflictos cotidianos con sus hijos e hijas? ¿Quién no ha estado al borde de un ataque de nervios cuando los niños tienen que ducharse, obedecer, ser más responsables, menos contestones, más obedientes, más empáticos, menos nerviosos o mejores comedores?

Para cada una de esas situaciones, Educar con serenidad ofrece un remedio al alcance de cualquiera. Son soluciones creativas, fáciles de llevar a la práctica y respaldadas científicamente, fruto de la amplia y reconocida experiencia de Patricia Ramírez como psicóloga y, en particular, del taller donde aborda las inquietudes y los miedos de los padres preocupados por la educación de sus hijos.

De su mano, descubriremos esas ideas que no se nos ocurren porque no encontramos tiempo:
- Jugaremos a educar, a recoger o a inventarnos concursos para aumentar así la motivación de los niños mientras se divierten.

- Descubriremos cómo entrenar la capacidad de autocontrol, la nuestra y la de nuestros hijos.

- Aprenderemos a sentir y a vivir las emociones, y a comunicarnos y a entendernos mejor.

- Y también educaremos en valores para proporcionar a nuestros hijos una filosofía de vida que les permita convertirse en hombres y mujeres de bien.

La autora destinará parte de los ingresos de las ventas de este libro a distintos proyectos que la ONG Cooperación Internacional desarrolla en Zaragoza.

ENGLISH DESCRIPTION

Educating Stress-Free: Creative Solutions for Desperate Parents

Parents take their kids' education very seriously, therefore it is wise to stop copying old models and start innovating. Be creative, know that there is a better way to educate without shouting and without resorting to the phrase "because I said so". And, above all, without feeling hopeless.
 
Who has not been on the verge of a nervous breakdown when children have to shower, follow directions, be more responsible, follow rules, be more empathetic, less nervous, or better eaters? For each of these situations, Educating Stress-Free offers creative solutions that are easy to carry out.
 
In this book, Patricia Ramirez offers great ideas that do not occur to us because of our lack of time:
- We will make a game out of learning, find or invent contests to increase the children's motivation while having fun.
 
- We will discover how to teach them self-control.
 
- We will learn how to feel and manage our emotions, and to communicate and understand each other better.
 
- And we will also learn about values that will give our children a philosophy of life which allows them to become good men and women.
 
Title:
Educar Con Serenidad: Soluciones Creativas Para Padres Desesperados / Educating Stress-free
Format:
Paperback
Product dimensions:
256 pages, 9.05 X 5.95 X 0.65 in
Shipping dimensions:
256 pages, 9.05 X 5.95 X 0.65 in
Published:
20 août 2019
Publisher:
PRH Grupo Editorial
Language:
Spanish
The following ISBNs are associated with this title:
ISBN - 10:8425357756
ISBN - 13:9788425357756
Look for similar items by category: